News
3,000 kilometers at the wheel to help strangers on the Ukrainian border | International
Enrique Arnau had the van already disassembled. He had started to camperize it [hacerla habitable] to travel in his free time, which allows him to be retired from the Spanish Army at the age of 71. The beginning of the Russian offensive in the Ukraine, on February 24, changed his step. He telephoned the archbishopric to offer himself, they instructed him to contact the local Ukrainian community and obtained the telephone number of Pablo Komarnitskii, a Ukrainian altar boy from the Santa Teresa de Jesús parish in the Madrid city of Getafe. "I have a nine-seater van and I want to bring mothers and children from Ukraine, so I need another driver, can you help me?" he asked her. He now remembers it much further away, a few meters from the Siret border crossing, between Romania and Ukraine, which Ukrainians fleeing the war constantly cross (1.73 million to all neighboring countries, according to UN data on Monday) . "I told him right away that I was leaving. I called my company and told them that I have to go help my people, "recalls Komarnitskii next to him, who was in a warehouse that day managing an urgent collection of medicines. "The war caught us all off guard," he admits.
Komarnitskii, 28 years old and resident in Spain since 2003, convinced another compatriot to accompany him and take turns behind the wheel on a journey of more than 3,200 kilometers. Arnau flew to Romania and they met there. In the van, they also transported food and thermal clothing (temperatures are below zero these days in the area and a sharp drop to minus 10 degrees is coming) that they have already introduced in Ukraine. "The City Council of Boadilla del Monte [Madrid] It has provided us with many medicines, surgical material and thermal blankets; The parish also gave us other belongings and food", he specifies. Komarnitskii cannot introduce this cargo – confirmed by the City Council – due to the martial law that forces men between 18 and 60 years of age to remain in Ukraine, with some exceptions. "If I go in, I don't come out. And from here I can contribute, but there, not much. I am not a doctor, nor a nurse, nor do I have military experience, "he summarizes.
The objective of both is, above all, to transfer to Spain the largest possible number of Ukrainian refugees. "He has gotten out of hand, because at first we came for nine. If we see the possibility of sending them by plane, we will do it. And if there are about 50 people, we will charter a bus", says Arnau. And the money? "We'll get it from anywhere," he replies.
Your case is not so Rare avis as it may seem. At an intersection two kilometers from the border crossing, just where a sign marks the exit from the Romanian town of Siret, cars with foreign license plates and people sleeping with their seats reclined or drinking coffee can be seen. Some have no relationship with Ukraine, or with aid channeled through NGOs or institutions. They are not aid workers or contracted carriers, but people from other parts of Europe who – after seeing the images of the war in Ukraine – have thrown their hats in the bush overnight, with the advantage of agility in aid and the downside of lack of coordination, computational problems, and potential risks to refugees.
Join EL PAÍS to follow all the news and read without limits.
subscribe
In some cases, such as Getafe, it is an individual impulse that also channels collective help. Others, like Lithuanians Evaldas Lubrickas and his friend Vytautas Stancikas, have driven from Northern Europe to Eastern Europe to shelter unknown families in their country of origin. "The navigator marked 28 hours of travel [por el rodeo que implica evitar Ucrania]but with the stops to refuel, plus some to take a nap and eat, it's two whole days", recapitulates Lubrickas, 38 years old.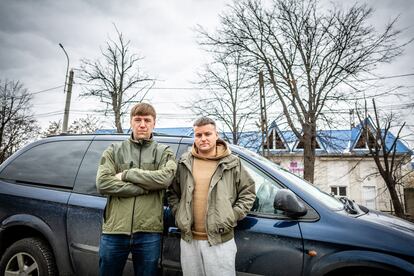 They only know that they are expecting four Ukrainian mothers and seven children, including an 11-month-old baby. The queues of kilometers on the Ukrainian side of Siret make it impossible to calculate the time of entry into Romania. "We must help. And there are people in Lithuania waiting for them at home, so we will bring them" in two cars, explains Lubrickas inside the vehicle to shelter from the cold. He also admits that he feels "a certain solidarity" with Ukraine because of their shared history. "We do not want to return to the Russian Federation. We know what they feel. That motivates us", he affirms in reference to the annexation of his country by the USSR during World War II together with Estonia and Latvia. The three Baltic republics regained their independence with the Singing Revolution of 1991.
Fabrice Fahrner, 43, has red eyes from sleep and gets easily excited when speaking. "I'm tired, everything is skin deep," he admits. He has arrived this morning by car from Durrenentzen, a small town in Alsace, in the northeast of France, very close to Germany. Next to him is Éric Bosnin, 49, the owner of a piloting school that cooperates with another in the Ukrainian city of Kharkov and coordinates this informal aid network from France.
A few days ago, Fahrner read a post on Facebook that a friend had shared asking for help hosting Ukrainian refugee families. "They asked if there was the possibility of moving and I said yes, thinking it was within Alsace. Finally, they contacted me again and said: 'Can you come to the border with Ukraine?' I said 'OK', got organized, because I didn't count on it, and two hours later I got out and drove here. After two calls, without knowing each other. I haven't slept in 48 hours, but I wanted to get there as quickly as possible. I thought, what if they cross the border and are left in the cold, with nothing? Because all the hotels in the area are full, "she points out.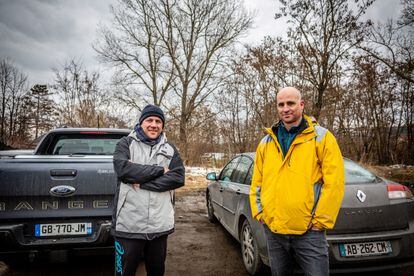 He says that he is "pulling savings" for the trip (1,800 kilometers, 22 hours of driving) and that he has tried that, in the family he gives temporary shelter, there are children of a similar age to his own so that they connect more easily . He has three daughters, ages 11 to 19, and is a volunteer firefighter in his country. "This is not something to think about. […] I felt I had to do it, although now I am also a little afraid of going back without them showing up", she adds. It's the first time she's done something like that. Nor had he ever set foot in Eastern Europe. "It is rather", she summarizes, "that when one sees the images of Ukraine, one is projected on what they are experiencing".
Follow all the international information in Facebook and Twitteror in our weekly newsletter.