World
The price of housing rose 6.4% in the final stretch of 2021, the fastest pace in more than two years | Economy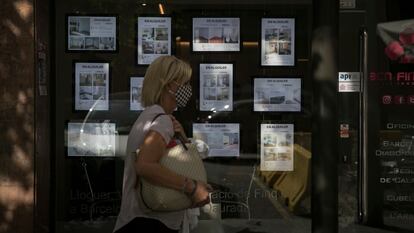 The recovery from the coronavirus crisis, before the new economic situation caused by the Russian invasion of Ukraine, suited the real estate market well. In fact, at the end of 2021, house prices recovered so strongly that they grew at the fastest rate in more than two years, since the start of 2019. This is shown by the Housing Price Index published this Wednesday by the INE , in which it stands out that homes became more expensive by 6.4% year-on-year in the last quarter of 2021. This is equivalent to saying that this is the percentage that prices rose last year, although in the annual average (that is, in the average year-on-year growth for each of the four quarters of the year) the statistical institute cut growth to 3.7%. This expresses a higher rate than in 2020, but below that of previous years.
In any case, it is clear that housing in Spain experienced a 2021 from less to more. The other phenomenon is that the second hand was again the one that pulled the prices, above the new construction. In the used house market, which represents the vast majority of sales, the amounts ended the year matching the general market rise: 6.4%. In the new work, scarce and that better resisted the attacks of the coronavirus, this progression was 6.1%, considerable but below the 8% that it had marked, without going any further, just a year before.
The Housing Price Index is an indicator that takes as a base 100 what a house cost in 2015. Following this calculation, last year the houses in Spain finished at 135,291 points. This means that they have become 35% more expensive in six years (since 2015), but they are far from the levels reached in the bubble at the beginning of the century, when they exceeded 150 points. In fact, the 135 points refer to a price level similar to that of 2010, although then the amounts fell due to the effect of the bursting of the bubble and now they clearly rise, further boosted by the inflationary situation in which the Western economies have entered. By type of home, second-hand homes closed last year at 133,292 points (in the bubble they were close to 170 points) and new builds, at 148,640 points, which is the highest level in history for this segment of the market. .
By autonomous communities, last year it was the Balearic Islands that finished in the fourth quarter with the highest prices (9.6% year-on-year variation), followed by Andalusia (8%) and the Canary Islands (7.8%). Melilla, Murcia, Galicia and the Valencian Community also experienced increases above the national average of 6.4%. Castilla-La Mancha (4%), the Basque Country (4.2%) and Extremadura (4.9%) were the ones that registered the lowest growth in the final stretch of 2021.
He knows in depth all the sides of the coin.
subscribe