News
Ukraine war hits Russian arms exports | International
The years in which Russia aspired to become the world's largest arms exporter are behind us. Since the value of sales of Russian military equipment peaked a decade ago, India and China, the main importers, have reduced their dependence on Moscow; while purchases from other traditional partners, such as Algeria or Venezuela, have plummeted. Added to a bleak future for the Russian arms industry is the tremendous pressure that the United States and the European Union will exert on Egypt, Turkey and Serbia, among others, to root out their imports due to the brutal offensive that the Kremlin has launched on Ukraine. .
Even before the invasion of Ukraine, the value of Russian arms exports had fallen by 26% between 2017 and 2021 compared to the previous five years, according to a report published Monday by the Stockholm International Institute for Peace Research ( SIPRI). The collapse was not greater because Egypt – the world's third largest importer after India and Saudi Arabia – multiplied its purchases from the country by eight during that period. Data from the Swedish research center shows that Russian exports accounted for less than a fifth of global sales in the last five years (19%), something that had not yet happened this century. Also, that US exports were more than double those of Russia for the first time since 1999.
Among the almost fifty countries that still receive orders from Russian factories, many will have to reconsider their plans. As part of the response to the invasion of Ukraine, Washington and Brussels will increase their pressure so that they cancel the existing contracts and do not reach any new agreement with Moscow.
Egypt will be one on which the greatest pressure will be exerted. Since Abdelfatá al Sisi came to power in 2014, the regime has transformed the Armed Forces with multi-million dollar purchases. And in recent years, Cairo has shown a predilection for Russian weaponry. Many analysts anticipate that the United States will threaten Egypt with cutting off the 1.3 billion dollars (1.19 billion euros) it gives annually in military assistance if it does not suspend its purchases from Russia.
Turkey will also be at a crossroads. The second largest NATO Army challenged the rest of its partners in 2017 with the purchase of the Russian S-400 anti-aircraft defense system, which caused Washington, with Donald Trump in the presidency, to impose sanctions on Ankara. Last September, Turkish President Recep Tayyip Erdogan warned that the acquisition of more Russian missiles was on the table. However, the newspaper sabah published in December that Turkey had begun developing its own surface-to-air and anti-ballistic missile system. Siemon Wezeman, a SIPRI researcher and co-author of the report, maintains by telephone that "Ankara has no choice but to realign itself with its transatlantic allies."
Join EL PAÍS to follow all the news and read without limits.
subscribe
Western pressure will have less impact on India and China, the two main buyers of Russian arms, but the volume of their purchases will continue to decline. The two Asian giants have developed their arms industry in recent decades, and New Delhi has diversified its purchases, with France and the US as the most benefited countries. Wezeman believes that China "has covered its needs for decades with Russian imports, such as engines or helicopters, but today there is practically nothing that Beijing is not capable of producing."
Most of Russia's other major trading partners have also cut their purchases sharply for various reasons. In the case of Algeria, the regime has significantly reduced them after a period of renewal of its arsenal. And in others, such as Venezuela or Syria, the volume of their imports has become irrelevant.
In Europe, only Belarus and Serbia buy Russian weapons. Minsk, the Kremlin's main ally in the attack on Ukraine, has practically doubled its arms imports in the last five years, and 99.9% of what it received came from Russia. Belgrade, for its part, has also increased its spending on war material since 2016, with more than 85% being Russian or Belarusian-made. Wezeman believes that the EU will put Serbia between a rock and a hard place: "If it does not break with Moscow, it will not only stop receiving weapons from EU countries; her friction with Brussels will affect different areas ".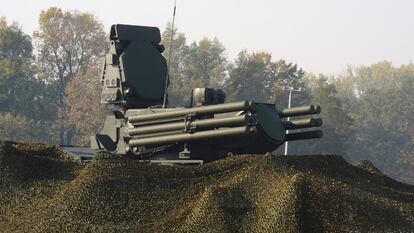 Washington's tentacles will deeply influence Asian recipients of Russian weapons such as Vietnam, Malaysia, Indonesia or the United Arab Emirates. More complicated is that they exert effective pressure on the Myanmar coup junta, or on Armenia and Azerbaijan, militarily opposed since the dissolution of the Soviet Union, and to which Moscow continues to supply tanks and missiles while acting as a mediator between the two.
Nor does it look like the ex-Soviet Central Asian republics are going to place large orders on the Russian arms industry. In Kazakhstan, the region's main importer, some experts have perceived a certain cooling of relations with Moscow in recent weeks, after the bloody repression of anti-government demonstrations in the Central Asian country and the war in Ukraine. Turkmenistan, courted for its huge gas reserves, has in recent years opted for Turkish and Chinese material to the detriment of Russian. And the volume of purchases from Uzbekistan, Kyrgyzstan and Tajikistan borders on insignificance.
Sales of Russian-made weapons practically equaled the value of those of the United States in 2002, and again around 2011, according to data from SIPRI, whose calculation system does not refer to actual purchase prices, but rather is based on production costs and does not represent exact figures. So, each power monopolized around 30% of global transfers. Now, the gap widens every year and Washington has 103 buying countries, compared to 45 in Moscow.
As for imports, the weapons delivered to Russia in the last 20 years have been very limited, comparable to those acquired by Switzerland or Sri Lanka. Although, paradoxically, more than 85% of what Moscow imported in that period came from Ukraine. In addition, in 2014 – the year in which the war between Kiev and pro-Russian separatists in the Donbas region began – the largest volume of Ukrainian exports to its current invader was reached, mainly engines and other components for combat aircraft. The last arms delivery from Ukraine to Russia recorded in the SIPRI database was in 2018.
Ukraine only added 0.1% of global imports in the last five years
Data published this Monday by SIPRI shows that Ukraine's arms imports between 2017 and 2021 only amounted to 0.1% of global purchases. However, since last January, the West began supplying weapons to Kiev in the face of the threat from Moscow, and efforts have been redoubled in recent days, although the US and its European allies are acting prudently and cautiously for fear of a replica of the Kremlin.
Despite the fact that imports from Ukraine have been very scarce since 2014, the purchase of a dozen Turkish drones stands out, which have become essential for the Ukrainian Army in its fight to stop the expansion of Russian troops. In recent days, the Bayraktar – whose efficiency had already been demonstrated in Syria, Libya or Nagorno Karabakh – have destroyed missile launchers, tanks and supply convoys, according to the Pentagon. Ukraine began using the Turkish-made drones to attack Donbas rebels last fall. Weeks later, Kiev announced a deal to purchase another 24 drones; and in February, a few days before the start of the Russian offensive, Ankara announced that it would set up a center in Ukraine to produce more Bayraktar and train pilots.
Wezeman believes that the volume of weapons imported by Ukraine in the last five years would have been much higher if the economic situation had not been suffocating for the Kiev government. The expert also stresses that the Ukrainian Army's plans were focused on dealing with the militias of the rebel provinces of Donetsk and Luhansk, not with a large-scale attack by a military superpower.
Follow all the international information in Facebook and Twitteror in our weekly newsletter.