World
In the name of the mother, Vicky Foods: this is the queen of industrial candy | Business
A bread workshop in Villalonga (Valencia) opened in the fifties of the last century is the seed of the current Vicky Foods (the old Dulcesol); a 100% family business and today in the hands of the sons of the founders, the Juan brothers (Rafael, Juan José and Dolores). Their commitment to diversification and internationalization made them change their name in 2019, while paying tribute to Victoria, their mother, famous for inventing square-shaped cupcakes. "With the expansion of the product range, we looked for a brand that would group all the categories. And to go outside of Spain we needed a name that would identify us as a food company", explains Rafael Juan, CEO of the company.
The company, which began its journey making bread, abandoned this activity in the sixties due to the growing demand for pastries. However, they returned to making bread at the beginning of this century. "We saw that brands like Bimbo or Panrico, our competition, focused on this product. We were in the same markets and we had to be there too," says Juan. A sector that is regaining prominence and in which Vicky Foods focuses a large part of its investments —40 million euros disbursed in the last two years—, with which it acquired three production lines to manufacture sliced ​​bread, hamburger bread and hot dogs. In fact, bread now accounts for 52% of total production, 30% of the export share and a turnover of 127 million in 2021, compared to 96 million in 2020.
A product that the Valencian company sees in full growth and with which it would strengthen its presence in the main chains in Spain, especially as a distributor brand. And it is that for the company this line of business supposes a relevant weight, with 54% of global turnover. "It is very important in the business and we are present in all distribution, also outside of Spain, in countries such as France or Italy".
Although the bread has gained strength, the company has disbursed another 74 million euros in the 2020-2022 period to improve processes, infrastructure and new product proposals. News that in recent years has led to the opening of two new product lines, one with the Be Plus brand, specializing in healthy eating, with children's products, ready-to-eat organic fruit and vegetable smoothies, and another with that of Hermanos Juan, with frozen pastries and bread for hotels and the food channel. Two lines that, together with Dulcesol, its benchmark brand of pastries, sweets and bread, had a turnover of 376 million euros in 2020, 6.5% more than in 2019, with a production of 175 million tons.
A volume of product that has its strong point of sale in physical establishments and in the Horeca channel (hotels, restaurants and cafeterias), but not on the Internet. "We only have it in Spain and it has little weight. It makes no sense to grow with a single-brand platform, that's why we are in others like Amazon, "says the manager.
Factory in Algeria
He knows in depth all the sides of the coin.
subscribe
Vicky Foods has a workforce of 2,600 employees who are divided between the four production centers located in Gandía, Villalonga, Xátiva (all three in Valencia) and Sig, near Orán, in Algeria. A factory, the latter that was inaugurated in 2015, in which 300 employees operate and which involved an investment of 18 million euros. "We started selling product through a local distributor and in three years we became the leading brand in pastry sales. A situation that, together with a lower investment than in other countries, led to the setting up of a new factory there", says Juan. A first step abroad that has led them to climb a new step with the start-up of another factory in France, in the Burgundy-Franco-Comté region.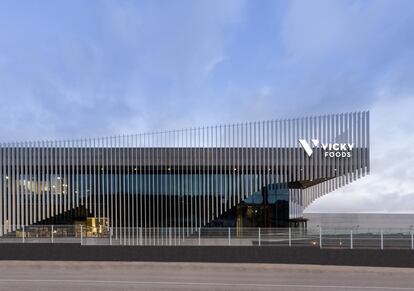 France accounted for 36% of the company's international business volume in 2020. "First we thought of Portugal, but this market was covered from Spain," says Juan. They have invested 64 million euros in the French plant. It will come into operation in 2023, with bread and pastries as its main lines of production, and will create some 100 direct jobs. The project is included within its commitment to the internationalization of the brand, which has not wanted to respond to how the conflict in Ukraine affects them when the sector has warned of a lack of oils for pastries. They do remember another crisis: that of entry into the euro. "In the first decade of this century we stopped growing and even lost markets such as Russia or the countries of Eastern Europe, where we had had a significant volume. We changed our strategy and went from exporting 2% to a current 21%", confirms the manager. With a global balance of 78 million euros and its products in more than 50 countries, its main destinations are divided between Portugal, France and Algeria.
Another of its growth levers is the development of new projects through its innovation center, located in Villalonga. With an investment of 6.5 million euros, it was inaugurated in 2019 and has a staff of 150 people. "We work on the development of new products, since different things are demanded in each country. Also in the improvement of nutritional aspects". An improvement that Vicky Foods has implemented in its products by eliminating hydrogenated fats a decade ago, part of the palm oil or the reduction of salt and sugar in its products, "which has meant a change in all recipes", John points out. Some changes that had their starting point in the start-up of his own chicken farm in the 1980s, "to have first-quality eggs at competitive prices," he adds.
They have also introduced other changes such as the packaging, by replacing conventional ones with others made of biodegradable materials, for the time being only in the Dulcesol line. "20 years ago the issue of packaging was a headache. To develop new packaging, we invested in Ducplast, a flexible packaging production company, which was already a supplier and needed financing to grow, and which we bought in its entirety in 2021″, concludes Juan.