World
UK joins EU with another round of sanctions against oligarchs, including supermarket owner Dia | Economy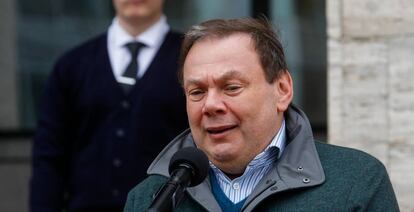 The Government of Boris Johnson has imposed this Tuesday economic sanctions and the freezing of assets and financial operations to 370 new Russian entities and individuals, with which the number of sanctioned already exceeds a thousand. Among the new oligarchs under Downing Street's radar is Mikhail Fridman, co-founder in 1990 of Alfa Bank — Russia's largest private bank — and owner of the Dia supermarket chain in Spain through his investment fund LetterOne (he owns a 77% of the firm). Fridman left the fund's board shortly after the invasion of Ukraine began to try to get around the blocking of his assets. Also on the new sanctioned list is Pyotr Aven, a partner of Fridman and also the founder of Alfa Bank.
The EU has already included the two businessmen in its first package of economic retaliation. On the banker German Khan, who led the commercial area of ​​​​Alfa Bank to join the board of directors of the oil company TNK, the sanctions of London and Brussels have fallen at the same time. Between the three businessmen, they accumulated assets of more than 120,000 million euros.
The British Parliament has accelerated the approval of new amendments to the Economic Crime Act, which have given the Johnson Government the powers to launch a whole new battery of sanctions. Among the political allies that Downing Street has decided to act against are the Russian Prime Minister, Mikhail Mishustin; Defense Minister Sergey Shoigu; and former Russian President Dimitri Medvedev.
London has also singled out a number of propagandists for the Putin regime, such as his press secretary Dimitri Peskov and foreign affairs spokeswoman Maria Zakjarova. The sanctions have also fallen on a Russian entity specializing in disinformation on social networks: the "troll farm" called the Internet Research Agency.
"We are going faster than we have ever gone before to hit those closest to Putin," said British Foreign Secretary Liz Truss. "From top oligarchs to his current prime minister, as well as the propagandists who spread his lies and misinformation about him. We are going to hold all of them accountable for their complicity in Russia's crimes against Ukraine," Truss said.
The new law will correct, as the Johnson Government has promised, the legal hole that the current Companies House (Public Mercantile Registry) represented, which allowed companies located in territories offshore for a derisory amount and without revealing the identity of the true owner. Through these companies, Russian oligarchs have bought businesses and real estate for decades in the UK. With the new law, it will be mandatory to reveal from the beginning – and every year – the true identity of the owner of the company, or the Government can intervene and freeze its assets.
He knows in depth all the sides of the coin.
subscribe