World
Díaz is committed to using the "great profits" of the electric companies to compensate for the loss of purchasing power of the workers | Economy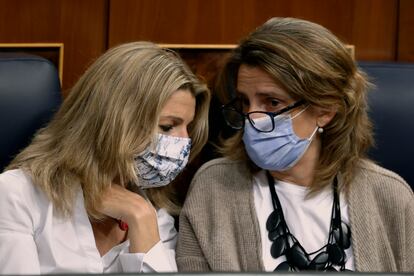 The Second Vice President and Minister of Labor, Yolanda Díaz, has bet this Wednesday that the "great benefits" of the electric companies serve to "alleviate" the loss of purchasing power of wages. During the control session of the Government in Congress and in response to questions from the Popular Party. "Do you agree that these great benefits serve to alleviate the loss of purchasing power of workers today?", She has asked the Conservative party caucus. Díaz has affirmed that the Executive is "in it" and that "they will find him" there. The Government, she has added, is willing to take "all the necessary measures" to guarantee the purchasing power of the Spanish.
This Monday, the Secretary General of the Organization for Economic Cooperation and Development (OECD), Mathias Cormann, defended during his visit to Madrid a tax increase on electricity companies to compensate for the rise in electricity prices in recent years. months. "There is capacity to increase taxes on these companies to cushion the effects of rising energy prices on certain groups, as they have already done Italy and Romania", remarked the head of the thinktank of the rich countries.
The International Energy Agency (IEA, dependent on the OECD) calculates that, under current market conditions, energy companies can obtain in 2022 joint windfall profits of up to €200 billion from gas, coal, nuclear, hydropower and renewables.
Pivotal summit in Brussels
He knows in depth all the sides of the coin.
subscribe
The next few days will be key to knowing how far the European Union is willing to go to cut the rise in electricity prices in its tracks. The bloc's heads of state and government hope to reach an agreement in this regard at the summit on Thursday and next Friday in Brussels. The positions, however, remain very distant: while Spain and other southern countries advocate applying price caps in the wholesale market, Germany prefers formulas that do not imply modifying the design of the market.
The European Commission, for its part, put on the table the possibility of taxing the so-called profits that fell from the sky to later redistribute them among energy consumers and has opened the door to setting price limits in the retail market. The governments of the bloc, however, have asked Brussels for a new proposal on which to build a consensus. If there is no agreement, sources from the Pedro Sánchez Executive stress that they will take their own measures to reduce the pressure on households and companies.