News
Trafficking mafias prey on Ukrainian women and children at the border | International
On the Polish side of Medyka, the border post with Ukraine that most refugees cross, a fence divides those who are bussed to reception centers or train stations from those who are picked up. This last row is only accessible by vehicles whose drivers wear a lilac ribbon on their wrist, similar to those at music festivals, protruding from their sleeve. It is proof that they have been registered by the authorities to ensure that human traffickers do not take advantage of a situation as juicy as the quick flight of a war of 3.3 million people. Even more so when it is almost exclusively about their usual targets in terms of population and geography: women and children from Eastern Europe in a situation of vulnerability. Local NGOs warn of episodes of harassment by pimps and false job offers on the Internet, and experts assume that there will be cases, but after almost a month of war none have yet been confirmed in Poland.
Karolina Wierzbinska is the coordinator and co-founder of the Polish NGO Homo Faber, which runs a refugee aid center in the Polish city of Lublin with a call center which the Ukrainians can call in their language any day at any time. "We have recorded the first cases of pimps harassing Ukrainian women near refugee points in Lublin; approaching them, sometimes aggressively, under the guise of offering transportation, work or accommodation. Not only men, there are also women trying to get refugee women into prostitution at bus stations. They wait for them to arrive from Ukraine and pretend to offer a trip or accommodation to women who are distressed and exhausted by the trip", she explains.
Wierzbinska also talks about couples, usually a man and a woman, who approach the border by car and operate in a more sophisticated way: "Usually, she begins to act as if she is tired or unwell, grabs a blanket and a cup of tea from the charitable organizations present there and tries to mingle with the crowd of Ukrainians. After a while, she starts offering rides to women and girls to persuade them to go to the car with her friend." When someone gets suspicious and approaches them to ask them to sign up for the registry, they often run away, she adds.
Poland is a logical target for trafficking mafias. It is where 60% of the refugees have crossed since the start of the war, on February 24, and half have stayed, around a million. The country is also part of the Schengen free transit area. Last week, the government amended the refugee crisis response law to increase the minimum sentence for trafficking from three to 10 years and the maximum for trafficking children for sexual purposes from 10 to 25. However, there are no confirmed cases of trafficking in women or children for prostitution, forced labor or organ harvesting. Not even the dozens of refugees, police officers, aid workers or volunteers consulted at the Polish or Romanian borders know first-hand cases.
Join EL PAÍS to follow all the news and read without limits.
subscribe
It is one of the advantages of the open door policy that the EU applies these days with Ukrainian refugees, unlike the obstacles, fences or distribution quotas that marked the 2015-16 crisis or Warsaw's own attitude in the crisis migration at its border created last year by Belarusian leader Aleksandr Lukashenko, in which the right to seek asylum for fleeing war or persecution was not always respected.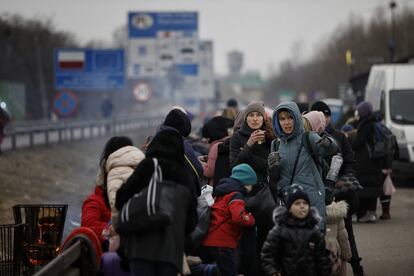 At the Chelm train station in Poland, a train arrives from kyiv with about 700 refugees. A mix of military; national police, some of them incognito, and municipal; and border and railway guards free lateral access to the lobby so that no one is left unidentified. On the platform, the police organize the descent wagon by wagon to avoid crowds. A queue is formed from which the volunteers remove the elderly and people with mobility problems so that they do not have to queue.
When they cross the door, the rest find a table on each side with eight border policemen who register their documents (not all of them had a passport when they fled) and the children's birth certificates, a sheet that many mothers bring laminated. Next, a table with maps and information on how to continue to the next destination and brochures in Ukrainian, Russian and English with emergency phone numbers and phrases such as: "Be careful, there are people who want to take advantage of your tragedy! !". The advice includes not giving your passport or mobile phone to anyone, registering as soon as possible at the nearest reception point, rejecting suspicious transport offers, writing down the license plate and taking a selfie with the driver of the vehicle and, importantly, letting yourself be guided by the intuition. They are edited by the Polish Ministry of the Interior, the University of Warsaw or the La Strada Foundation against human trafficking and slavery.
Whether there or at the train and bus stations in Przemyśl and Lublin, at the border crossings in Medyka, Dorohusk and Budomierz, or in refugee reception centers like Hrubieszow, the system works reasonably well, with police and volunteers monitoring suspicious movements. Like that of a Dutchman who intended to welcome several refugees to his country and give away sleeping bags: he was intercepted at the entrance to the Chelm railway station and forced to register his passport and the model and number plate of his vehicle in a police van. About 200 kilometers away, in the lobby of the Przemysl one, a woman held up a cardboard with a message in which she offered space in her house in Sweden. She was able to do so because she had previously registered at a nearby former department store, where proposals are categorized by nationality. The City Council has also launched a mobile application that connects refugees and drivers, who cannot be anonymous.
The refugees arrive exhausted after hours in the best of cases – days, usually – of travel, worried about the relatives they leave in a country at war and still assimilating the sudden turnaround that their lives have given. "Mostly they are overwhelmed. And, in general, also confused, "says Brazilian Josi Borges, a volunteer psychologist at Medyka who welcomes a family with a smile, takes the child by the hand and accompanies them to the transportation zone.
The vast majority register and stick to accredited transport and accommodation channels, but families with bags under their eyes and suitcases are also seen advancing aimlessly and going out into the street without knowing very well how to act or where to go. "And that's where we lose them from the radar," laments Zbigniew Lasocil, director of the Center for Research on Human Trafficking at the Faculty of Political Science and International Studies at the University of Warsaw and author of a hundred publications on human trafficking. the topic. "The current system is neither sufficient nor efficient. An effective system of risk registration and awareness is needed, both in society and among women."
When they cross, Lasocil points out, the refugees "feel safe" because they have left a country at war and they relax in the face of potential dangers, which have to do with the change in the historical pattern in the area of ​​trafficking. "15 years ago, women were directly kidnapped. Now there is more recruitment of women who are very vulnerable due to a family, personal, economic situation… And the war does not offer individual people, but rather a flood of women who could be easily victimized", she points out before crudely summarizing: "In a situation of absolute vulnerability, the only currency a woman has is her children and her body".
the most fragile part
Children are the most fragile part of the equation, but the number of those who have crossed the border alone is anecdotal, various sources on the ground agree. Daniele Febei, from the Polish branch of the International Organization for Migration, explains in a tent in Medyka that the very few children under 14 who do so "are immediately referred to social services" and warns of the risks generated by free help . "Many volunteers arrive from all over the world. And it's very beautiful, but also chaotic. Now it is done more with structured NGOs, which are accountable, and a credentialing system has been established".
There have also been no reported disappearances of minors, while in January 2016 a Europol statement put the number of missing migrant minors at 10,000. In Medyka, for example, Ramón Mínguez waits for four on the Polish side, a few meters from the border fence. He is the general coordinator of Kids Ukraine, a small Spanish NGO created in 2019, and he will receive them from his mother, who will then cross back to Ukraine. The children are scheduled to arrive in Barcelona this Sunday by bus, in a reception initiative for fifty Ukrainians in which the Barakaldo Solidarity Intervention, an association made up of municipal police, collaborates.
Another problem is understanding what happened at the beginning of the war, when the flood of refugees overwhelmed neighboring countries and a legion of volunteers avoided scenes of refugees sleeping in the open. "In the early days there was no such thing as control. [Los refugiados] they could be picked up by any person who expressed a willingness to take them away," says Lasocil. In those days, at the Siret border post in Romania, it was not difficult to reach areas where refugees disembarked without first having to show a passport.
Vicente Raimundo, director of International Cooperation and Humanitarian Aid for Save the Children Spain, visited Siret and is more concerned about the future than the present. He admits that "right now there are many more eyes and attention" than in the 2015-2016 crisis and that "it is still not a crisis of unaccompanied minors, but of broken families." But he fears that if the war drags on, increasingly poor and vulnerable parents will think: "I'm taking my son across the border and let him be what God wants." "There is a lot of market, there can be a lot of lack of control and there is a lot of vulnerability," he sums up. "The cocktail is there."
Follow all the international information in Facebook and Twitteror in our weekly newsletter.
Exclusive content for subscribers
read without limits