News
War in Ukraine: Calais, safe haven for Ukrainians, hell for those fleeing other wars | International
To get to the youth hostel in Calais converted into a reception center for Ukrainian refugees, you have to cross roads, streets and parks surrounded by fences and even concrete walls with concertinas. This is how this French city, the closest point to the United Kingdom in all of Europe, has been barricaded, to make it as difficult as possible for the thousands of migrants who come with the dream of reaching British territory to start a new life. If they don't lose her first on the perilous journey across the English Channel. Meanwhile, most of these undocumented dreamers live in tents installed in unhealthy lots on the outskirts of this town that for years has been a symbol of all the migratory dysfunctions in Europe.
None of this can be seen from the windows of the solid building located "on the edge of the sea and two steps from the city center", as the hostel with 84 rooms, a restaurant and even a garden that the Mayor of Calais reserved as soon as they began to arrive the first Ukrainians on their way to the United Kingdom.
In addition to basic products, the Ukrainians They receive help to manage their paperwork as soon as possible. They can now do it online, although just in case, a shuttle takes them to a British consular post recently opened for them in Arras, the administrative capital of the region. Pavlo is a Ukrainian living in the UK who went to Poland to look for his mother, his sister, a sister-in-law and two friends who recently fled from his hometown of Zaporizhia. When he arrived at the shelter on Wednesday, it was almost empty: most of the refugees had already managed to process their papers. Pavlo, too, hoped to board a ferry with his family soon.
All this is a chimera for Saddam, a 25-year-old Sudanese who has been "stuck" in Calais for just over a year. Like the Ukrainians, he too fled a country at almost constant war, went through the "hell" of Libya and almost drowned in the Mediterranean, he recounts. He believed that when he arrived in Europe, the continent "of human rights", as he called it, his odyssey was over. "But he looks," he says frustrated as he tugs at his hair which, since he's been in Calais, has grown gray.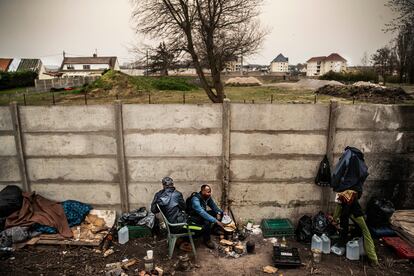 Like the around 1,500 irregular migrants waiting in Calais for a way to reach the UK (nearly all of them throwing themselves back into the sea, although there are still those who try to jump into a truck to cross the super-guarded Eurotunnel), Saddam lives in an old grocery store Bell. He spends the day dodging the police who have already taken him three times to the French border —once they left him in Biarritz, he says— and who every 48 hours or less carry out raids to dismantle the dozen irregular camps in which As soon as the agents leave, the migrants return to settle with what little they have left. An example of the futility of a policy that fails to discourage anyone, but makes life even more difficult for those who have nothing.
Join EL PAÍS to follow all the news and read without limits.
subscribe
These young men, although there are also women and children, mostly come from countries in conflict such as Sudan, Eritrea, Syria or Afghanistan and depend for almost everything, from eating something hot or washing to charging their mobile phone, on solidarity associations that try to cover their basic needs. They do it on the outskirts of the city, since they are prohibited from settling in the center of Calais, where there has been no problem accommodating the Ukrainians. They already have more than 20,000 euros in fines for violating the regulations, the NGO Utopia 56 denounced this week.
While handing out coffee, tea and hot chocolate, Suzy Corey, a British volunteer from the Café Calais association, says she feels "very happy that the Ukrainian refugees have found so much charity here". At the same time, she admits to being "frustrated", because "Obviously the Ukrainians come from a terrible situation, but these men are also fleeing from similar situations, from wars, from humanitarian crises". Like Ahmed, another 22-year-old Sudanese. He has just arrived in Calais and has already heard about the hostel from the Ukrainians. He has spent his first night outdoors, "without a blanket, with wet shoes," he says. "Our situation is the same. But I see that they don't treat us so well." Perhaps adventure, because "Ukrainians have light skin and eyes. Ours are dark."
The mayor of the city, Natacha Bouchart, defender of the strong hand against irregular migrants in Calais, justifies the disparity in treatment with the argument that the government of Emmanuel Macron also uses: "The big difference", declared the councillor, "is that the Ukrainians are in a regular situation", thanks to the temporary protection status granted by the European Union.
Nobody, neither migrants like Saddam or Ahmed, nor associations working on the ground, disputes the right of Ukrainian refugees to be treated with dignity. What they question is what Alexandra Limousin, from the Auberge des Migrants, calls a "two-speed reception" in Calais and in much of Europe: the fast and safe route for the Ukrainians and the precariousness and harassment of the authorities to the rest.
"We deplore the difference in treatment. Why do some receive more than others? ", She denounces. Your association is studying the possibility of filing a lawsuit for discrimination.
"It is not about asking for Ukrainian refugees to be put in tents under bridges, but for the shelter to be opened to other migrants," underlines Sophie Djigo, founder of Migraction 59, a citizen platform that has been offering years a temporary shelter, usually on weekends, for irregular migrants in the homes of volunteers such as Jeremy Ollivier and Sandra Moreau. Thirty migrants have passed through the home in Calais of this couple of high school philosophy teachers in three years.
For them, the most shocking thing is the "invisibility" of the problem highlighted by the arrival of the Ukrainians. "It is not even that we compare them, that we say that there are good and bad refugees," Moreau points out. "The problem is that some do not even exist (…) it is terrible to see the level of invisibility that we have reached, we act as if the first refugees to arrive are Ukrainians."
Horrified by the images of refugees fleeing with just what they were wearing, Asher Shane, a father of a family from Southampton, decided to come to Calais for a week to help the Ukrainians in any way, "to make papers, to take them to the supermarket", he says. But when he arrived at the youth hostel, he was told that it was not necessary. "Here they have everything." So he joined Café Calais, to help the other migrants, of whose existence and situation, he admits, he had no idea.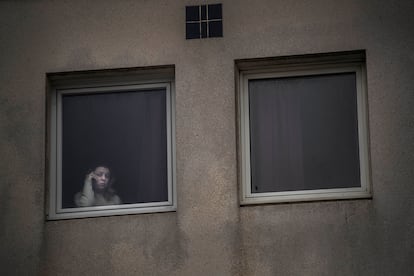 While Saddam had a hot drink and chatted with volunteers like Shane, the police again dismantled his camp. "Of course we don't wish the Ukrainians anything bad, they are human beings, like us. All I want is for the police to leave me alone. I don't mind spending another three years in a store, but leave me alone", he is exasperated. The associations of Calais and other parts of France have spent years asking, unsuccessfully, for resources that, until the arrival of the Ukrainian refugees, seemed impossible. For Moreau, "this shows that there is room for everyone and that, when we want to, welcoming refugees is not a problem". What is missing, everyone agrees, is political will. And perhaps a little more empathy for those fleeing from wars farther away, but no less terrible and not so much like us.
Follow all the international information in Facebook and Twitteror in our weekly newsletter.