World
Younger templates with older tips | Business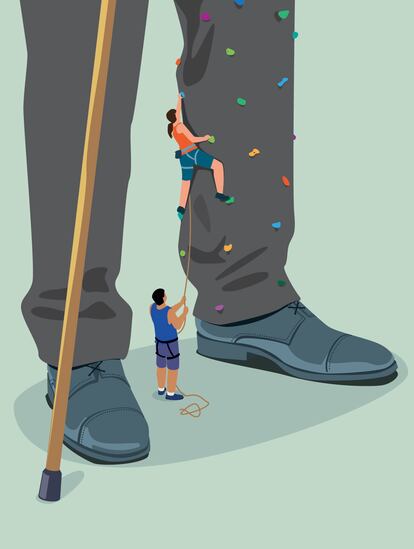 The early-retired workers of some companies, mainly financial or telecommunications corporations, are a large and growing group. This development is caused by the fact that many organizations have approached their possibly necessary restructurings by reducing their workforce. And they have done so by cutting to the chase, that is, establishing age as a criterion for dismissal.
However, this trend does not seem to be reflected in senior management positions and company boards of directors, since many of them have professionals who are very close to retirement or have even passed it. In these cases, age does not seem to be a handicap, quite the opposite.
Far from seeing it as something negative, we believe that, from the point of view of the sum of knowledge, experience and talent, it is very beneficial for companies to keep professionals of all ages on their staff. Scientific evidence in management indicates that the most productive teams are those that are intergenerational and diverse. This statement is based on the idea that professionals with different profiles lead the company to a broad understanding of reality, make better forecasts and, therefore, make better management decisions. In other words, to form a powerful collective intelligence.
The CNMV Code of Good Governance establishes in its principle number 9 that "the board of directors shall assume, collectively and unitarily, direct responsibility for the corporate administration and the supervision of the company's management, with the common purpose of promoting the social interest". And, to achieve this, it adds recommendations related to its composition, where it urges to pursue diversity regarding training, gender, professional experience and —of course— age. All this oriented to the idea that a diverse professional group can better gather and combine the skills necessary to promote good company governance.
The truth is that the boards of directors of listed companies in Spain have an abundance of senior talent. Along these lines, thanks to the approval of Circular 2/2018, of June 12, by the CNMV —which asked companies to disclose the age of their directors in aggregate— we know that the average age of the boards of directors of companies listed in Spain is 60.5 years. An age that, due to the pre-retirement process, far exceeds what should be given in the templates of these same companies at this time. All of this generates two different stories regarding age in large Spanish companies: their workforces rejuvenate while their boards age. The average age of the boards is slightly higher in Ibex companies, reaching 61.6 years. Furthermore, it is interesting to note that 18.7% of the directors of listed companies in Spain are 70 years of age or older. A percentage that has even grown slightly compared to 2019 (18.1%). It must be stressed, however, that most of the members of the councils hold the category of proprietary and, to a lesser extent, independent. Being the smallest number of executive directors.
The process of rejuvenating the workforce of large corporations does not seem to reach the decision-making and management bodies of large companies. Which shows two differentiated narratives about age that usually coexist within these same companies. In our opinion, neither approach is correct. Early retirement processes, although financially useful in the short term, deprive the organization of essential skills and senior knowledge for its sustainability in the medium and long term. On the other hand, the lack of generational diversity in management bodies may mean that new management paradigms or emerging changes in the market are not identified and monitored.
He knows in depth all the sides of the coin.
subscribe
For this reason, we believe that companies should adopt a new approach in their age management. This approach would go through ensuring generational diversity in its staff and governing bodies, correctly managing its senior talent and assembling teams that combine the skills of young professionals with those who have plenty of charts in their job performance. Only in this way will it be possible that within the company there are not two stories about age, but a single integrating approach that brings together the skills and abilities of a diverse workforce.
Almudena Eizaguirre and Inigo Calvo are general director and professor at Deusto Business School.
Exclusive content for subscribers
read without limits