News
Bombings against the soul: the mourning of those displaced by the war in Ukraine | International
It is just over 1,200 kilometers from Selydove (Donetsk region) in the east to Lviv in the west. So far, very close to Poland, Alexander has just arrived. Is a Rare avis in a country in which, for the most part, women and children are the ones who break with their surroundings seeking refuge while the men are the ones who stay. This is the scheme designed by the Ukrainian authorities to defend the State against the invasion initiated by Russian troops on February 24. But Alexander, 40, has only one leg and is in a wheelchair pushed by his 16-year-old daughter Olena. They have little luggage and are accompanied by a cat named Biezhik, which means beige. He carries on his lap a shoe box with documentation that he considers essential.
But he does not complain about the long journey and the harsh conditions in which he has to travel. Alexander assures that the heaviest burdens that he carries with this forced emigration fleeing from the war are the psychological ones. He tells the Lviv train station that leaving behind his mother and a son has been the hardest. Father and daughter, like many of the thousands of Ukrainians who wander through this place daily, do not have a fixed destination. They have marked, without being very convinced, Germany or the United Kingdom as a target. It's not because they have contacts there. They simply expect to be welcomed. Pure intuition.
The soul wounds suffered by people who flee war or who are victims of a traumatic migratory process are less visible than the physical ones, but no less important. These families are experiencing "a very intense, very unexpected migratory duel," says psychiatrist Joseba Achotegui from Barcelona, ​​since "few expected this barbarity of invading Europe with tanks." Two decades ago, this professor at the University of Barcelona described what is known as Ulysses syndrome, which, without being a mental disorder, serves to explain this migratory duel with chronic and multiple stress.
Julia, a 54-year-old volunteer Ukrainian psychologist, has spent more than two weeks scrutinizing those who get off the carriages and step disoriented on the platforms at the Lviv station. She pays special attention to convoys arriving from cities like Kharkov, badly hit by Russian troops. It is easy to see her, like other volunteers, with her fluorescent vest and her accreditation around her neck. But instead of food, she distributes empathy and human warmth among the travelers who are on the dead end. In this sense, Achotegui stresses that it is necessary to go beyond "spiritual solutions and also satisfy physical needs" such as shelter, bed and food.
Join EL PAÍS to follow all the news and read without limits.
subscribe
The station cafeteria these days is the closest thing to a reception center for refugees who find themselves in limbo when they arrive in Lviv (700,000 inhabitants, before the start of the war). At the bar, volunteers distribute sandwiches, soft drinks, coffee or baby food. In one of the corners, something similar to a nursery has been improvised where the little ones cushion their dead time between toys, oblivious to the uncertainty that devours their mothers. Elena, 42, has come to this place from Voznesensk, 90 kilometers from Mikolaiv, a city on the open battlefront in southern Ukraine. She is traveling with two of her children, ages nine and 12. The eldest, 22, has remained as a member of the civil defense corps. "I have a broken heart," she says hugging one of the children in the presence of Julia, the psychologist, remembering that she has also left her mother behind. Elena has only arrived in Lviv an hour ago and is already thinking of continuing on to Poland, some 70 kilometers away, but her fate after crossing the border is uncertain.
"The worst thing is seeing mothers with their children. The children are very scared. We talk quietly, we don't yell. And, then, when the mothers calm down, the children calm down too", explains the volunteer psychologist without stopping repeating the hug gesture. Julia is originally from Crimea, the Ukrainian region occupied by Russia since 2014, and she runs a cabinet in Lviv especially focused on serving women. She remembers in a special way a group of women who have escaped these days from Odessa and who already had to flee eight years ago from the war in the Donbas region, in the east of the country. She affirms that all the people she attends coincide in something: her desire to recover the lost life as soon as possible, normalcy, her home, her environment… That is why, the psychologist comments, many are reluctant to move away from their environment because they believe that that way they can backtrack as soon as possible. They believe that outside the Ukraine the blow will be stronger.
In the midst of the current catharsis that this country is experiencing, for Achotegui "there are two types of population, the vulnerable and the one that has more resilience." "That vulnerable is the most problematic from mental health: children who need protection and live under a very harsh situation, as well as people with previous psychological problems", because there is a risk that they will appear again. Linked to the Ulysses syndrome, the professor has described what he considers to be the seven duels of migration: family and loved ones, language, culture, land, social status, group membership and risks. physical.
It is also possible to find these days in Ukraine those who close ranks in the midst of difficulties and manage to become strong to try to better manage the uprooting imposed by the bombs. Anelia, 30, has surprised herself by staying in her country with her husband. She thought that she would leave five minutes after the first shot, but here she is. "I have never been a patriot until now," she says, this employee of a major technology company in the United States that, she assures, has already raised 300,000 dollars (270,000 euros) to help Ukraine.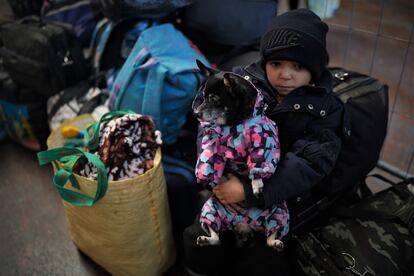 "February 24 has turned my life into a before and after. I have always followed wars in the news, but nothing is like following it from the inside. It is a permanent pain, a permanent stress because you are worried about your country, your family, your people… I think the first week was the hardest. I couldn't work, eat or sleep", she comments while thanking the facilities offered by his boss from San Francisco (USA) to adapt teleworking to the current circumstances. Anelia and her husband, Dimitri, have left their rented apartment in kyiv and have looked for another one in western Ukraine.
She expresses her anguish by showing more concern for others than for herself and her partner. "Although you are worried about your safety, I try to find strength and energy to help my whole family and as many people as I can. I plan to stay here, I can telecommute and boost my country's economy from within, even if it's with my salary. Buy products here and help the local people. Help the part of my family that is closest to the war", she adds in reference to her parents, who have not wanted to leave her village on the outskirts of kyiv. "For me, it has been difficult to accept, but I also understand that for the elderly it is important to be at home and not feel like refugees and homeless people," he concludes in enviable Spanish, a memory of his summers in Ciudad Real as a member of a program to help children in Ukraine. From Spain, her foster family asks her to leave, but she is clear: she will stay "until victory".
Meanwhile, he combines work and help. Last Wednesday she went to the Lviv bus station to accompany and say goodbye to some relatives who were going to Berlin. Minutes before getting on the bus, Irina, 36, collapsed at the moment when she was going to recount the ups and downs of her departure from the country. It was her 12-year-old son, Nazar, who took charge of her and, showing surprising maturity, recounted how she left kyiv, where her father is part of the civil resistance. The boy explained how he maintains some contact with his classmates, although there are only three or four of the 28 left in the capital. "What I miss the most is my family, my house and my cat Tom," he said.
There are studies carried out during the bombings of the Second World War in London and, later, in the Bosnian war that conclude that, on a psychological level, children are always better with their parents, even in an environment of violence, explains Achotegui. "Better together under a bombardment than with the minor isolated in a boarding school in Switzerland," concludes the psychiatrist.
Follow all the international information in Facebook and Twitteror in our weekly newsletter.
Exclusive content for subscribers
read without limits