World
Cepsa will invest up to 8,000 million so that half of its business comes from "sustainable" activities in 2030 | Economy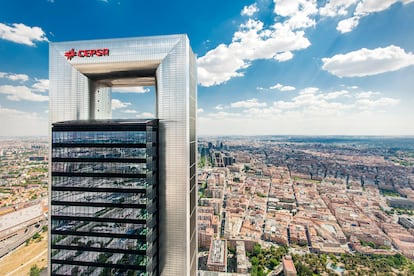 With oil skyrocketing, the oil companies —great beneficiaries of this scenario— take another step in the reconversion of their business: the future will not be fossil fuels. The new strategic plan of the Spanish company Cepsa is part of this dynamic of gradual reconversion, in which it commits that by 2030 half of its business will come from "sustainable" activities, which "will tend to zero emissions". Today that figure barely reaches 14% of its gross operating profit (Ebitda). The zero emissions scenario, however, will have to wait much longer: it will arrive in 2050, according to the company's forecast.
The oil company, owned by Mubadala Investment (63%), the main investment vehicle of the emirate of Abu Dhabi, and the US fund Carlyle (37%), will invest between 7,000 and 8,000 million euros in the remainder of the decade. Of that figure, 60% will go to "sustainable business" starting next year.
Within this framework, Cepsa announces, among other things, the development of the largest ultra-fast charging network for electric vehicles on the Iberian Peninsula —in collaboration with Endesa— and states that it will become the "green hydrogen leader" in Spain and Portugal , with a production capacity of 2 gigawatts (GW) in 2030 and a high-capacity charger every 200 kilometers of highway. This will make it, he emphasizes, "a benchmark in the import and export of this energy to the European continent, Africa and the Middle East, thanks to the privileged location of its facilities on the Peninsula".
In the field of renewable energies, Cepsa will develop a portfolio of solar and wind energy projects for its own consumption, with a capacity of 7 GW, of which 1.5 are already connected to the grid.
After several months of speculation about possible divestments in its Chemical business, the strategy "remains unchanged". Neither are there in Exploration and Production, although the company announces that it will provide both divisions with "greater autonomy" with the aim of "maximizing value creation and allowing greater focus and faster decision-making."
He knows in depth all the sides of the coin.
subscribe