News
The women of Malvinas wage their own war against oblivion | International
The Falklands War was only a men's thing. That's what the official story says, even if it's not true. Fourteen women got on a plane days after April 2, 1982 and during the almost three months that the conflict with the United Kingdom lasted, they assisted the wounded soldiers on the front. Some did so aboard the Almirante Irizar hospital ship, an icebreaker now destined for the Antarctic campaign. Others ended up in a mobile hospital set up by the Air Force in Comodoro Rivadavia, located on the mainland 870 kilometers from the Malvinas. Their stories were erased from war memory by the military: they did not receive medals, they were not invited to parades, they were not considered ex-combatants, and they did not receive pensions.
"When we went out to say 'we were also in the war,' they accused us of mythomaniacs, crazy women, women of life and many other things," says Alicia Mabel Reynoso. In 1982, Reynoso was 23 years old and head nurse at the Air Force hospital in Buenos Aires. When the Argentine dictatorship decided to occupy the Malvinas, a superior of hers ordered her to gather five comrades who were willing to work in a mobile hospital that would be installed at the front. "I looked for the one in intensive care, the one on guard duty, and we marched towards the islands. Later, between the orders and counter-orders, they told us that the hospital would stay in Comodoro Rivadavia," says Reynoso in an interview with EL PAÍS held in the Argentine capital. Among those chosen was Stella Maris Morales. She was then 28 years old. "I ran to a telephone exchange on Corrientes Avenue and called my mother to tell her that I was going to war. She felt that she was doing something important," says Morales.
Alicia Reynoso remembers very well those first days of the war. "Come on, let's go, go remove the weapons," she told us. Because we were health personnel and because of the Geneva Convention we could not carry weapons, but they gave us a weapon. It didn't matter much, because my gun didn't have a magazine, so it was for show. We kept the gun under all the clothes we were wearing and in the banderole we had cocoa butter, candy, cookies," she says. The trip to Comodoro Rivadavia was another test. "We traveled on a plane with 300 soldiers sitting on the floor and we were the only five women. You can imagine the things that the soldiers shouted at us, euphoric because they were going to Malvinas and because of the five women who were wearing green like them."
Reynoso and Morales have come to the interview with magazines, photos and documents. They show the covers where they appear dressed in military clothing and the inevitable headlines at that time: "To war with a woman's perfume." When they were approached by the photographers, they were wandering around Comodoro Rivadavía, while helping to assemble the mobile hospital that had arrived by land from Buenos Aires, 1,700 kilometers to the north. On May 1, the first war action took place, and the women collided head-on with it. While the Argentine press repeated like a mantra "we are winning", they saw defeat and bewilderment in the eyes of the wounded soldiers.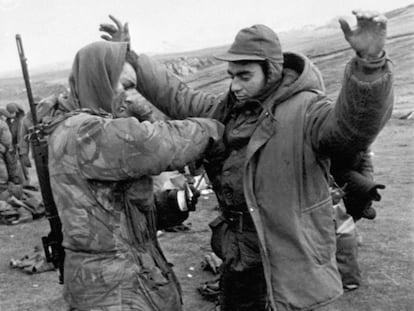 "When the soldiers began to arrive, we realized how they were lying to us," says Reynoso. "I saw poorly fed soldiers, with clothes that were not suitable for the climate where they came from. That was violence, they came very hungry and very disoriented, not knowing where they were." Both remember the childlike faces of the wounded. "We weren't scared of the injuries —open fractures, burns, shrapnel—, but the call to the mother caught our attention: 'Call my mother, where is my mother?' And we were 23 years old, we didn't have much more. We made the containment they needed, they found a woman dressed just like them, with a different smell, with a different way of speaking and who told them to calm down, "says Reynoso.
Join EL PAÍS to follow all the news and read without limits.
subscribe
the return home
When Argentina finally signed the surrender, the women returned home. Then a new, more intimate war began for recognition. As the dictatorship crumbled and democracy was born, the women of the war disappeared from the collective memory.
"After the war, I took leave and lost contact with my colleagues. Everything that the war meant to me, to which I was very happy, was something very terrible. I lived through tragic situations without restraint, because we restrained each other in order to assist the soldiers. When we were alone we cried, we prayed and we remembered our mothers", says Stella Maris Reynoso. For years, the war was a memory buried in her memory. "Until in 2013, Alicia called me on the phone and told me that she had started a fight for recognition. Still at that time, if she said that she had been in the war, they would look at me and say: 'she is crazy, there were no women there'. That's why we didn't count, they didn't try to be crazy, they didn't believe us, "she says.
"Here it seems that war is a matter of men," adds Reynoso. "When I started to speak in 2010, they told me everything, they even threatened to kill me. A senior officer of the Force in a meeting said that we had gone to cheer up the troops. A doctor said: 'What a pity that I didn't know that the minitas were there.' That wasn't long ago, the gender agenda was already there" in society, he laments. Reynoso and Morales took their request to court to be recognized as ex-combatants. It took eleven years to get it. Last February, a court granted them the documentation, which they now display as a trophy.
"This role means 11 years of struggle," says Reynoso. Morales regrets that 40 years after the start of the Malvinas war, the Air Force has not summoned them. "It happens that for them this role is a defeat. This role is a triumph for the truth, many doors have been closed to us, they have insulted us. In a parade we were kicked out for not having this role. We do not fight for money, we fight because we were in the war on a par with men, never behind, always on a par", he says. Reynoso agrees next to him: "I didn't go to cheer up the troops. If they took us as an ornament, they got confused.
Subscribe here to the EL PAÍS América newsletter and receive all the key information on current affairs in the region.