News
Elections in France 2022: Satisfied France also exists (and does not vote for the extreme right) | International
Sitting at his usual table in L'Amiral, —the restaurant that Commissioner Maigret visited in Georges Simenon's novels— in one of his first investigations, the cinnamon dog, the also fiction curator Georges Dupin can only congratulate himself once again: luckily he was transferred from Paris to Concarneau, in the Breton department of Finistère. Because, he will repeat to himself while tasting the umpteenth coffee of the day and reflecting on his next case, nowhere else in France, or in the world, is life better than in Brittany, a region with spectacular Atlantic coasts, a rainy but mild climate —the the sun rises as often as the clouds lie in wait—, and charming little towns that in the past attracted artists such as Paul Gauguin or Pablo Picasso.
It is more than fiction. The detective in the saga of black novels born from the mind of the German Jörg Bong, who writes under the very Breton pseudonym of Jean-Luc Bannalec, is not the only one to proclaim that there are few places to live better than in this western coastal region French: the last barometer of territories, published at the end of last year by the Elabe institute, confirms that the Bretons are among the French who are most satisfied with their lives.
"Here we have an extraordinary quality of life", confirms the (very real) owner of L'Amiral, Arnaud Lebossé. "There is no secret" to this, he says, sitting at Dupin's table, a character who has turned his restaurant into a place of pilgrimage for German, English and even Spanish enthusiasts of Bannalec's novels, translated into a dozen languages. "We are satisfied with little. Work can be combined with free time and, for leisure, there is everything you could wish for: sea, beaches, culture… we live in small towns and the coastline is very well preserved", he sums up.
Despite what Commissioner Dupin thinks, it is not an exclusively Breton feeling: France's "satisfaction" map extends its range of citizens who are more satisfied with their quality of life —which does not make the growing anxiety about less power disappear purchasing power or concern for the environment, shared with other French people—along the French Atlantic coast, from Brittany to the Spanish border through the French Basque Country, passing through the Pays de la Loire and the New Aquitaine region.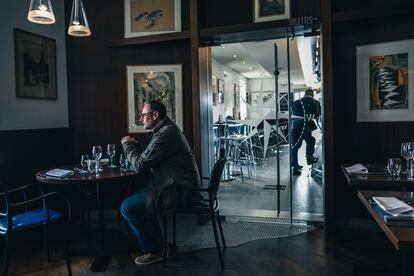 There is a widespread image, especially since the harsh protests of the yellow vests between 2018 and 2019, of a France in anger, divided, embittered, anguished by its future and by the loss of purchasing power. A France that has not been able to deal with strong immigration for decades and with the rise in some of these communities of religious extremism, in a country where secularism is a matter of state. A France mired in anger and fear that many candidates in the presidential elections on April 10 and 24, especially from the right and far right, use in their campaigns to attack the president, Emmanuel Macron, denounced as one of the " dividers" of the French.
Join EL PAÍS to follow all the news and read without limits.
subscribe
But there is also another France, less noisy, which is not so much in the news, where things are not so bad. Where the full employment that Macron has set as a goal for his next term —if he obtains it— is not a mere electoral promise, but a reality for years; with a consolidated industrial fabric, innovative initiatives and where for the people, who generally feel satisfied with their lives, social conflicts are for the most part something they see on television.
"Here, who doesn't work is because they don't want to," says Sophie, a waitress in one of the two bars in the town of Sèvremoine, in the Vendée region, south of Nantes and about a three-hour drive from Concarneau. This town of uniform houses – there is no ostentation in brick or cars – is the population with the least inequality in income in all of France. "Everyone comes to the bar, nobody talks about whether they have more or less money," she says. A little further down the street, Morgan, 40, works in a photography studio. His salary currently slightly exceeds the minimum interprofessional salary (1,269 euros net), somewhat below the local average of 1,781 euros, but this father of a nine-year-old girl says he is not distressed. It may be that, after paying the rent, the food and the increasingly expensive gasoline, but essential in this region, without train or public transport, his account is left shivering. But he does not stay awake for fear of losing his house due to non-payment or not making ends meet. "We are a privileged region. There is work, especially industrial work, which is not very interesting and does not pay much, but we are rich because we all have a salary that gives us enough to live on, even if it is without great luxuries. We have a house and a job, the beach is an hour's walk away and the mountains are five hours away", she says.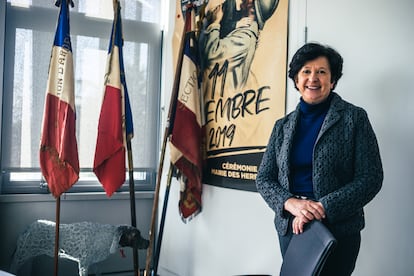 not everything is life in rose, but "we are doing well", confirms Véronique Besse, conservative mayor (DVD, right-wing unaffiliated) of the neighboring town of Les Herbiers. A decade ago this town achieved full employment. Its unemployment rate, 3.8%, is the lowest in France. Besse, in whose town some leading companies are based, such as K-Line, the European leader in aluminum windows, or General Transmission, the world's leading manufacturer of lawnmower engines, boasts other local records: it is the town with the most employment agencies, 18 for 16,000 inhabitants —"everyone is looking for workers", he justifies— and also with more families owning a home. There is, above all – she says in agreement with the inhabitants of Sèvremoine and their Breton neighbors – a certain coexistence without major divisions. Employers and employees went to the same school. "There is mutual trust, there are practically no social conflicts," says Besse, in whose town the phenomenon of yellow vests It was almost anecdotal.
Deaf ears to the extreme right
The inhabitants of the French west coast share more than satisfaction with their standard of living: the extreme right has little to do in these regions where, it is true, there is very little immigration, one of the favorite topics of the ultra candidates. like Marine Le Pen or Éric Zemmour, but also used by the conservative Valérie Pécresse.
Throughout this Gallic west coast, the extreme right has failed to establish itself. In 2017, Le Pen achieved at most a third place in the first round of the presidential elections to be, in the second, massively defeated by Macron, who obtained around 70% of the vote in almost the entire area. In Bordeaux, the candidate for re-election even achieved 85.9% of the vote. Zemmour, new to the electoral contest for the Elysee, has seeded the region with his posters. Most have been vandalized.
This is not a mystery worthy of Commissioner Dupin. From the mayor to the employee, passing through the businessman, the answer that everyone offers is similar. Extremes "are not particularly attractive in Brittany," says restaurateur Lebossé. "Here we live well, we live in peace and people don't have to take refuge in extremes", confirms Besse in Les Herbiers. Dupin can have another coffee in peace.
Follow all the international information in Facebook and Twitteror in our weekly newsletter.
Exclusive content for subscribers
read without limits