News
Gustavo Petro accelerates fearing a very tight second round against Fico | International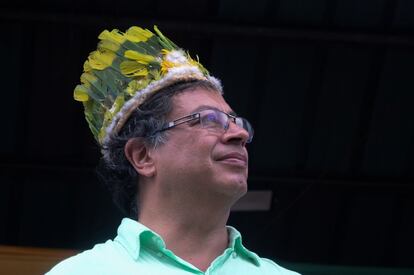 Gustavo Petro's campaign team has pressed the accelerator. Representatives of the left-wing coalition, elected senators, councilors and mayors are campaigning across the country to try to settle Colombia's presidential elections in two months' time in the first round. The former mayor of Bogotá, the favorite right now according to all the polls, would need to achieve a simple majority, something that only Álvaro Uribe has achieved before. If they don't get it and go to a second one, in which there would only be two candidates left, the polls predict that the distance between Petro and Fico Gutiérrez, the right-wing candidate, would be very narrow. It would turn into a vote-to-vote fight.
Petro's people do a "person-to-person" job, says someone close to the candidate. His number 2, Francia Márquez, has settled in Medellín, the second Colombian city, where the right won clearly. Fico was mayor of that city between 2016 and 2019. This hyperactivity affects Petro himself, who has multiplied his appearances on entertainment programs. Also throughout the country. This weekend he toured it from end to end, letting himself be seen in indigenous communities, in historically forgotten places like Vichada and in the Amazonian city of Leticia. There they placed a crown of feathers on his head.
Petro achieved great results in the primaries and the Senate. He doubled Fico in votes. Never before has a left-wing candidate been so well placed to reach the House of Nariño in the modern history of the country. Never before had Petro himself been so close to achieving it, after failing both times he had applied before. Nobody doubts that he will go to the second round. His rival will appear among the other seven names, but in reality only two have real options. The favorite, Fico, and in second place and the only one who can seriously compete with him, Sergio Fajardo, the center candidate.
In this scenario, according to the survey by the firms Guarumo and EconoAnalítica Medición, Petro would achieve 34% of the votes in first place and Fico, 25. The leftist would be far from his goal, for which he would need 17 more percentage points. Then the two with the most options would face each other. In the second, Fico would achieve 43.5% and Petro, 40.1. The pollster considers it a technical tie because the margin of error of the study (in which 1,865 people participated) is two and a half points. In the second survey, from CNC, the result is reversed and Petro is the winner (43.1% compared to 40.1). Be that as it may, Petro would lose his status as favorite after the first corner and would have to face a very tight finish. The campaign can be summed up in everyone against Petro.
Hence, Petro strategists see the need to throw the rest in these two months ahead. Distanced from the Liberal Party due to political concerns, they need more than ever to open up to new majorities. They have a tireless candidate, who has dedicated his life to get to this point. Petro is 61 years old, 14 older than Fico, but he has lived in a perpetual campaign since he lost four years ago to the current president, Iván Duque. His conviction, and that of his team, is that behind the man on the right is the entire machinery of the Atlantic coast that wants to prevent him from coming to power at all costs. They estimate that they can buy a million votes. "That is a danger and a risk," they say. It is not easy to prevent it. It is known that they pay about 25 dollars per vote. Those who agree to do so present themselves at a house near the polling place with a photograph that proves the vote. There are mafias that have been using this method for decades.
The theme itself hides a trap for him. He has sometimes insinuated that electoral fraud could take place against him. Colombian institutions have shown strength when they have been questioned, as in the latest case of the registry (the one that watches over the elections). The leftist coalition claimed almost 500,000 votes that had not been counted due to a procedural error. They gave it to him, which gave him two more senators. Then from the right it was said that the fraud had been committed by Petro. Duque even asked that the votes be recounted, something impossible by law. The climate of confusion did not favor him. Surely there was no fraud, it was an error that was corrected. But in the environment there was an aroma of suspicion that includes himself.
Join EL PAÍS to follow all the news and read without limits.
subscribe
"The only thing you can do is make a mistake," they add from their surroundings. That is, you can only lose if you make mistakes. It is a way of seeing it. It doesn't seem like that can happen in the debates, where he is solid and with more poise than his opponents —although in politics you never know where the mine is hidden that will make you blow up. In any case, to avoid a tight ending you need an intensive campaign, person by person, door by door. His intention is to convince, at least, more than half of Colombia.
Subscribe here to newsletter of EL PAÍS America and receive all the informative keys of the current affairs of the region