World
Rich countries will release 60 million barrels of oil from their strategic reserves to relax prices | Economy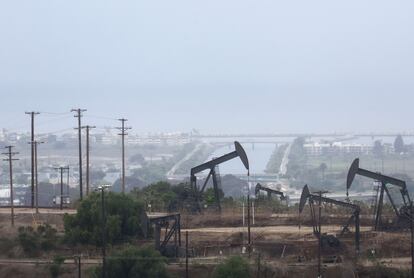 The allies of the United States in the International Energy Agency (IEA, attached to the OECD) will release 60 million barrels of oil from their emergency reserves, according to what Bloomberg advanced on Wednesday and the head of the agency, Fatih Birol, later confirmed. . The measure will reinforce the market release of 180 million barrels announced less than a week ago by US President Joe Biden, and seeks to relax the brutal pressure on fuel prices. The escalation began before the start of the Russian military offensive in Ukraine, but has increased with the conflict in Eastern Europe, which has finished reducing the income of families, triggering inflation to highs of several decades.
The IEA believes Russian oil production will be cut by a quarter through April, opening a massive 3 million barrels a day hole in global crude supply. It is a very difficult figure to cover with increased pumping from third countries, especially at a time when the Organization of Petroleum Exporting Countries (OPEC) cartel refuses to increase its supply in order to stabilize the market.
This Wednesday, both the brent Like US benchmark Texas, they reacted to the IEA announcement with a drop of close to 3%. A significant figure but, in any case, very limited compared to the brutal rise accumulated in recent months. In the last year, the price of crude oil brent —the benchmark in Europe— has skyrocketed from $60 to $100 per barrel.
The move to release strategic reserves will loosen some of the pressure, filling part of that gap, but the market will remain tense in the coming months: even at current prices for gasoline, diesel and kerosene, demand remains strong. And the offer continues roughly, at the same levels as a few months ago. On March 1, just a week after the start of the war, the Agency already announced the extraordinary release of 60 million barrels of oil, a figure that finally amounted to almost 62 million.
He knows in depth all the sides of the coin.
subscribe