World
Slowdown in construction due to rising prices and scarcity of materials | Economy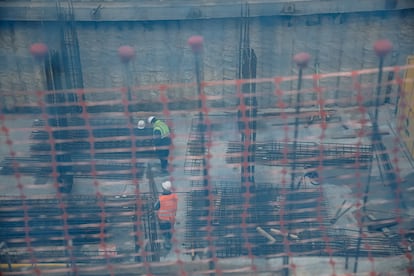 The construction does not have them all with it. Having overcome the scare of the carriers' strike, he has returned to a reality that he had already experienced. In that deja vu, materials grow unchecked and prevent companies from making reliable calculations about what a work is going to cost. A nightmare for an industry where contractors work to long deadlines. Some are working at a loss in the hope that the situation will change quickly, they warn in the sector, and the unions are already seeing incipient ERTE, hours bags or other measures with which the companies try to cover their backs if things do not straighten out. Between the time a promoter starts selling some homes and the time the building is finished, at least 24 months pass. It is time to obtain the last permits, hire a construction company and build the houses. Too much risk in a world where steel or bricks have doubled in price in less than a year.
Then there are the stoppages. But the stopped works lately are similar to the meigas. People talk about them, in the sector nobody admits having seen one in particular and it seems that where there is more evidence of its existence is in Galicia. A recent survey by the College of Quantity Surveyors and Technical Architects of A Coruña has detected more than 40 works stopped in that province. But it is based on anonymous responses from its members, who are engaged in everything from public infrastructure to rehabilitation or reform work.
Roberto Medín, president of that school, highlights that "the first reason is the increase in the cost of materials" (this was said by more than 35% of those surveyed) and warns that "a stopped work is a big problem later to resume it." Juan José Yáñez, general secretary of Aproinco (the employers' association of promoters from A Coruña), only has problems in some specific jobs. "I have been told of stoppages in some pits, which does not mean that the works have been paralyzed", he affirms. Yes, he admits a slowdown in future projects: "There are companies that are waiting for this upward spiral of costs to stop."
juggling
Felipe T., who avoids giving his last name because he does not want his company to be identified, is responsible for three works (one of them about to start) in one of the construction companies with the greatest residential activity. His work right now is like "juggling to alleviate the situation". A routine of material delays and price increases that he tries to combat by anticipating purchases and stockpiling materials. "You try with imagination to see the possible modifications of the work that allow you to absorb the affections, but doing it 100% is impossible," he describes. If you don't have steel or concrete and you're with the structure, you can't do anything."
The price of corrugated steel has grown almost 130% in the last year, according to the Anifer index (the employers' association for the rebar sector). And a report on international construction costs published this week by the consulting firm Altadis also puts the focus on bricks or cement. In both cases, the energy used in its manufacture accounts for a quarter of the total costs, which is why its authors predict "another year of uncertainty in prices". The National Construction Confederation calculated that in 2021 construction costs have already increased by 22% in Spain, which did not prevent the completion of more than 90,000 homes, the highest figure since 2012. The president of that employer's association, Pedro Fernández Alén, tells that they are waiting for volatility to subside before doing another study. "The budgets [de los proveedores] they last for days and in many cases energy already accounts for 30% of the costs in some works", he justifies.
He knows in depth all the sides of the coin.
subscribe
In this context, Fernández Alén maintains that "there are promoters who consider returning the deposit to the buyers because it is more profitable than building", while many builders work losing money. "For a builder to stop a work that is already advanced is not easy," confirms Sebastián Molinero, general secretary of the National Association of Ceramic and Construction Material Manufacturers (Andimac).
He himself points out a possible solution, although it is not always possible: "It is normal for all the affected parties to negotiate and each one reduces a part of the margin of their operation to prevent it from breaking up," he says. Both employer representatives recall that construction is responsible for 1.3 million jobs in Spain, in addition to being a driving force for other industries such as furniture or electrical appliances.
labor measures
What would happen if the building collapsed? The ghost of the Great Recession still hovers in the Spanish collective imagination, although at the moment companies seem to be more aware of the lesson of another closer crisis: that of the pandemic. Enrique R. is part of the company committee of a large construction company that made a move two weeks ago. "Seeing the situation, they brought us together to take measures to make hours more flexible, as had already been done in times of covid," he says. They agreed that each employee can, in the next two months and maintaining their salary, be sent home for up to 80 hours. Then he should return them in the following four months. "The idea is to create this bag of hours to avoid reaching an ERTE or even an ERE," says Enrique, who says that the committee welcomed the company's idea and modulated some proposals, such as limiting the overtime that the company can demand in the same day.
At the moment that bag has not been used, nor has the ERTE proposed by the construction company where Beatriz Morueco works. "They want it in case they have to execute it, but as far as I know they haven't gotten anyone", clarifies this administrative. The measure will be in force for seven months and has the potential to affect 100% of the workforce. "If they have to close works, they will execute it," Morueco clarifies. Both union representatives agree that there is concern in the templates and the questions from their colleagues are continuous.
No one escapes the headache of construction lately. Nor the public contractors, who managed to get the Government to approve a decree in March, replicated by other Administrations, which allows prices to be adapted to the circumstances (that is, to raise them). Nor the private ones, who ask for more measures to stabilize energy prices and entrust themselves to the end of the conflict in Ukraine.
Jaume Ferrari is responsible for purchasing at Bongrup, a Majorcan plumbing materials distribution company that has 170 workers. In his case, they have found a behavior of his clients that a priori seems atypical. "Everyone wants to finish the works as soon as possible," says Ferrari. It is a way, he explains, of not accumulating more delays, or even losses. So Bongrup has just made between January and March the highest quarterly turnover in its 16-year history. Is anyone finally satisfied in this perfect storm? "It seems that things are not going with us", indicates Ferrari, although he soon lowers his optimism: "The activity is not logical; there is an imbalance and we have to see where it will break".
Exclusive content for subscribers
read without limits