News
In the basements of Kharkov under the bombs: "It's our city, it's our home" | International
On Moscow Avenue in Kharkov, Ukraine's second largest city after the capital kyiv, there is a shelter where Vadym Stoyank and his friends drink until they drop dead at night. "It's the best way to forget the sound of the bombs," he says. Ukrainian artillery and Russian missiles are heard every hour. Starting at curfew, at eight in the evening, the invader's military power is unleashed with blood-curdling explosions that only alcohol, says Stoyank, allows them to overcome.
Stoyank and the twenty other people who live in the shelter on Moscow Avenue did not know each other before the war. They were neighbors in the hives of Soviet housing. Perhaps they greeted each other on the stairs, or walking the dog, but they knew little else about each other. Until the invasion came. Now they live together every night in the damp cellars of the building, sleeping on cots and preparing dinner on two folding tables. At first there were 150 people, now there are two dozen. Most have fled the city, abroad or to the west of the country.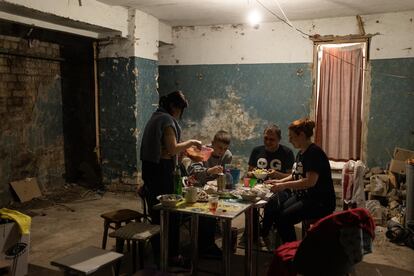 The Russian siege of Kharkiv began on the first day of the invasion, February 24. Shattered buildings, falling facades and glass on the sidewalks. Alcohol and tobacco kiosks have been looted and the population locks themselves in double-locked shelters because they fear being robbed. The Russians are close, surrounding the northern districts, the closest to Russia, but the Ukrainian artillery, anti-aircraft defenses and the imposing Ukrainian military presence have stopped them.
Stoyank and her friends – Eugenia, Andrei, Iilya, Denis and Borys – have learned together how to survive in a war. In Kharkov it is easy to put into practice the recommendations that popular wisdom has been accumulating during the Russian invasion. An important lesson is that when you hear the whistle of a missile it means that it will be close; then no more than five seconds are counted until it hits. Those five seconds are essential to react by lying on the ground and increase the chances of getting out alive.
Join EL PAÍS to follow all the news and read without limits.
subscribe
Those are the seconds that passed between the sound of a Russian ballistic missile and the destruction this Saturday of some offices in the center of Kharkov. The target was a military academy, according to police sources. The municipal market across the street emptied in a matter of minutes, with no races but panicked faces. Another lesson of warfare is that if a missile hits a target, the chances are high that another will arrive to finish the job.
elderly underground
There are two neighborhoods in Kharkov that are marked by the population as black spots, places that you should not go to under any circumstances, urban centers through which today only Army vehicles and a few homeless wandering neighbors cross. The two neighborhoods are Saltivka and Piatykhatky. Taisia ​​Kupchina, 74 years old and alone in the world, with no one to turn to, lives in Saltivka, a feat if you take into account the nerves that even the soldiers who control access to her deserted streets admit to suffering.
If 30% of the population remains in Kharkov as a whole —out of a total of 1.4 million inhabitants before the invasion—, in Saltivka there should be no more than 10%. Shells hit this area so often, several times an hour, that it's impossible to imagine how anyone could stay alive there. But there they are, underground, elderly people, people with reduced mobility or seriously poor. They are men and women like Kupchina who pulls a cart with five jugs of water to be filled at a public fountain. Half of his building is destroyed, essential supplies are no longer working. She lives crowded in the basement of the building with five other neighbors. One of them is Gvardicev Shironitsev, a former real estate agent who lost his apartment and who has also lost his mind, says a neighbor of his. Shironitsev spends his time obsessively looking at pictures he keeps on his phone of his pre-invasion existence. In the images a cheerful, stocky and elegant man appears; now he's a bag of bones, pale as wax, wearing the only change he has: a dirty tracksuit and slippers.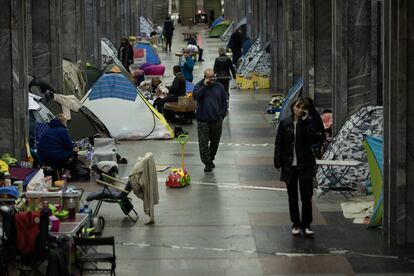 Smoke from anti-aircraft defenses hit by enemy shells still floats above their heads. Ruts left by Russian tanks in the first two weeks of the war, when they took over part of the town, can still be seen in the Kupchina community yard. The risk of a renewed ground offensive is high, especially after Russia withdrew from kyiv to focus on the eastern front.
In the Saltivka neighborhood they know the basic rules of survival by heart. Around the corner of the Kupchina block, three small establishments are smoldering where three missiles fired from a BM-21 multiple rocket launcher struck a few minutes ago. Kupchina cries silently and asks for a hug. Every morning he paints his lips and applies rouge to his cheeks because, as he repeats, he wants to stay alive. All three rockets have hit on their way to the source, but experience tells him that position will not be attacked again for a long time. Another thing is what can happen a few meters ahead.
There are shell casings and grenade rings everywhere at School number 134 in Kharkov. The Russian infantry took cover there in the second week of the war, until they were expelled. Near Shevchenko Street, where the school is located, the remains of a missile intercepted by anti-aircraft shields fell on Viktor's garage on Thursday. This 28-year-old professional dancer was going to his neighborhood, Shyshkivka, near the front, but in a matter of minutes he turned back because he heard shells fired from tanks and even the firing of rifles. "I don't know if they are ours or they are Russians," settled Vítkor.
Another lesson that is learned under siege, summarizes Denis Onipko, a friend of Vítkor, is to recognize weapons by the sound they emit: "The ones that sound with an echo are ours", describes this young 29-year-old cabinetmaker, now employed as a volunteer handing out food at a local organization. "Sounds that I didn't know have been heard for a few days," adds Onipko with a triumphant tone, "they are the weapons that have brought us from Europe."
In the Kominternovski district of Kharkov, a queue of more than 200 meters of people waiting to receive food from a charity is organized every morning. Some 5,000 souls pass through there every day to receive what they are given. This Saturday it was chicken thighs. They will then go to another nearby point where they can pick up clothes. The presence of the journalists provokes rejection among those waiting in line: they do not want the location of the hunger queues to be identified, they are afraid of becoming the target of an attack as part of the Russian terror campaign to get the population out of there by hook or by crook.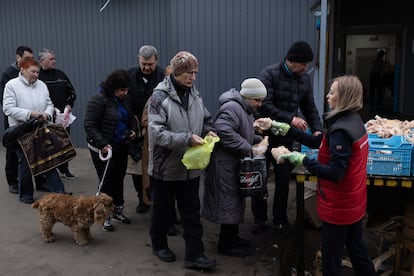 That panic affects Irina Malikeva. She lives in a neighborhood of single-family houses in the south of the city that was attacked by Russian missiles on Friday morning. The houses of two neighbors were destroyed. Malikeva suffers a nervous breakdown: "They have already arrived here, I already knew they would arrive here, but what am I going to do?" Malikeva thinks out loud, her brain shooting out words endlessly. She is 60 years old and she does not want to leave her home, a house that her father built 45 years ago. "I don't have enough money to live in Europe and I don't know what I could do there, but if I stay here," Malikeva continues in her soliloquy, "I can die."
There are other survivors in Kharkiv who could leave the city, but prefer not to. The Shevsuk family has been living on a subway station platform for six weeks. His house in Saltivka no longer exists. Aksana, a mother of a three-year-old boy, believes that anywhere in Ukraine they will be at risk and that they also do not want to live as refugees in a sports hall in some unknown part of Europe. "It's our city, it's our home."
The sun sets again and in the shelter on Moscow Avenue they stock up with more bottles of alcohol and food that each one will bring to share. Daria Gierovsk's giant teddy bear will be used as a pillow. Her apartment was destroyed two weeks earlier and she has been given a space in the basement by Stoyank and her friends. In the morning, when she finally steps outside to get some fresh air, Gierovsk's hands are still shaking, panic attacks caused by the sound of explosions during the night. Despite this, she tells her, she is from Kharkov and she does not plan to leave her city.
Follow all the international information in Facebook Y Twitteror in our weekly newsletter.
Exclusive content for subscribers
read without limits