World
Nestlé starts the year with the biggest price increase in a decade and expects more rises | Economy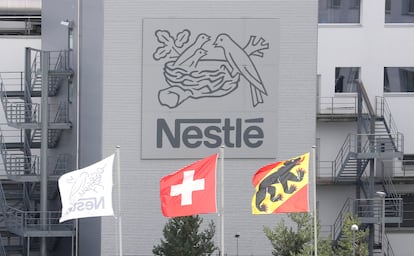 The Swiss food group Nestlé has raised the prices of its products by 5.2% in the first quarter of the year compared to the same period in 2021, the largest increase since 2012, due to the general rise in costs, especially energy costs, according to reported this Thursday. The company, which anticipates more increases in the coming months, thus joins the list of large consumer brands, such as Procter & Gamble and Danone (4.9%), which have started the year with similar price increases to transfer consumers the persistent rise in costs, especially energy costs.
The inflationary escalation began to take shape after last summer and the war in Ukraine, starting in February, has aggravated it. Prices are now at the highest level in four decades and the hit is especially considerable in the case of food and supermarkets, which consume a lot of electricity, especially for refrigerated and frozen goods, and fuel for transport. Until the end of 2021 they had tried to absorb part of the increases at the expense of their margins, to prevent users from changing their products for cheaper ones from the competition, but it is becoming more and more difficult not to transfer the increase in costs to final prices. Actually, Danone already closed the fourth quarter of last year with biggest price rise since 2014 (close to 6%) and warned that the increases would continue in 2022.
"In the midst of a challenging environment, we have achieved strong organic sales growth," said Mark Schneider, CEO of Nestlé, who has defended that the company has increased prices "responsibly". "Cost inflation continues to rise sharply, which will require further pricing and mitigation measures throughout the year," he warned in a statement.
All product categories of Nestlé, maker of Kit Kat and Perrier, have risen in price between January and March compared to the first quarter of last year. The largest increases have been recorded in pet food, bottled water and prepared meals. Prices have risen in all regions (highest in North America, at 8.5%; in Europe, 4.1% on average), except for China, where they fell 0.5%, according to the data. published by the company.
In general, the income of the food group increased by 5.4% during the first quarter of 2022, to 22,238 million Swiss francs (21,622 million euros), according to the multinational. As for Nespresso, prices rose 3.1%.
Looking ahead to 2022 as a whole, the multinational has confirmed its outlook and expects to achieve sales growth of around 5% and an underlying operating profit margin of between 17% and 17.5%.
He knows in depth all the sides of the coin.
subscribe
Exclusive content for subscribers
read without limits