News
The United States exchanges a Russian pilot in exchange for ex-marine Trevor Reed arrested in 2019 in Moscow | International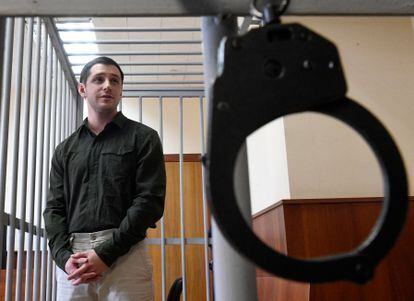 At the worst point in their bilateral relations in decades, the United States and Russia have agreed on at least one thing. The powers have announced a prisoner swap, which will see the release of former Texan Marine Trevor Reed. In exchange, Washington hands over the Russian pilot Konstantin Yaroshenko, who was in prison in the United States accused of cocaine trafficking and had been imprisoned since 2011 in the United States.
Reed, whose family has always maintained that Moscow's accusations against him were false, was arrested in 2019, during a visit to Russia to see his girlfriend, whom he had met online through a dating website. Days before returning home, he attended a party in a park on the outskirts of Moscow. According to witness accounts, Reed drank too much vodka and lost control, prompting the police to be called. He was taken to the police station, where, after questioning, he was charged with assaulting and endangering the lives of the two officers who had taken him in the patrol car. After spending 11 months in detention, he was sentenced to nine years in prison, an excessive sentence, according to his lawyers, whose harshness could only be attributed to the fact that the Russian judges had taken into account his military past.
"Trevor, a former US Marine, is now a free man," US President Joe Biden said in a statement. "I listened to the voices of Trevor's parents, who were worried about his health and missed him. I was delighted to be able to share the good news with them." The Secretary of State, Antony Blinken, has also celebrated the release of Reed, "unjustly detained in Russia", and has recalled that his Department remains "committed to guaranteeing the freedom of all American citizens" who find themselves in the same situation in foreign countries.
The ex-marine's family has confirmed his release in a statement, in which they explain that their plans are now to focus on "the many health problems that have caused him the miserable conditions to which he was subjected in his gulag Russian".
Maria Zakharova, spokesperson for the Russian Foreign Ministry, explained that the exchange, reminiscent of other times more typical of the Cold War, has come after "a long negotiation".
The last time Biden and Russian President Vladimir Putin saw each other was on June 15, 2021 at a summit in Geneva. There, the cases of Reed and another former US marine, Paul Whelan, who is also serving a sentence in Russia, were on the table, according to Russian sources, who pointed out Moscow's interest in the release of arms dealer Viktor Bout (known What the merchant of death), sentenced to 25 years in prison by the American justice system.
Join EL PAÍS to follow all the news and read without limits.
subscribe
Whelan remains in jail. Another case of concern in Washington is that of American basketball player Brittney Griner, one of the stars of the national team. She was detained in February at some unspecified point after landing at Sheremetyevo airport near Moscow. When customs agents inspected her hand luggage, they claimed to have found "material for vaping and a liquid with a particular smell", which they determined to be cannabis oil. The news broke in early March, just over a week after the start of the Russian invasion of Ukraine, which has strained relations between the two powers to levels not seen since the end of the Cold War.
Follow all the international information in Facebook Y Twitteror in our weekly newsletter.