World
The British oil company BP loses almost 20,000 million until March due to its departure from Russia | Economy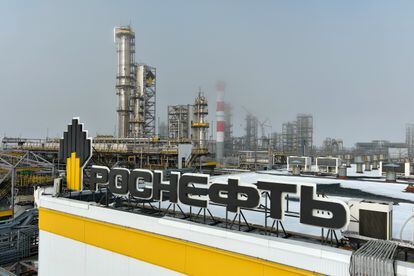 BP's bid for Rosneft is on track to be one of the most ruinous deals in its long history. The British oil company announced this Tuesday a loss of 20,384 million dollars (19,376 million euros) in the first quarter of 2022, compared to the net profit of 4,667 million dollars recorded in the same period of the previous year. These very large red numbers also come at a time when the rest of the large European energy companies are making strong profits in the wake of high oil prices.
"Our decision to exit our shareholding in Rosneft resulted in the significant non-cash charges and loss that we are reporting today. But our strategy, our financial framework or our shareholder distribution expectations have not changed," said Bernard Looney, CEO of the London-based company. The British oil company announced its departure from the shareholding of its Russian counterpart (in which it was one of the reference partners, with almost 20%) at the end of February, just three days after Vladimir Putin began the invasion of Ukraine.
BP's accounts reflect an adverse impact of 30,800 million dollars derived, fundamentally, from the sale of the 19.75% that it controlled in the Russian company and, in general, its total exit from that market, which had a negative effect of 24,000 millions.
If its departure from the Eurasian country is not taken into account, BP recorded a profit of 6,245 million dollars, almost 140% more than between January and March 2021. In that period, the income of the British oil company totaled 51,220 million, 40% more, driven by the rise in crude oil prices. The net debt, in addition, fell more than 17%, to 27,457 million. The stock has responded with increases of more than 2% after the presentation of results, which have received almost unanimous applause from analysts.
In the first three months of the year, BP generated a cash flow surplus of 4,100 million dollars, after which it plans to execute a plan to buy back its own shares of 2,500 million – the best sign that the result, beyond Russia , is positive—before the release of their second-quarter accounts. By then, the flight of Rosneft's capital will already be history in the British oil company's income statement.
He knows in depth all the sides of the coin.
subscribe