World
ArcelorMittal earns 3,910 million until March, 80% more, but anticipates a drop in steel consumption | Economy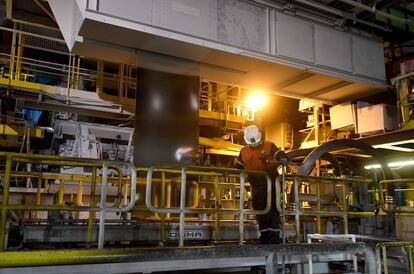 ArcelorMittal achieved a net attributable profit of 4,125 million dollars (3,910 million euros) in the first three months of 2022, which represents an increase of 80.5% compared to the result recorded in the first quarter of 2021, as announced by the multinational, which expects a slight drop in steel consumption for the year as a whole.
The sales of the largest European steel company between January and March totaled 21,836 million dollars (20,699 million euros), 34.8% more than in the same period last year. On its side, ArcelorMittal's gross operating profit (Ebitda) in the first quarter of 2022 stood at 5,080 million dollars (4,815 million euros), 56.7% above the figure for a year earlier.
"Our performance in the first quarter was overshadowed by the war in Ukraine… Despite this backdrop, further aggravated by rising inflationary pressures around the world, ArcelorMittal delivered a strong first quarter performance ", declared Aditya Mittal, CEO of ArcelorMittal. In this sense, the executive indicated that, although the market conditions are solid, the company anticipates that the apparent consumption of steel "will contract slightly this year compared to 2021″. However, Mittal stressed, "it is clear that the long-term fundamental outlook for steel is positive."
Impact of inflation
Thus, based on the current economic outlook, ArcelorMittal expects world apparent steel consumption (ASC) to contract by up to 1% in 2022, compared to the previous forecast of growth of up to 1%. Specifically, it expects ASC growth in the US in 2022 to be within the range of the previous forecast (+1% to +3%), while in Europe, due to the negative impact of rising inflation, it is expected to be between – 4% and -2%, compared to the previous estimate of a slight growth of between 0% and 2%.
Likewise, the multinational forecasts a significant contraction in demand in the CIS region (which includes the Commonwealth of Independent States and Ukraine), with a drop of more than 10%, compared to the previous range, which projected a growth of between 0% and 2%.
He knows in depth all the sides of the coin.
subscribe
In China, given the temporary economic weakness caused by covid-19 restrictions, the company sees ASC demand towards the bottom of the previous forecast range (-2% to 0%). "As a result, global ASC in 2021 is now forecast to contract between -1.0% and +0% in 2022, versus the previous forecast of 0% to +1%," the company said.