World
European justice closes the door for Popular's shareholders to claim against Santander | Economy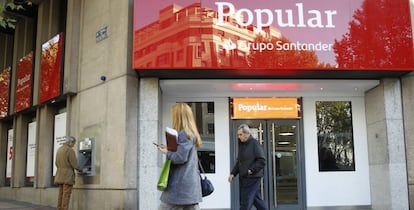 Shareholders who suffered losses due to the resolution of Banco Popular cannot claim compensation from Banco Santander, as ruled on Thursday by the Court of Justice of the European Union (CJEU). In its judgment, the Court of Justice declared that the Restructuring and Resolution Directive "precludes that, after the total redemption of the shares of the share capital of a credit institution or an investment services company subject to a procedure of resolution, those who have acquired shares within the framework of a public subscription offer issued by said entity or said company, before the beginning of that resolution procedure, exercise, against that entity or that company or against the entity that succeeds it, a liability action for the information contained in the prospectus, as provided for in the directive on the prospectus, or an action for annulment of the subscription contract for these shares, which, taking into account its retroactive effects, gives rise to the restitution of the equivalent value of such shares, plus interest accrued from the date of execution of said contract.
The Court of Justice recalls that the Restructuring and Resolution Directive establishes the principle that it is the shareholders, followed by the creditors, of a credit institution or an investment firm that is the subject of the resolution procedure who must first bear the losses suffered as consequence of the application of said procedure.
The resolution of Banco Popular, ordered in 2017 by the European authorities due to the problems that the entity was having, resulted in the amortization of all its shares to zero and its sale to Santander for a symbolic euro, causing an avalanche of lawsuits by of those who lost their investment.
He knows in depth all the sides of the coin.
subscribe