World
A Swiss model of education to train, in Marbella, the future leaders of the tourism sector | Training | Economy
To know how to command, you must first learn to do. That is the maxim that guides the educational work of Les Roches, one of the higher education institutions most prestigious in the world in the sector of hospitality and leisure, according to the QS University Rankings, and which has one of its two locations in the exclusive area of ​​Marbella. They will be, in the end, graduated in Global Hotel Management and Tourism Companies, but first they will start by being floor cleaners, cooks, waiters, chefs. Because knowledge goes hand in hand with empathy from the first moment, and understanding the work of those who will one day be under your charge will make them learn the best way to treat that waiter, that cleaner or that chef. "Most of the classes in the first semester are focused precisely on understanding how a hotel works from the worker's point of view and what are those details that make the job easier or more complicated," explains Ana Rosa González, director of the degree program.
Accounting, marketing, data analysis, communication, management and sustainability, of course, will gradually find their place throughout the degree program, which lasts seven semesters (two of which are internships in Business). But the fundamental thing, from the outset, is to get the students to assimilate the philosophy of Les Roches. An academic campus characterized, above all, by its multiculturalism and internationality, provided by 1,200 students of 84 different nationalities, of whom only 25% are Spanish, and where all classes are in English (in fact, one of the requirements of entry is to demonstrate a level equivalent to the advanced). "The first thing is to get them to understand what it means to work in the world of hospitality and tourism, which is nothing more than helping others have experiences that enrich them and generate well-being. And the basis on which they have to rest is discipline, humility, service and generosity with others", says Carlos Díez de la Lastra, global CEO of Les Roches. 94% of graduates have at least one job offer on graduation day.
The student, he adds, has to transform on a personal level, "change the way you listen and relate to others, even perceive the reality that surrounds you, something that affects all areas of your life." An objective that, in such an exclusive environment (the price for the semester is between 15,000 and 17,000 euros, although there are numerous scholarships available), is not always easy. "With some, you need to teach them some humility," says Hassan Dejeebet, manager and coordinator of practical classes at Food & Beverages (Food and drink). "Many arrive at the age of 17, from wealthy families with servants and everything, and have not worked a day in their lives. But I also do it with 35 or 40-year-old executives, who first of all I ask them to take off their jacket so they can see that they are all the same. And only then, with a blank canvas, can you start painting."
Dejeebet arrived at the center in 1996, at the age of 28, and with his collection of almost a hundred bow ties (many given by his students) he is one of the most esteemed teachers at the center. But that does not prevent him from maintaining an almost military discipline in his classes, and he interrupts the conversation to draw the attention of a student whose clothing is out of the established etiquette: he will have to change or go home. Every morning, moreover, he begins by taking roll of his students, who must be perfectly dressed and equipped with all the necessary instruments: "More than the objects themselves, what is relevant is the attitude, the mentality of being prepared for work from the night before."
Benefits of multiculturalism
In a center specialized in training managers capable of working in a global market (its graduates today work in more than 110 countries), multiculturalism plays a fundamental role when it comes to developing soft skills that they will need in their professional career, such as empathy , open-mindedness and the ability to handle very different sensitivities and cultures. "Why does our model require that students, when they arrive, absolutely must live with us, sharing a room with a person of another nationality? Because, in this way, you get out of your comfort zone, having to constantly interact with completely different people who don't handle the codes that you handle", recalls Díez de la Lastra.
At Les Roches, students are divided, in the purest style of Harry Potter, in four houses (red, blue, green and purple) in which the different nationalities have a balanced representation, and with this system they study and interact, participating and competing in all the activities and sports that are organized every week: from soccer, tennis, paddle and cross fit to gastronomic, wine, sustainability or cocktails, in addition to collaborating with different charitable organizations. Something that, by the way, deals with the Student Governance Association, a team of nine students led by Michela Lo Valvo (from Argentina) and Rabea Pfleger (from Germany) who recently held a cultural culinary fair in which a large part of their students turned out.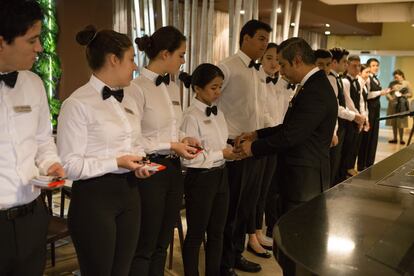 Academic programs
"We have a plus that no one has, and that is that Spain is one of the best countries in tourism, with an enormously diverse offer, and for the fourth consecutive year we are the country with the highest efficiency in tourism management in the world," says Díez de la Lastra. . "And the Europeans, who are close to us, know the value of Spain in the sector of hospitality, and that our reality is not that of paella, bullfighting and tambourine, but that of a serious and professional country" which, he affirms, is also noted in some academic programs that emphasize transversal knowledge of the development of people: "It is works a lot with behavior within a work environment; We teach them the importance of international protocol and how to act in meetings, when being with clients, knowing how to listen…", explains González.
"I think that the part that distinguishes us the most is the closeness that we have to the industry. We continually bring in industry speakers to share their experiences, people who have started their own business and visit resorts", adds the head of the degree program. "Each professor has academic freedom, but normally the first semester is more descriptive; from the fourth there is already more analysis and practical chaos and in the seventh we are constantly simulating companies, in which you have to analyze the financial statements and work with tools that you can later apply in your life". By learning, she adds, even engineering notions are acquired: how to design a hotel. How it is built, how the air conditioning works, the water, the heating… "I remember that I thought, when I was a student here: why do I want to know any of that? But you do not know how much this helps you when making decisions later in the hotel!". And, of course, sustainability, present from the third semester and understood in a broad sense: not only with regard to waste and energy efficiency, but also with regard to caring for the community, the well-being of workers and corporate ethics.
Stress management also has its place in the Marbella facilities, which is why they recently opened a Wellness and Mindfulness Club. "Healthy food, yoga, meditation, breathing… How many successful people like CEOs and the like have had a nervous breakdown that has forced them to resort to these techniques to recover? It will be better, then, to give them those tools so that this situation does not occur, so that they can manage stress, recognize the signs and avoid burning out", says Mano Soler, director of Les Roches Marbella. A care that they also strive to apply in their relationship with students, through a department of counseling in the same educational center.
The importance of innovation
As in so many other educational institutions, the pandemic also made it necessary to speed up the digitization of the campus, whose classrooms were equipped with streaming, cameras and microphone, teacher training and a platform where the recordings are uploaded later, something especially useful in academic programs of a hybrid nature or on-line, such as the different master's degrees offered by the institution, "especially the part of the CEO, which is for executives who are already working and who cannot afford to drop everything and come to the campus in person", says Susana Garrido, director of the innovation space Spark.
The intention is "to bring innovation to campus for students to see and, when they leave, they can themselves become engines of change in the hotels where they work." A purpose for which they have a Demo Room in which students experiment with innovations related to aspects such as home automation and materials: "For example, the floor in this room is made of recycled cork, which is more resistant, and the wallpaper in the rooms is made of a more durable material . There is an aromatherapy box and even, in the shower, a full-body dryer that saves resources by not spending so much water, towels, soap and energy", she argues. "It is not that we say that this is going to be the future of the hotel industry; it is rather about giving students the tools so that they know how to discern whether it is worth it or not, and what type of data they would need to make those decisions."
EL PAÍS TRAINING in Twitter Y Facebook
Subscribe to the newsletter of Training of EL PAÍS