News
Presidential elections: The ghost of the assassination haunts Colombia
In some cities of Colombia to which the left-wing candidate Gustavo Petro decides to travel, they are asked to put hospitals on orange alert. The alert is usual in municipalities when there are massive festivals or concerts because, in the event of an accident, the doctors would be ready to attend to dozens of people. But it is less frequent when there is a campaign event, except when it comes to Gustavo Petro. The left-wing candidate manages to move waves of voters to public squares like no other does during this presidential campaign, and that implies risks to be mitigated. When he travels, Petro arrives in a huge presidential motorcade — several armored cars pushing through traffic, sometimes accompanied by an ambulance — and is surrounded by more than a dozen bodyguards. Onstage, Petro often wears a bulletproof vest under his clothes, and his escorts carefully monitor the listening audience. More than an unexpected accident, the tension in these public events has another name: the fear of an assassination.
"You think about it, when you're under the platform, or on the sides, and you're listening to it. One thinks 'What time do they shoot him??'", says a person who accompanies Petro in the campaign. "Fear is latent, fear is always there," she adds. In February, when France 24 asked Petro if he feared that they would kill him on campaign, he said that "the ghost of death accompanies us." "He does not stop appearing like a flash," said the candidate. "When I mix with the crowd, when I'm on a platform and there's a full square, anywhere someone could shoot."
So far, fortunately, that has not happened. But as his chances of winning the presidency increase, so does the fear of an attack against him. Last Monday Petro announced that he would not travel to an area of ​​the Coffee Region to campaign because his security team had identified a plan to kill him, and the national government promised to strengthen its security scheme. And recently, when a poll was published that put him as the winner in the first and second rounds, Senator Armando Benedetti – who has coordinated Petro's public events – wrote on his social networks: "the only thing that can prevent Petro from taking office as president is a crime or a "plane crash".
Benedetti throws this option on the table as many Colombian voters also do in daily conversations, whether they like the candidate of the left or not. Unlike others in the race, the issue of Gustavo Petro's safety is a matter of public debate. And it is a fear that is not unfounded, for different reasons: the threats to the candidate are real, and the history of assassinations in Colombia is very long.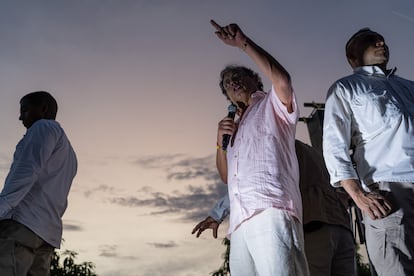 "The threats in Colombia are fulfilled"
Since early March, Petro and other members of his movement, the Historical Pact, have received at least four threatening pamphlets from an armed organization calling itself Águilas Negras. "They are collective threats to some 33 people and the reason, in most cases, is that they support the Historical Pact," says Diego Rubiano, an investigator with the Electoral Observation Mission in Colombia (MOE). The third of these pamphlets was shared in early April on social media by Francia Márquez, Petro's vice-presidential formula, in which he says that this month "will not be the celebration" for the movement. April, they say, "will be death." "Since the presidential consultations took place [a mitad de marzo] It also started an escalation of messages of violence and discrimination on social networks, with classist, sexist or racist themes, especially against Francia Márquez," adds Rubiano.
Petro, for his part, has told networks that on occasions he has not been able to travel to some areas to campaign, as happened in February when he wanted to go to Cacarica, an area in the Colombian Pacific, and the transport company refused to do so for fear of his safety. Or as it happened a week ago, when he couldn't travel to the Coffee Region.
"The atmosphere is charging, like when you have lightning or thunder that announce a downpour," Cecilia Orozco tells EL PAÍS, director of the independent newscast Noticias Uno. "There are public actors, political figures, men and women from campaigns on the right, and some on the left, who are putting a lot of stress on the environment," she adds. "No one says that someone has someone killed, but these people do send a message to those who would be capable of killing. If a senator, for example, speaks aggressively about a candidate, saying something like 'they are going to take away his little house, his pension, and that man has also been a guerrilla and has killed people,' even if that is not true, that tells some gangs or groups that you have authorization to prevent it". (Petro, just in case, is the candidate accused of all this by his enemies).
Recently Orozco, who has also received threats from the independent journalism he leads, was the victim of an act of intimidation: his car was chased for several hours by a hearse. The driver of the car, later pressed to explain, said that he had been ordered to chase the car because he was going to pick up a body. For eight years Orozco has had to move around the city with a government protection scheme. She, who fears an assassination against Petro, also believes that the atmosphere is so dangerously tense that an attack could also occur against a minister or a journalist. "I think we are playing with fire," says Orozco.
But the second reason why fear is so latent has less to do with current security conditions than with a tragic history. "The fear is that in Colombia the threats are carried out," says María Elvira Samper, another well-known Colombian journalist. "The backdrop to this fear is April 9."
She refers to April 9, 1948, the year in which "the candidate who appealed to all emotions, who spoke against the establishment, who spoke of the real country, of the national country, was assassinated." That year, in a central street of the capital, the liberal leader Jorge Eliécer Gaitán was assassinated, a man who, like Petro, managed to massively fill public squares with promises of change and who was also greatly feared by the establishment. Gaitán's death unleashed what is known as the Bogotazo, huge riots in the capital in which hundreds of people died. "They don't kill me," Gaitán said. "Because if they kill me, there is no stone left unturned."
"We have anesthetized ourselves with the murder of people," adds María Elvira Samper. "And yes, at this moment I do feel that the environment is electrified and that there is a lot of that fear [al atentado]. I have heard it many times these weeks, that phrase of 'I hope they don't kill Petro, otherwise this will become a disaster'". The fear is not only that the candidate will be killed. Fear is also an outburst of rage like Bogotazo.
Samper published the book a few years ago 1989, a report about the violence at the end of the eighties. In that decade, several public figures, from the right or the left, were assassinated, but also several candidates who aspired to win the 1990 presidential elections. These, in particular, openly opposed the Pablo Escobar cartel or the alliances between paramilitary groups and state security groups.
The first of them was Jaime Pardo Leal, a lawyer and candidate for the left-wing Patriotic Union party, assassinated in October 1987 on a highway to Bogotá. After Leal's assassination, Senator Bernardo Jaramillo, also from the Patriotic Union, stepped in to replace him. Jaramillo was also assassinated, in March 1990, at a Bogotá airport. Recently, the Special Jurisdiction for Peace established that military and paramilitary murdered at least 5,733 militants of that political movement between 1984 and 2016.
Another emblematic assassination for those elections was that of Luis Carlos Galán, in August 1989, the charismatic leader of liberalism who had bravely confronted Pablo Escobar. He managed to massively fill the squares, as Petro does now, and was assassinated in front of his followers in one of these, in the municipality called Soacha near the capital. When he was going to start his speech, it is seen in the videos of the time, a burst of bullets knocked him to the ground before his audience.
"Men can be eliminated, but ideas cannot", said Galán. "And on the contrary, when men are sometimes eliminated, ideas are strengthened." His two sons – the politicians Juan Manuel and Carlos Fernando Galán – revived for these elections the party that disappeared after the assassination of their father, the New Liberalism, and closed their campaign for Congress in the same square where he was assassinated. his father 23 years ago.
A month and a half before the presidential elections, in April 1990, another of the candidates was assassinated: Carlos Pizarro, the leader of the M-19, a guerrilla group to which Petro belonged and who had demobilized shortly before the elections. That year ex-guerrillas like Pizarro competed with the M-19 Democratic Alliance movement. The murder occurred this time inside a plane flying from Bogotá to Barranquilla, when a man shot the candidate with a submachine gun.
One of the people who was going to go with Pizarro on that plane was Antonio Navarro, another of the political leaders of the movement, as he recently told in his book An assembly that transformed the country. In this he recalls a conversation with Pizarro in which they wondered about "what to do if one of the two was killed, and we concluded that the other was going back to the mountain." That is to say, before the assassination, the answer was once again war. But Navarro did not return to the mountain. In some reflections of the moment, he wrote to his old friend: "brother, wherever you are, you couldn't do what we talked about and at the same time keep your word of peace."
Navarro replaced Pizarro as the presidential candidate of the M-19 Democratic Alliance, and a few days later he received a threat saying "Navarro was such a good person, it's a shame he's already dead." They didn't kill him. He did, like the other candidates who survived that time, campaign from home and with very little public space. Since then, Colombia has managed to call presidential elections seven more times without its presidential candidates being assassinated.
But they did kill, before and after, an important leader of the Conservative Party (Álvaro Gómez Hurtado, in 1995), a Minister of Justice (Rodrigo Lara Bonilla, in 1984) and even a beloved comedian who was fighting for a negotiated solution to the war. (Jaime Garzón, in 1999). Despite the fact that Pablo Escobar is no longer alive, and several paramilitary and guerrilla armies have been demobilized in the last two decades, Colombia has still not managed to completely close its history of violence. And with that history behind us, the fear of an assassination has not disappeared.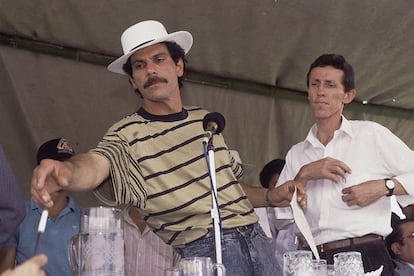 Follow all the international information in Facebook Y Twitteror in our weekly newsletter.