News
War in Ukraine: Young Ukrainians chain crisis: "The near future? Get the enemy out of here" | International
The sound was horrible both inside and outside the basement. Outside, the anti-aircraft alert was sounding, warning that Russian missiles are flying in the sky, and inside, a rock band was playing disastrous versions of groups of heavy metal. After more than two months, this Friday the first concert is held in one of the temples of music underground from the city of Odessa, MoreMusic, and with the naturalness of someone who has been living with missiles, curfews, military checkpoints and alerts for nine weeks, the first brave people who look at something similar to the cultural life of the city shake their hair and raise the arm forming horns with the hand. The strange party ends before ten o'clock at night, after which time anyone on the streets can be considered a pro-Russian infiltrator. Just a few hours later, four missiles are heard in the city. The new normal in places like kyiv, Odessa or Lviv is something akin to a party where a shell can enter the bar at any time while Motörhead is playing.
Until February 24, on a weekend like this, Andrei used to go to pubs, discos or to Arcadia beach to have fun with his friends during the spectacular Black Sea sunset. "But now the sand is full of mines," says this 30-year-old man, who prefers not to give his last name. He has changed Fridays from vodka and beer to an infusion when night falls due to the dry law. Until a few weeks ago, Andrei was selling flats in a real estate agency and had never seen a weapon, but now he speaks naturally about Javelin, Onyx or cruise missiles, he knows where the nearest shelter is and he is able to differentiate a Ukrainian tank at a glance of a Russian "The war has changed everything. I lost my job and now the most you can do in the city is drink coffee. And I feel lucky because 100 kilometers away people are dying and they can't even go out on the street," he says, referring to the Mikolaiv front, where Russian and Ukrainian troops are fighting inch by inch.
Dimitri, like Andrei, also does not want to give his last name. The fear of Russia, another concept installed since the totalitarianism of the Cold War, is stuck in the collective subconscious. Of ten interviewed for this report, seven do not want to give their last name for fear of Russian reprisals, according to what they explain.
None of those consulted had been born when Ukraine made world headlines in 1986 for the Chernobyl nuclear power plant disaster. The event also marked a generation of Ukrainians that was still under the Soviet boot, but that with the radioactive explosion also changed its history. Thirty-six years ago, the country became an international pariah after the biggest nuclear accident in history, leaving thousands dead and 300,000 displaced, and a generation of children displaced across Europe to get away from radiation. The contamination was felt even in vegetables or milk from countries like Holland, England or Germany.
The accident, moreover, was a political earthquake for an entire generation and was one of the triggers for the fall of the Soviet Union, five years after the accident. "Chernobyl marked the estrangement from political power and the distrust of the Ukrainians towards the Soviet authorities at the time," says Olga Tarnovska, a 45-year-old doctor of philosophy and Chernobyl evacuee.
Join EL PAÍS to follow all the news and read without limits.
subscribe
More recently, the Euromaidan was another divorce between the street and political power and in the end forced President Viktor Yanukovych, close to the Kremlin, to flee the country before the force that took over at the end of 2013 an exciting movement that attracted Ukrainian youth . Those protests that called for approaching Europe and moving away from Russia ended with more than 100 deaths and the beginning of a struggle that is now experiencing its most dramatic moment, with five million exiles and thousands of deaths.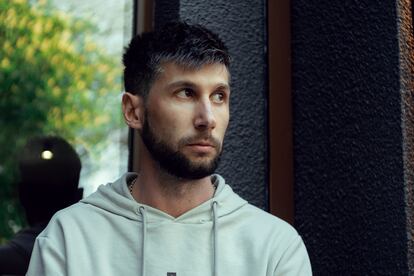 Suddenly, a generation that speaks three languages ​​-Ukrainian, Russian and English- manages bitcoin, pays with a mobile phone in any store and uses Telegram to find out about the war, has put modernity on pause and incorporates into its daily conversations a dialectic of the Cold War that speaks of bunkers, trenches, chemical attacks or "the return of the communists". Ukrainian youth have accepted in record time that they could be called up at any moment, that the economy is broken and will shrink by 45%, according to the World Bank, and that the new emotional bond is hatred of Russia and a feeling bittersweet towards Europe.
"How do I see the future? I don't know, now we just want to win this war. This is a prepared generation that continues to study and knows that it only has to stand up to defend this land and its values. We want to be free and decide our future", explains Andrei. "We have realized that nothing is given away, but the entire country is united in this fight. This didn't start now. That is why European countries must support us more. We are left alone defending the country from a terrorist like [Vladímir] Putin", he says in a cafe with three other friends, most of them newly unemployed after the companies they worked for were closing due to lack of gender and clients. "This is a fight between a young world, Ukraine, and an old world, Russia. The entire team that surrounds President Volodímir Zelensky is young people compared to the team that surrounds Putin, who are all old and embittered gentlemen who treat us like puppets", he adds, endorsing the speech of his president.
A few streets further on, very close to the imposing Odessa opera house, two brothers aged 15 and 21 are walking aimlessly through an area of ​​cafes and fashion shops that are now completely closed. "Our life has been marked since 2014, when we had to leave Donbas, where I lived with my family, and come to live here," explains Dimitri, the oldest of them. Russia illegally annexed Crimea that year and has since militarily and economically supported pro-independence areas in the eastern region. "Now the conflict is spread throughout the country, but there," he says, pointing to the east, "we have been suffering from it for many years," he explains. "The near future? Get the enemy out of here," he replies without hesitation.
The owner of the concert venue, Oleksandr Kapuka, 38, believes that the country will rise soon because there will be international aid and the government will make efforts to rebuild infrastructure and give aid to boost productive activity. "This is a young country that wants to get ahead. We can do it fast and do it well if the war ends soon, but if it lasts long…" he says doubtfully rubbing his temple, "we'll all have to close down", he adds. He is not able to foresee whether the war will mark the new generations. "For the moment we have to win the war. I have no head to know if this is going to mark future generations, "he answers. "All I know is that the current generation has to go home. It is already 9:30 p.m. and I have just enough time to empty the premises and get home before the curfew begins, "he jokes. "The heavys of today go to bed at ten at night".
Follow all the international information in Facebook Y Twitteror in our weekly newsletter.
Exclusive content for subscribers
read without limits