World
The Norwegian sovereign wealth fund criticizes the high salaries of executives in many companies for their "mediocre" performances | Economy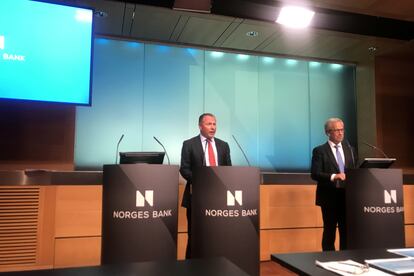 The Norwegian state-owned global pension fund Norges Bank, which invests oil and gas revenues on international financial markets, has denounced "corporate greed" in many companies that offer high salaries to their executives for mediocre performance, As published this Friday by the British newspaper Financial Times.
The newspaper notes that the world's largest sovereign wealth fund has voted as a shareholder so far this year against proposed remuneration packages at Intel, Apple, IBM and General Electric. CEO Nicolai Tangen told the Financial Times that they will continue to criticize in particular large salaries that are not justified by the performance of the company in question, that are opaque or without a long-term vision.
"We are in an inflationary environment, and we see a lot of companies with fairly mediocre performance that maintain very large salary packages. Corporate greed is reaching an unseen level, and it really is becoming very costly for shareholders when there is a dilution" of their shares, he stated. "If shareholders are not stricter in voting, this will continue," she warned.
Tangen noted that while shareholders may not have quite done their job so far, he sees "a small shift" among big investors "towards greater scrutiny." Still, he adds, "the blame clearly lies with the CEOs and the boards."
The oil fund, which, according to the newspaper, owns the equivalent of 1.5% of all listed companies in the world, voted against executive compensation at Intel's annual meeting this week and against Apple's in March. He also voted against IBM, due to its disappointing performance; General Electric, for a complex salary plan that lacks transparency; and Harley-Davidson, considering that it was not justified to offer higher wages than those of the competition.
Carine Smith Ihenacho, the fund's director of governance, said they have focused on the US for now because that's where "the high pay packages" are, but the intention is to also look at the situation in Europe and elsewhere.
He knows in depth all the sides of the coin.
subscribe
The fund clarifies that it is not opposed to high salaries and emoluments for managers, as shown by its support for the plans of the investment bank JPMorgan and Amazon, but it wants the remuneration to be adjusted to management and performance requirements. long-term business.