World
Trade union participation and Europe | Economy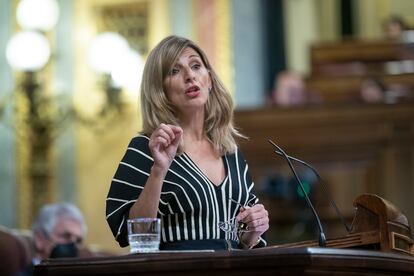 Amid the noise of the sterile daily political disputes, the second vice president of the Government and Minister of Labor, Yolanda Díaz, has surprised with a bold proposal to face the lack of democracy in companies. A challenge that affects the most developed economies and that has gone hand in hand with job insecurity and the increase in inequalities.
In the United States, the pandemic and the consequent use of telecommuting have accelerated the disaffection of workers with their companies, causing the so-called Great Resignation. It assumes that some four million workers leave their jobs every month. The Biden administration has taken note of the situation and is committed to empowering unions to "grow the middle class and build an economy that puts workers first and strengthens our democracy."
It is in extreme situations that the deepest changes take place. In war-ravaged Germany, European construction went hand in hand with the democratization of business. In May 1950, the French foreign minister, Robert Schuman, planted the seed for the European federation. The then unlikely project had the support of German Chancellor Konrad Adenauer. The following year, on April 10, 1951, Germany passed a law on the participation of workers in the management of coal and steel companies. Capital and labor had equal representation. Co-management was later extended to the rest of the companies.
Adenauer was aware that he needed both an agreement with the worker to ensure the social structure in his country and a pact with France to guarantee the German contribution to the defense of Europe. It is difficult to question the success of these pacts.
The participation of workers in companies has been taken up on several occasions in the European Union, but with few results. The triumphant capitalism of exorbitant profits did not require pacts. The last attempt to promote the participation of workers in companies in the EU has been with the European Pillar of Social Rights in 2017. Good recommendations, pending implementation.
In Spain, the 1978 Constitution establishes that "the public powers will effectively promote the various forms of participation in the company and will promote, through appropriate legislation, cooperative societies. They will also establish the means that facilitate workers' access to ownership of the means of production. But nothing has been promoted. In 2002, the deputy Ramón Jáuregui presented, on behalf of the PSOE, a proposal for a Law on the participation of workers in companies. And there was the proposal.
He knows in depth all the sides of the coin.
subscribe
Díaz's initiative, which he wishes to discuss with businessmen, unions and experts, is fundamental for this country to land on the real problems of companies and citizens. It is urgent to reduce the abyss between politics and society.
Exclusive content for subscribers
read without limits