World
The labor reform does not prevent temporary contracts from being shortened from 60 to 47 days on average | Economy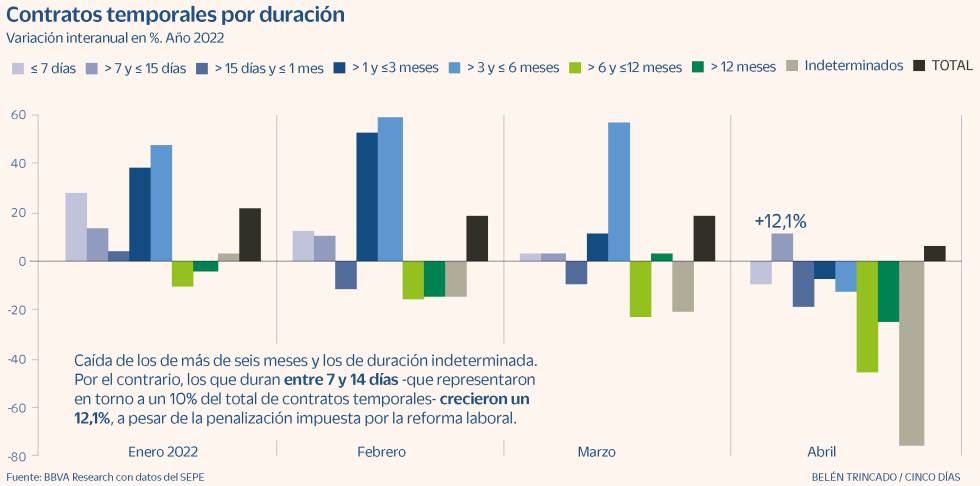 The statistical data on affiliation to Social Security and registered unemployment that are known until the end of April, as well as those of the Active Population Survey (EPA) for the first quarter, reflect a clear increase in permanent employment compared to temporary employment. With a figure that stands out above the rest: almost 50% of the new contracts that were signed in April were indefinite (among which are the discontinuous fixed ones) compared to a historical percentage of around 10% for more than two decades. While indefinite contracts in April have increased by 326% compared to the year before, temporary ones have been reduced by 37%.
However, although the impact of the labor reform has been positive in terms of the type of contract, the impact of Easter has offset these beneficial effects of the new law, which has not been able to prevent the duration of temporary contracts from being reduced for the first time since the new labor regulations came into force on December 31. This was highlighted yesterday by a report published by BBVA Research on the effects of the labor reform, which indicates that the average duration of temporary contracts decreased by 13%, falling from 60 days in March to 47.2 days in April.
In this sense, the analysis of these economists highlights that the reduction in temporary contracts with respect to April of a year ago, is explained, above all, by a drop of more than 40% of those between six and 12 months of duration. and those of indeterminate duration (due to the disappearance of newly signed construction contracts since March 31). Also the fall of those that last more than a year was more than 20%. Thus, the fact that the decrease in temporary employment occurs above all among longer-term contracts has contributed to a shortening of the aforementioned average duration.
On the contrary, the only type of hiring that increased in April compared to a year earlier were contracts lasting between one week and 15 days -10% of the total-, which grew by 12%, despite the penalty of 27 .53 euros to all contracts that last less than 30 days. The greatest increase in indefinite contracts occurred among permanent discontinuous contracts, which multiplied by 13 in April to 238,760. And, especially among those under 25 years of age, where they multiplied by 22, up to 48,568.