News
The leader of the Belarusian opposition in exile: "Lukashenko is as responsible for the war in Ukraine as the Kremlin" | International
In the summer of 2020, an unknown former English teacher ran for election in Belarus to oust authoritarian leader Aleksandr Lukashenko, who had jailed her husband, blogger Sergei Tikhanovski, as soon as she submitted her own candidacy. In elections that the international community declared fraudulent, Lukashenko claimed victory. The next day, Svetlana Tijanóvskaya (Mikashévichi, 39 years old) was forced to flee to Lithuania to avoid going to prison. The country experienced a wave of demonstrations harshly repressed by the authorities, with more than 35,000 arrests and several deaths. The leader of the opposition in exile expresses herself with the seriousness of someone who knows that her figure inspires an entire generation that calls for change and democracy. In a hotel in Madrid, where she is visiting to meet with the government and other institutions, she denounced on Tuesday Lukashenko's involvement in the Russian invasion of Ukraine and asked the West to strengthen sanctions against him. "He is as responsible for this war as the Kremlin," she says.
Ask. Belarus has served as a platform for Russia to invade Ukraine, but has so far not been directly involved. Why do you think it is?
Response. Lukashenko has already been directly involved. He offered our territory as a great platform for invasion. He accepted thousands of Russian troops. He is as responsible for this war as the Kremlin. Our soldiers have not joined the Russian troops, but Lukashenko is complicit in [el presidente ruso, Vladímir] Putin and is guilty in this war. And it is very important to understand the difference between the regime and the citizens: 86% of Belarusians are against the invasion.
P. In recent days, however, Belarusian troops are massing on the border. Do you think they will finally intervene?
R. We are talking about an unpredictable dictator who is paying off his debt to Putin for his support in 2020. If the Kremlin orders Belarus to start the invasion, Lukashenko may obey.
Join EL PAÍS to follow all the news and read without limits.
subscribe
P. What consequences would this have for Belarus?
R. The international community has to isolate Lukashenko politically and economically. We ask for strong sanctions against the regime, against state companies and organizations that arm the police to repress citizens. Our people are willing to bear the economic consequences. Lukashenko has to take responsibility for this war and for the human rights abuses in Belarus. International organizations have to put him on the wanted list and bring him to justice.
P. With Russian troops deployed on your territory, do you think Lukashenko is still in control of the situation?
R. Lukashenko controls the repression against the resistance to the regime, but he has no control over the Russian troops. He and Putin have a false, circumstantial friendship. Lukashenko needs Putin to strengthen his power in Belarus and Putin needs Lukashenko to show that he is not the only invader. But when it became clear that Russia's quick invasion strategy had failed, Lukashenko began to change his rhetoric and say that he wants to facilitate peace. The international community must not be fooled.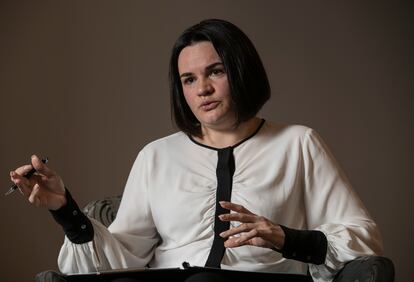 P. How can the different possible endings of the war influence Belarus, whether Ukraine wins or loses?
R. I prefer to say that when Ukraine wins, it will be one more window of opportunity for the Belarusian people. Since the rigged elections in 2020, which Lukashenko lost, many people have risen up and we are creating multiple pressure points on the regime. When Ukraine wins, Russia will be weakened and so will Lukashenko. We will take this opportunity to rise up again, to march in the streets with all our might. The fight continues.
P. What if he loses?
R. I don't believe in that scenario because I see how the Ukrainian people are defending their country. It is not a war between Russia and Ukraine. It is the war between democracy and oppression. All democratic countries have a moral obligation to support Ukraine because they uphold human values, human dignity. I am going to make as many official visits as I can to ask politicians to support as much as possible, but also to support Belarus, because sometimes we forget that Belarus plays a crucial role in this region. Without a free Belarus, there will be no free and safe Ukraine. There will be a constant threat to our western neighbors. We fight for both countries and we remember our internal situation, where the repression has not stopped, there are more than 1,200 political prisoners and the situation is deteriorating more and more.
P. Has the regime's repression weakened the revolution they started in 2020 or is there still hope?
R. More than hope, I have security. When the war started, thousands of people came out to show their rejection, even though they knew there would be arrests. The Belarusians have carried out 80 acts of sabotage on the railway system to prevent the transport of Russian equipment. People took photos of Russian missiles and equipment and sent them to the Ukrainians. Many young people have gone to fight alongside Ukraine. Demonstrations are now dangerous, because people end up in jail, so the most effective way is to act clandestinely. In exile, people are also working hard with justice and spreading Belarusian culture, because we have our own language and culture, we are not an appendage of Russia.
Follow all the international information in Facebook Y Twitteror in our weekly newsletter.
Exclusive content for subscribers
read without limits