News
Thomas Lane: One of four officers implicated in the killing of George Floyd pleads guilty | International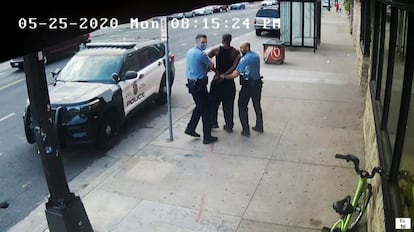 Thomas Lane, one of the four police officers involved in the death of George Floyd in May 2020 in Minneapolis, has pleaded guilty Wednesday to collaborating and inciting the murder of the African American, by helping his patrol partner, Derek Chauvin, to immobilize the man on the ground, suspected of having paid with a counterfeit bill in a store minutes before. Floyd suffocated to death after Chauvin strangled him with his knee for more than nine minutes.
Floyd's murder triggered a wave of mass protests against police brutality in the country. Chauvin, who is white, was sentenced last year to 22 1/2 years in prison, of which he will serve 15, for murder by a state court, although he still faces a federal sentence that could range between 20 and 25 years for the same charges. . Lane, who like his companions was removed from the body after the event, has accepted a three-year sentence in exchange for prosecutors dropping a charge of complicity in second-degree murder, according to the Minneapolis newspaper. StarTribune.
Lane, who appeared in court in Hennepin County, reached a plea deal that will see him serve a three-year sentence and avoid being tried in state court on the charge of accessory to second-degree murder. Lane was tried and sentenced in county court in Hennepin. Unlike Lane, the remaining two former officers, Tou Thao and J. Alexander Kueng, will face state charges of accessory to second-degree murder and manslaughter next month in Floyd's death. Lane and Kueng helped restrain Floyd, 46, who had been handcuffed. The first held Floyd's legs and Kueng knelt on the detainee's back to help immobilize him. Agent Thao prevented bystanders from interfering in the African American's defense during the police intervention, which lasted nine and a half minutes while Floyd complained, less and less audibly, that he could not breathe.
The trial that Lane, Thao and Kueng faced in federal court in February focused on officer training and the culture of the city's police department. The three were convicted of depriving Floyd of his rights by failing to provide assistance while the African-American suffocated. Floyd's death was recorded on video and the dissemination of the images, practically broadcast in real time, contributed to inflaming the spirits against the umpteenth episode of police brutality and spurred the demands of the Black Lives Matter movement. Angry protests swept across the United States and spread to many cities abroad.
Subscribe here to newsletter of EL PAÍS America and receive all the informative keys of the current situation in the region.
Join EL PAÍS to follow all the news and read without limits.
subscribe