World
The shortage of employees in Ibiza encourages inventiveness: 200 euros to attract friends to work in a hotel | Economy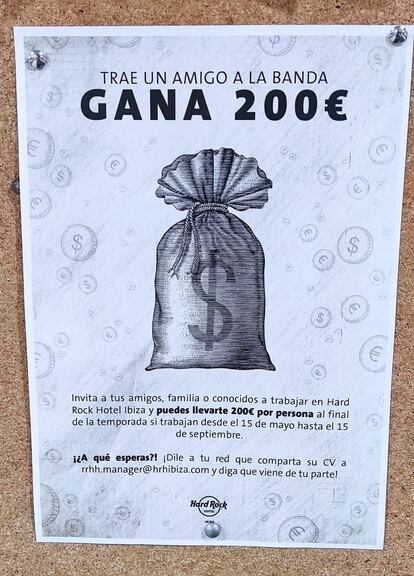 The difficulties that the Balearic tourism sector is encountering this summer in locating staff to work during the high season on the islands has led some establishments to devise imaginative solutions to attract new labor. The Hard Rock Ibiza hotel, belonging to the Palladium Group, has launched an internal proposal to its workers to financially encourage the recruitment of friends and relatives who want to work in the establishment in different positions. The hotel management offers a bonus of 200 euros per person to employees who bring friends or family to work during the seasonal months.
The ad, written in a relaxed tone, encourages you to attract "a friend to the band" to win 200 euros. "Invite your friends, family or acquaintances to work at Hard Rock Hotel Ibiza and you can take home 200 euros per person at the end of the season if they work from May 15 to September 15," explains the header. In a photograph taken by Radio Ibiza, you can see how the announcement of the establishment includes the corporate address of the human resources department to which to send the CV.
Palladium Group sources affirm that it is not an informative poster of the company, but that it is "exclusively internal, in a relaxed and informal tone". They explain that before the season began, different benefit and incentive packages were developed for collaborators and workers that sought to maximize "attraction and retention" of personnel. The intention of the proposal is to benefit a worker and a friend or family member as a measure of internal stimulation among the staff.
The problems in finding staff continue with the high season just beginning and are not endemic to the Balearic Islands, since in areas such as the Costa Brava the lack of staff to work in the hotel industry is also putting the season at risk. In the Balearic Islands, one of the factors that is most influencing is the high housing prices during these months, which have discouraged many workers who came from the Peninsula to return to the islands to campaign during the summer months, which It has caused that the staff of hotels and restaurants are not fully covered.
The hotel and restaurant employers have been denouncing the situation for weeks. The Hotel Federation of Mallorca warned that the lack of staff could force some establishments to reduce the offer of certain services due to not being able to fill vacancies. In Ibiza, the hotel management has once again put on the table the return of the sixth working day, a measure that is not contemplated in the Balearic Hospitality Collective Agreement, which marks a weekly shift of five days of work at 40 hours and two days off.
He knows in depth all the sides of the coin.
subscribe
Exclusive content for subscribers
read without limits