World
Ukrainian talent begins to reach Spanish companies: "They were kind in the interview, but not speaking the language frustrates me" | Business
This Sunday marks 90 days since they fled Ukraine with what they were wearing. Although most are clear about their temporary status in our country, there are already refugees, among the 134,000 sheltered in Spain, who with residence permits and express work under their arms are in selection processes or have started to work. The massive response of Spanish companies throws up thousands of vacancies adapted to the displaced. Neighborhood networks, via contacts, have also proved highly effective in their use. However, there are voices that warn that the speed of their employment does not mean that what lies ahead is going to be an easy road.
A labor market hungry for positions that it cannot fill —and with a gap between demand and supply that continues to grow— celebrates the arrival of qualified talent. According to the reception, attention and referral centers (Creade), they are mostly young and professional women (martial law prohibits the departure of men between 18 and 60 years of age) and 61% have higher education. Teachers, engineers and economists predominate, but also accountants, lawyers and doctors. Ukraine is also a quarry of technological talent. According to him ranking of the International Association of Outsourcing Professionals, among the 100 best technology service provider companies in the world, 18 are Ukrainian.
With this photograph and the high probability that the conflict will continue, finding a job is, for many, more than just a salary. It means normalizing and putting some order in a life that the war has stolen from them. To facilitate their entry into the labor market in a context of massive displacement, "temporary protection" is being applied in Europe, to which 64,000 refugees have already taken refuge in Spain. A directive that "activates the residence and work permit immediately," says Raquel Santos, state coordinator for inclusion of the Spanish Commission for Refugee Aid (CEAR). As of April 30, 2022, there were 47,231 Ukrainians of working age with a Temporary Protection authorization in Spain (36,528 are women, 77% of the total). Of these 47,231 people, 3,019 were in employment. In other words, in less than 2 months of residence in Spain, 6.5% of the displaced already have a job and are registered with social security.
This permit has accelerated, for example, the incorporation as a veterinarian of Ruslana Echekenko to the staff of Faunia, one of the first entities to hire a Ukrainian refugee. Ruslana, 34, was caught by the invasion working on her doctoral thesis on veterinary microbiology. "The whole team is getting involved in adapting it," says Enrique Pérez Real, director of the Madrid park. The same as Viktoria Apalat, owner of an aesthetic center-school in the Ukraine. "I immediately obtained a work permit and looked for a job in centers in Parla (Madrid), where I live with my daughter. Although in the interviews they have been affectionate, not speaking the language frustrates me". Going through the nets and the city, she found Siberia Salon, whose owners are Russian: "I have a job and Ukrainian colleagues, but I count the days to return home."
"It is very hard to arrive with nothing and without the possibility of communication. Minimal notions of the language speed up integration and, above all, employability, which is so necessary for compatriots who are in families and need income," says Olga Zaichenko, a 24-year-old teacher, who fled a few days after the conflict broke out. Olga lives with a family as an au pair and has just been hired as a Spanish teacher by the Department of Culture of the City Council of Las Rozas, in Madrid. Also to overcome this language barrier as soon as possible, Banco Santander has announced, together with the UNED, 2,000 scholarships for which refugees can apply until June. Along these lines, members of Barcelona Actúa are training Fundación Telefónica volunteers in pedagogical techniques to teach these classes.
He knows in depth all the sides of the coin.
subscribe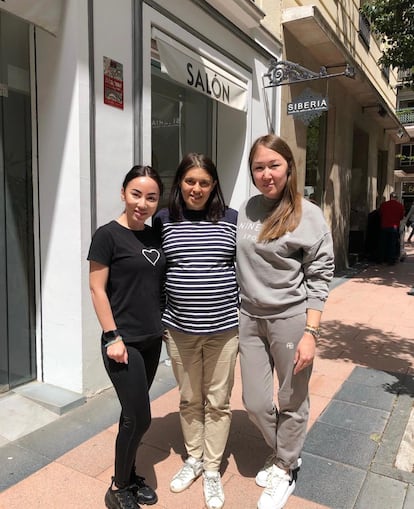 But learning a language "is not easy or fast, and even less so if you are fleeing a war, due to the trauma that it entails," says Mykhaylo Petrunyak, president of the Federation of Associations of Ukrainians in Spain and of the Hispanic Chamber of Commerce. Ukrainian, for whom this barrier "complicates access to many of the offers that are not published in Ukrainian." And even if they do, they are not reaching the refugees "because of their low visibility", which is especially detrimental to the talent that seeks, as a first option, to work in their profession.
Petrunyak announces the intention of Ukrainian companies to establish themselves in Spain. "In July, a technology company [prefiere no decir su nombre] it is going to settle in Valencia and will offer 300 jobs". Similarly, among the 115,000 Ukrainians residing in Spain, according to census data, "there will be someone who offers to be a representative of their companies or help them establish themselves as self-employed," he adds.
employment platforms
The European Commission has added the Ukrainian language to the tool EU Skills Profile Tool that allows you to create a skills profile and help in the job search. In Spain, the job opportunities that large companies and SMEs upload to different platforms are multiplying daily. Fundación CEOE, together with Banco Santander, Mapfre and Fundación Adecco, has launched Companies for Ukraine, to which 600 organizations have joined and it already has more than 2,000 vacancies. The person in charge of the project, Carmen Aparicio, points out: "In-person information points with Adecco personnel who inform and guide the refugees from this website already work in the Creade".
The large human resources companies have also adapted their job offer. in the of Adecco Group, Jobs for Ukraine, which works for any country in the world, there are 1,300 companies offering work and 4,000 Ukrainians have signed up. ManpowerGroup has also created We Stand with Ukraine, through which 500 Ukrainian refugees have been placed in Europe. What Randstad from its Digital Employment Assistance CenterThese companies offer advice and training. Offers are validated to prevent fraud.
In the tourism sector, the Spanish Confederation of Hotels and Tourist Accommodation (Cehat), the Hotel Technological Institute (ITH) and beWanted have made available your job bank. A sector that multiplies vacancies with the summer in the making. In the Valencian Community these places add up to 6,000, for which the Generalitat offers free training. From Alicante, the Tourism Center (CdT) offers courses "according to the needs that the sector transmits to us," says Pilar Mazón, job counselor at the Alicante employment office.
The surprise in the labor integration of refugees has been led by the citizen initiative by mobilizing their network of contacts in a chain. This is what Pedro, an engineer, has done, who houses two Ukrainian women and his five children with his family in the municipality of Boadilla del Monte (Madrid). One of them, Viktoria Klymchuck, is already working in a nearby mattress factory "thanks to the chain of favors that she has spread like wildfire". Tanya Polonska has it more complicated because she is a civil servant and is afraid of working in another country as a public official.
Another Spaniard, Lola, has also welcomed Natalia Protasova, assistant to a deputy from the Servant of the People party, founded by Volodímir Zelenski, into her home in the same municipality. Together they looked for a job for Natalia and she signed up for Spanish classes, but she has finally decided to return. "It is not easy psychologically to assume what these people are experiencing," says Lola. She and Pedro have not stopped looking for job opportunities for those welcomed in an area whose Consistory has received 400 refugees.
Boadilla del Monte, in addition to help to process registration with Social Security, NIE card and registration, facilitates registration in its employment exchange, channels offers from companies in the municipality and offers Spanish classes. The City Council of Sant Cugat del Vallès, where there are 262 refugees, has set up a refugee assistance office. In Catalonia, its inhabitants also lead the employability of the displaced. "The neighborhood network created a support group for these people, whose mobility and involvement has been decisive in their placement." This is how Xavier Humet speaks, who has welcomed two Ukrainians into his house: Klavdiia Yavdoshliar (with her son) and Viktoriia Stryhun, who arrived by train to Slovakia, from where the Red Cross transferred them to Madrid. Klavdiia, an agricultural engineer, works as a kitchen assistant in a restaurant, and Viktoriia, a physiotherapist, does occasional services in a rehabilitation center. Humet does not hesitate to continue offering his house until the end of the war, but from the neighborhood networks he asks for "collaboration from the municipalities to channel aid from state plans."
Requests from companies also arrive at CEAR and in collaboration with them they identify and assess profiles. In addition, the Ukrainians receive training for their professional recycling, says Raquel Santos, who warns about the rapid insertion processes without contextualizing. "Ukrainian refugees are very grateful and eager to work, but failure is there when the phases are accelerated and people are not prepared." Santos agrees with the president of the Federation of Ukrainian Associations "in respecting the times" in the face of the mass of information that is coming at them in another language. They ask refugees and companies "not to precipitate processes". Something that also prevents possible abuse. "We have already identified situations of trafficking and labor exploitation", which is why Petrunyak urges to "advance slowly and have notions of the language, which makes it more difficult to fall into these networks".
Liliya Mykolayiv, immigration and aliens lawyer and president of the association With Ukraine, works on the prevention of abuse. "We thoroughly review all job applications before publishing them because we have a responsibility to refugees and their dignity in terms of working conditions, hours or salary." Mykolayiv also appeals for "psychological assistance prior to labor and social insertion" and demands "effective homologation processes" so that the files of Ukrainian psychologists who ask to serve refugees are reviewed as a priority. "We are going to find very serious post-traumatic situations in these women who have lost everything."
investigation of crimes
The General Council of Spanish Lawyers has formed a group of experts to begin documenting the alleged war crimes and crimes against humanity perpetrated in the invasion of Ukraine, where "the brutality against civilians is extreme," says Liliya Mykolayiv. This documentation, which will include the testimonies of the victims, will be sent as evidence to the Prosecutor's Office of the International Criminal Court to initiate an investigation against the Kremlin.
The president of the Association With Ukraine supports this initiative. "We are forming an advisory group on Ukrainian law made up of Ukrainian lawyers who have fled the country and who have ample resources for their residence and maintenance and, at the moment, are not looking to work. They seek to help study and document these alleged crimes. When the time comes, a lot of evidence will have to be provided and now we have access to the refugees."