News
Evi Anna Rauter: The mystery of the anonymous body from Girona that her family searched for in Italy for 32 years | International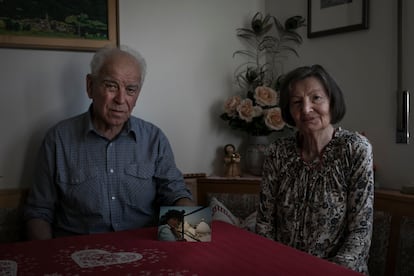 An intense red rosebush presides over the interior patio of the Rauter family in Lana (Italy). A long-lived marriage formed by Hermann and Karolina. They have been married for 56 years. Together they have survived the hardest tragedy of all: the disappearance of her young daughter when she was 19 years old, in 1990. For more than three decades they did not know anything about her. And that Evi Anna Rauter was found dead just 23 hours later. She was found by a boy hanging from a pine tree in Portbou (Girona), 1,000 kilometers from her house. For 32 years she was an anonymous corpse until the work of Crimsa Catalan television program true crime, allowed their identification. His parents don't hold a grudge. "I have nothing to reproach the police with," says Hermann serenely, from the dining room of his house, decorated with photos of his two daughters.
It is an unusually hot month of May in Lana (12,000 inhabitants), in the Adige Valley, a prosperous mountainous area in northern Italy. "Everything is very dry," laments Hermann, who once worked as a plumber. He speaks Italian, but his usual language is a variant of German, common in the municipality bordering Austria. Cristina, his other daughter, called him a few weeks ago and broke the news: a woman had recognized Evi on a cold case show. "It was hard to see the photos, but we had to do it," she says, about four images taken of the corpse of the young woman from Portbou by the Civil Guard.
"We had no doubts. There are photos of the face, very close up. It's Evi for sure," she states. "I had a mole and it shows too," she adds. And the clothes worn by that mysterious young woman from Portbou are the same as her little daughter's. "The bra is important because of the brand. Her mother bought it for her at a Lana store, "she details, while Karolina listens to her. She hardly intervenes. She only asks with a smile when she is told that her daughter was very pretty: "Who does she look like? Her father or me? ". Hermann and Karolina last saw Evi on August 30, 1990, when her father took her to the train. She had finished her studies and decided to visit her sister Cristina, then 23 years old, who was studying in Florence.
They were together four days, until nine o'clock in the morning on September 3, 1990. Cristina was leaving for college and said goodbye to her little sister, asking her what she would do while she was away. She "she told me that maybe she was visiting Siena. At one in the afternoon, when I arrive, I find a post it who says that he had actually gone to Siena." The city is one hour from Florence. Evi took no luggage of any kind. "Only the DNI, 60,000 lire, which was around 30 euros, and the student voucher for the train. If you want to go to Siena you don't need anything else, "reflects her sister.
They did not hear from Evi again until 2022, and almost by chance. Crims, directed by the journalist Carles Porta, had been investigating the case of the young woman found dead in Portbou for two years. Suspecting that she might be Austrian, she contacted the country's program Unsolved. They worked together on the episode the hanged girl, which aired on April 23. A woman on vacation in Vienna saw the episode and thought she identified Evi. "The woman who recognized her did not know her. She remembered the campaign we did on her day, when she disappeared. She is not a neighbor of Lana, she lives in Bolzano [la capital de la provincia]and she doesn't know the family", explains Cristina, who stayed "in shock" when he got the call from the show. "I asked for the photos, and when I saw them… Well, it took me a while to understand what was going on. And little by little, very cautiously, I talked to my parents, "she recalls.
Join EL PAÍS to follow all the news and read without limits.
subscribe
"He never talked about traveling to Spain"
Pending official confirmation through her fingerprints, they now know that at eight in the morning of September 4, 1990, 23 hours after she disappeared, Evi was found hanging in Portbou. "It's all very mysterious. We can't understand what happened since she leaves Florence and shows up in Portbou. We don't know how she got there. By train? Hitchhiking?" her sister wonders. Her father admits that they never thought she was in Spain. "We had never said to travel to Spain or anything like that," she recalls. The family has discovered that at that time there was an express train that left at one in the afternoon from Rome and arrived in Portbou at 5:45 in the morning. "And in two hours she gave time for all that?", Her sister continues to wonder.
The official version maintains that Evi committed suicide by hanging herself from a pine tree surrounded by prickly pears on a mound next to the Portbou cemetery. "The Civil Guard acted, saying it was a suicide; the coroner, who said it was a suicide; and the judge in the case, who said it was suicide. After 32 years, we have to abide by what is written", defends Lieutenant Alejandro, from the judicial police unit of the Civil Guard in Girona. But the family does not believe that Evi committed suicide. "No way," says her father. Cristina alleges that her sister was a happy person, without problems. "Just by seeing the photograph of how they found it, you already realize that there is something strange. We are not detectives, but it seems that Evi had to fly to hang from the tree…", points out Cristina.
"Forget about the suicide"
The coroner who once performed the autopsy, Rogelio Lacaci, now denies that Evi took her own life. "Forget about suicide, I can only tell you that," he answers questions from this newspaper. He does not detail what has led her to change her mind, waiting for two episodes that she will broadcast Crims June 13 and 20. But the Austrian program already gave some clues: the rope with which she supposedly hung Evi was very short, 40 centimeters, which made it difficult to open it to put her head in, and then tie it to the tree; that rope also had a sailor's knot, which requires some knowledge; on her bare feet they found no traces of earth or gravel; neither in her arms were they found wounds from having climbed the tree and then dropped…
About the errors in his identification, the family is understanding. Although Cristina points out that her complaint in Italy and the Civil Guard's description of the body found in Portbou are accurate (a 19-year-old girl, medium-length hair, fair complexion, denim overalls, turquoise shirt and white sneakers). Both the Civil Guard and the Italian police wield that they informed Interpol. "I have to believe them", Cristina resigns. The Civil Guard defends that they exhausted all the resources to identify her, that they carried out an "excellent" investigation and that they have always collaborated in a "fluid and agile" way with the media to keep the case alive.
Cristina has traveled to Catalonia, has declared before the Civil Guard and has visited the area of ​​Portbou where her sister was found. She is grateful to the journalists and the people who cared to find out who this mysterious hanged girl was. Her parents do not plan to visit the place. Her daughter's body was buried in a mass grave years ago, and her remains are mixed with other bodies. "If we go there, what are we looking for? Not worth it. I can pray to her from here or from wherever she is", says Hermann, who remembers that for 32 years it was as if the earth had swallowed her daughter. Only Karolina, explains Hermann, kept hope: "My wife hoped that one day they would ring her bell, we would open the door, and it would be her."
Follow all the international information in Facebook Y Twitteror in our weekly newsletter.