News
Spain and the United Kingdom warn NATO of the risk of neglecting the Russian advance in Africa | International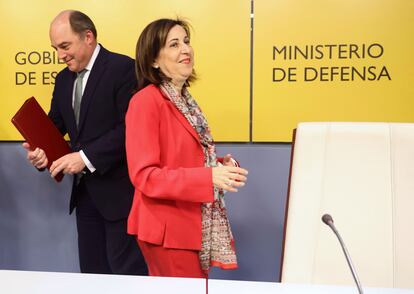 The defense ministers of Spain and the United Kingdom, Margarita Robles and Ben Wallace, respectively, warned NATO on Wednesday of the risk posed by Russia's growing penetration in Africa. At a time when the Atlantic Alliance is focused on neutralizing the threat from Moscow in Eastern Europe, the Spanish minister has described the situation in Africa as "very worrying" and has alluded to phenomena such as the spread of jihadism and the military presence Russian through its regular Army or companies of mercenaries like Wagner. "NATO cannot remain indifferent to this situation," Robles stressed.
For his part, the British minister pointed out that Putin is "corrupting governments" in Africa and warned that "if he can use migratory flows as a weapon in one corner of Europe, he can also use it in another", alluding to the migration crisis caused last year by Belarus, an ally of Moscow, on the border with Poland.
At the Madrid summit, next June 29 and 30, NATO must approve its new Strategic Concept, in which Spain wants to offset the risk of an excessive leaning of the organization towards the east with a look towards the south. Wallace has stressed that NATO "does not have to stick to a geographical framework", while Robles has assured that, "despite the existence of a brutal open war in Europe", the final document will reinforce "the idea of ​​cooperation and balanced defense in all 360 degrees [en todos los puntos cardinales] and look to the future."
The war in Ukraine, in which both countries claim to act "side by side", was the focus of much of the joint press conference that Robles and Wallace held in Madrid, on the occasion of the first visit to Spain by a Secretary of Defense British for 17 years.
Wallace has warned of the possibility that Putin will try to compensate for his army's fiasco in Ukraine by intimidating other countries with his powerful war fleet and has asked the Russian leader to "stop stealing" Ukrainian grain and lift the blockade of its ports. , because the scarcity of grain can cause a worldwide famine.
When asked by journalists, he has bluntly denied that the reinforcement of the British Navy in Gibraltar, where the patrol ship HMS Trent has established its base, poses a threat to Spain. "It's a myth, it's not true. It is not used in any way against Spain. It is only used as a base for our forces if they act jointly in the Mediterranean because we are allies", she assured.
Join EL PAÍS to follow all the news and read without limits.
subscribe
Follow all the international information in Facebook Y Twitteror in our weekly newsletter.