News
War Ukraine Russia today | Last minute of the conflict live | International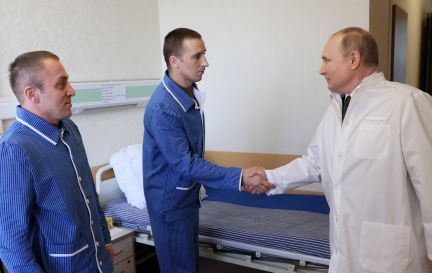 Putin visits for the first time the wounded during the war in Ukraine
For Javier G. Cuesta (Moscow). Russian President Vladimir Putin paid a surprise visit to several wounded soldiers during the war in Ukraine, in what was the president's first public act of this kind since he ordered the offensive on February 24, more than three years ago. months. Despite the importance of such a gesture, after what the Kremlin considered a quick "special operation" got muddy, only a few images of the visit have emerged.
Putin has gone to the central military hospital Mandrika, located in Moscow, accompanied by the Defense Minister, Sergey Shoigú. The Kremlin press service has released two very short videos of the event. In the first, barely two seconds long, the president shakes hands with two wounded men on foot, apparently recovered. "Do you want to serve more in the Army?" Putin asks one of the soldiers in the second recording. "Of course," the soldier replies, with the typical tension of an encounter of this magnitude in front of the cameras. "You will," adds the president.
Another video that has emerged from the act has been released on Telegram by Pável Zarubin, author of the program Moscow, Kremlin, Putin. In this recording, the president visits another soldier who has his back to the camera, and the latter tells him that he has a nine-month-old son with his wife. "He will be proud of dad!", The president replies.
According to the Interfax news agency, Putin later said that his troops want to return to their posts. "Everyone wants to return to service", he has emphasized after asking the rest of the authorities "to pay attention to the medical part of the matter and to understand what is happening there".
Putin's spokesman, Dmitri Peskov, has assured that the president had visited other wounded in the past, but the Kremlin did not want to inform the press. Despite the fact that the conflict has lasted for more than three months, the Russian authorities have only twice published their official figures of casualties in Ukraine. The last one, on March 25, just 60 days ago. The Russian Ministry of Defense then estimated that 1,351 soldiers had died and another 3,825 had been wounded. A week later, on April 1, Peskov himself admitted in an interview that his armed forces had suffered "significant losses" in the fighting.
The appearance of soldiers still convalescing in the Russian media is rare. The coverage made by public television on March 26 of a delivery of decorations to several mutilated veterans was striking. The Vice Minister of Defense, Alexánder Fomin, attended that act, who stressed that those soldiers "did not disappoint the State" and were "continuers of the glorious tradition of fathers and grandfathers." For his part, Shoigú went on March 11 to the same hospital that he visited this Wednesday. In that act he presented the star to the hero of Russia and more than a dozen medals for courage.
In the image, Putin meets with two soldiers wounded during the war in Ukraine and who are now admitted to the Mandrika hospital. / Mikhail Metzel