News
Colombia Elections 2022: Petro on Piedad Córdoba: "Incomprehensible that such imprudence is committed" | Presidential Elections Colombia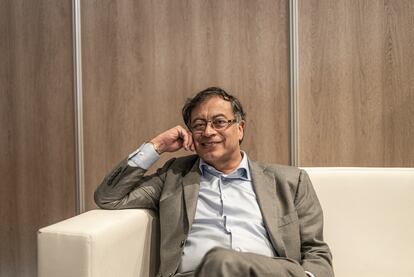 The greatest betrayal that Gustavo Petro has suffered in recent times, in his opinion, has been that of Piedad Córdoba. The candidate for the Presidency, against the advice of his advisers, included Córdoba on the lists of the Historic Pact to the Senate as a way to restore his name. He understood, as he tells it, that she had paid a very high price for mediating between the FARC and the government in some kidnappings, such as that of Ingrid Betancourt. That had left her at the expense of being harassed by Uribismo and "other reactionary forces" in the country. Three months later, Petro regrets the decision that has affected his campaign. The judicial processes against Córdoba are piling up, the last one due to his closeness to Álex Saab, a businessman accused by the United States justice of being a figurehead for Nicolás Maduro. And to top it off, four days before Colombians vote in the first round of the presidential elections, Córdoba was detained at a Honduran airport for transporting $68,000 that she had not justified to customs authorities. "It is incomprehensible that in the midst of so much trouble these recklessness is committed," Petro said Thursday.
The candidate gave a brief interview to this newspaper after the debate organized by Prisa Media between him and the candidates from the center and the right, Sergio Fajardo and Federico Gutiérrez. The issue of Córdoba was present: "If the money is legal, we all know that when we travel abroad we cannot carry that type of amount. Sometimes you're wrong about that, but not that bad. It seems to me almost an irrational circumstance. Obviously she will have to explain in Honduras what that money was for, where it comes from. I understand that she will pay a very high fine for that," he added.
Córdoba told the Honduran Prosecutor's Office that this money had been given to him by a Colombian businessman who lives in Tegucigalpa. The authorities have summoned this businessman to testify. The senator had met the day before with the Honduran president, Xiomara Castro. The opposition in that country has asked Castro to clarify that she did not give him that money. "Thank you Colombia and our America for so much solidarity. The persecution does not stop but the truth prevails. Overcome the misunderstanding in Honduras," Córdoba tweeted this Thursday. The reality is that there was no misunderstanding: they grabbed her when she had on her an amount that exceeded 10,000 dollars, the established limit. This isn't the only mess she's in.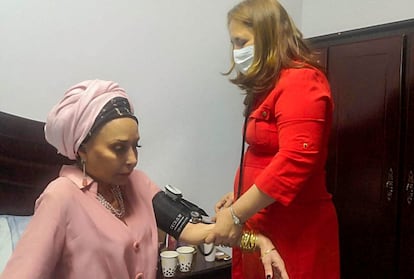 In a confusing development, last year he introduced Petro at a public event to two Mexican businessmen who were friends of his brother. The Mexicans turned out to be DEA agents who had set up his brother, who was arrested when he sold them cocaine. The journalist María Jimena Duzán explained what happened in this article. The brother is jailed pending extradition to the United States. Córdoba defends the innocence of his relative. For episodes like this, a month ago Petro asked him on Twitter to stop supporting his campaign. Córdoba found out from that tweet that they were separating her from her and she called the candidate's advisers angrily. The decision was not reversed. Moreover, in the debate organized on Tuesday between the magazine Week and the newspaper TimeFico asked Petro if he would extradite Córdoba when the time came. "Yes," he said without hesitation.
The candidate gave his impression of the moment the country is experiencing, 72 hours before the polls open: "Things remain stable, there are no big changes. I think they will remain stable until Sunday. We are close to winning in the first round. And we are well above forty (percent). There has been a change that must be seen, because Fico's forces have machinery and those do not appear in the polls. By definition, it is a political reality that cannot be surveyed, and so we must see that the advantage in opinion that Rodolfo Hernández had over Federico may not be enough if all these machines are put into operation. That is a question mark."
The appearance of the former mayor of Bucaramanga as a real option has dominated the last week. There will only be one left to face Petro: Fico or Hernández. "I don't care about him," he says when asked which of the two he would prefer in a second round. But it is clear that Hernández, a 77-year-old businessman with an anti-system and anti-corruption discourse, generates more uncertainty for him. "He is a man to know. What comes out in the press about him around his sympathy for Hitler, well, a person like me or the entire country should be concerned. It is not anything. To say that Pablo Escobar is an entrepreneur and to say that it is a delight that a little man, that is the word he used, has to pay him 15 years of credit mortgages for the apartment he sold him. That is one of the great tragedies of Colombia. The working middle class pays their whole lives for a house. For him that is a delight because he is in the other part, because he does the house, but it is tragic".
Hernández has a case open in the Prosecutor's Office for a garbage contract that he signed when he was mayor. One of his sons received a two million dollar commission for that operation. "He is a millionaire who talks about corruption, but he is accused of corruption. The only candidate who is of those who have competed. I would have many doubts about his Presidency. I believe that he does not have a conception of the State, and he has some ideological addictions that can further complicate the situation that we already have instead of alleviating it, "Petro opined.