World
Global X: From the cradle of the 'miguelitos' to the capital of money: a Spaniard among the elite of listed funds | Business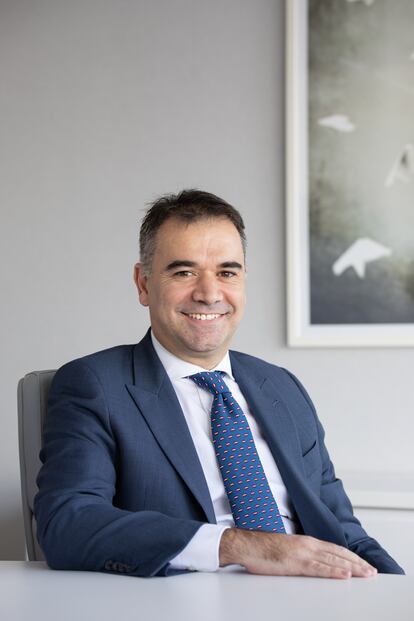 From eating a miguelito every Sunday "for 25 pesetas" in his town to directing a management company on Wall Street specializing in exchange-traded funds (ETFs) with assets valued at 45,000 million dollars. The story of Luis Berruga (La Roda, Albacete, 1977) is a mixture of talent and chance. With a degree in Telecommunications Engineering from the Polytechnic University of Madrid, he went to the US to improve his English. While in Chicago, he found work in private banking at Morgan Stanley. "I didn't know anything about finances, but I was passionate about that world," he says by videoconference. He got all his brokerage licenses, got an MBA, and soon signed up with Jefferies. This time he specialized in investment banking in the financial capital of the world: New York.
"I learned a lot, but the pace of work was very high. I wanted to look for something smaller and more entrepreneurial." In the Big Apple, he met two young Spaniards, Bruno del Ama and José Carlos González, who had been pioneers in the ETF business with the launch of their manager, Global X, in 2009. The personal and professional affinity made Berruga joined the project in 2014. "I was employee number 10," he recalls. A year later, JPMorgan bet on the potential of the company and entered the capital. "It was a boost for our growth, since the bank provided resources that we invested in distribution, sales and marketing." Del Ama and González's toy grew until it reached 8,600 million assets under management in 2017, at which time they decided to cash in and get out of the capital. "The buyer was the Korean financial giant Mirae. The founders and JPMorgan left and I was named CEO. Since then, we have multiplied by more than five times the size of the company", he highlights.
Bet on themed products
The growth of Global X is based on two factors: having detected before anyone else the potential of a product that, with liquidity in real time and low commissions, allows exposure to any market and asset in the world; and, second, specializing in thematic ETFs. "Right now we market 35 funds in the US and 24 in Europe, where we started in 2019. There is a lot of demand for the great long-term trends that will transform the economy, such as everything related to sustainability," says Berruga, married to an American with whom he has a son ("from Real Madrid, because there are things that cannot be neglected"). Currently, the most commercially successful funds of the firm are those of robotics and artificial intelligence, cloud computing, blockchain and cybersecurity.
The boom in passive management—total ETF assets under management totals $10 trillion—has gone hand in hand with ultra-easy monetary policies by central banks. With free money, almost every asset has had days of wine and roses in recent years. Now that the liquidity faucet is closed, these products will have an important litmus test. "Inflation, rate hikes, geopolitical instability and the effects of the pandemic have brought a lot of volatility to the market. I believe that this volatility is going to continue in the medium term and this is a context that favors ETFs because, while in a conventional fund you have to wait until the end of the session to sell or buy, with an ETF you can do it at any time, as if it were an action", explains Berruga.
While waiting for the Bank of Ireland (it has its fiscal headquarters there for its European business) to give the go-ahead, Global X finalizes its landing in Spain, a market where ETFs have been penalized fiscally. While when transferring money from one conventional fund to another, no taxes are paid (it is taxed when the money is withdrawn), with ETFs it is paid each time the fund is changed. "At first, it is an issue that worried me, because I thought it could hinder our implementation in Spain. But after probing the market a bit, I think it won't because our main clients are institutional, who buy ETFs for their funds of funds. Also, our products are long-term, where investors are not day trading." Berruga concludes.
He knows in depth all the sides of the coin.
subscribe