News
Gustavo Petro's all or nothing | Presidential Elections Colombia
Gustavo Petro Urrego has taken another step to be the first left-wing president in the modern history of Colombia. he has taken out the best result ever achieved by a progressive. The 62-year-old politician has taken more than 12 points in the first round from his main rival, Rodolfo Hernández, a 77-year-old businessman with an anti-system and anti-corruption discourse who has hit a high in the last week and has defeated the man of the establishment and continuity, Fico Gutiérrez. The Fico-Hernández sum could make it very difficult for Petro, although the statistics are in his favor. So far no one who has won by more than double figures in a first round has been defeated in the second vote, which will take place in three weeks. Petro, due to his age and history, could become the last ex-guerrilla fighter to come to power democratically in Latin America. This is the all or nothing of him.
This has been the third time that Gustavo Petro has presented himself for the Presidency. In 2010, with a modest presentation of combative congressman, he got 9.13%. In 2018, after a stormy passage through the Mayor's Office of Bogotá, he took an insufficient 25.08%. On those two occasions he was a man alone and closed in on himself who fought against the establishment and dragged a past in the M-19 that scared many voters. In this time he has matured, he has gathered around him a true movement that transcends his name with feminist and Afro organizations and has placed the impressive Francia Márquez as number two, the first black woman of poor origin who can occupy the vice presidency. This has left him a little more than nine points away from turning the political history of this country.
The context has been favorable. The economic model seems exhausted in the region, the traditional political parties have lost all credibility and the elites are not able to understand the discontent of a majority that lives in very precarious conditions. That growing dissatisfaction was reflected in last year's protests in Colombia, which set the entire country on fire. The government's recipe was to repress the demonstrators, which further increased mistrust in the institutions. Petro has collected part of that discontent -not all of it, otherwise he would have won now with an absolute majority- from a citizenry that feels detachment towards democracy and the party system.
Petro does not want to govern a country, he wants to transform it. His projects sometimes sound so ambitious that it seems difficult for someone to execute them in four years, the duration of a president's mandate, without the possibility of re-election. He has already said that he will not seek to stay longer, as Álvaro Uribe and later Juan Manuel Santos did. Uribe tried to opt for a third party but was denied. Once in power, he wants to carry out an agrarian reform that appears in the peace accords and has not even been launched. He wants to stop exploiting oil and coal and replace it with clean energy. The problem is that they account for half of the country's exports and it is not that the State has money left over at this time.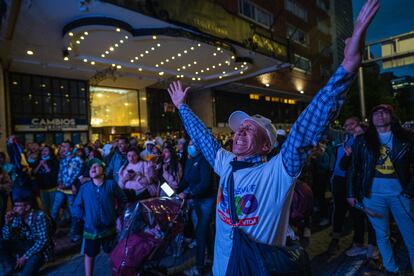 Colombia has a fiscal deficit of 80 billion pesos, almost 8% of the budget. The current president, Iván Duque, tried to remedy it in 2021 with a well-intentioned tax reform but wrong at the time -in the middle of the pandemic- and in the form -taxing food taxes-. People took to the streets and as the days went by the social protest led to an explosion. Duke was forced to withdraw it. In power, Petro says that he will carry out one, albeit a different one. He will remove the subsidies for hydrocarbons, according to what he has said, and will increase the canon for companies to exploit the soil.
In the previous election, his rivals constantly attacked him for his nods to the archaic Latin American left: Venezuela, Cuba, Maduro, Chávez. This has not even been a topic in the debates. He has moderated his profile and the best example of this is that 48 hours before the polls opened he said that his economy would direct it, whenever he wants, the renowned professor José Antonio Ocampo, from Columbia University and former executive secretary of ECLAC. Both agree on the need to change the extractivist model that has been operating in Latin America for centuries. The new president of Chile, the young and also leftist Gabriel Boric, has expressed himself along the same lines.
Petro wanted Fico in the second round. Against him he could brandish the speech of change, something that does not happen with Hernández. The uribismo, the followers of Álvaro Uribe, were already tonight openly showing their support for the former mayor of Bucaramanga after the resounding failure of Fico. It seems clear that the majority of votes for this politician who had been mayor of Medellín and who was second until seven days ago will go to Hernández.
Petro has a high sense of transcendence. He has dedicated his life to activism and the task of bringing the left – or him and his excessive vision of himself, say his critics – to power. His role in the M-19 was not a leading role. It was a democratic and nationalist guerrilla that won over the people, something that the FARC never achieved. Academics and intellectuals who left their life at the university to take up arms and lead a clandestine life were active in it. Many of them died, like Jaime Batemán or Carlos Pizarro. And although Petro was a middle cadre, he intimately believes that he has the obligation to complete that political project that was born when the M-19 laid down their arms and accepted a peace process. If he doesn't do it, no one else will.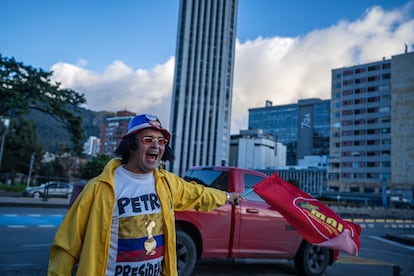 He waited to speak in public. People nervously wondered in what mood he would arrive. He took the stand somewhat circumspectly, but was soon emboldened. "Today we won," she recalled. And she launched herself against Rodolfo, who according to him represents a change different from hers: "There are changes that are not changes, they are suicides. What do we want, change or suicide? She made a call to the business community, to whom she reminded them that social justice is good for them, because in the long run they will have more benefits. When it seemed that she was leaving his opponent alone on June 19, she gave him everything: she reminded him of his statements in favor of Hitler, his accusation of corruption, the sexist statements and a couple of other things. To finish, he asked his people to find the million votes he would need to win with his usual epic tone: "let's look for it on the sidewalks, in the neighborhoods, the buildings, the houses." His projection is to take that million from Rodolfo, the million that he has added to him for seeing him as an engine of change.
It will be three weeks of very hard campaign. It remains to be seen what the businessman will do, who has not attended any of the debates, he did not want to dialectically confront Petro, Fico and Fajardo, three men with much more political experience. Petro needs to widen his electorate and add a couple of million votes to face him. He doesn't have it easy. The 8.5 million obtained are only 500,000 more than he added in the second round four years ago, when he was defeated, despite having tried to add to many more sensitivities. He's been stuck at the 40% he's finally gotten for a few weeks, a bad sign. There are 20 frenetic days left in which Petro is risking his entire political life, determined to govern Colombia. Rodolfo Hernández is his last obstacle.
subscribe here to the EL PAÍS newsletter on Colombia and receive all the informative keys of the country's current affairs.