World
Bank deposits come out of the flat encephalogram, but their profitability still leaves much to be desired | Business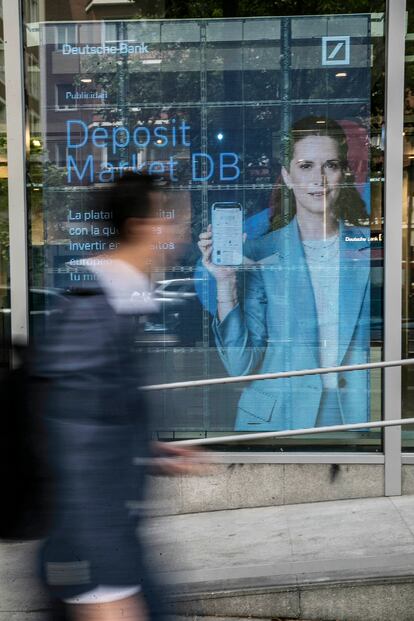 Families and companies have, according to the latest data from the Bank of Spain at the end of March, about 1.3 billion euros in deposits. Deposits that, with very few exceptions, today have a financial return of 0%. In fact, if inflation is taken into account, which reflects the loss of value of money, its real return is -8.3% (CPI in April at year-on-year rate).
In recent weeks, some entities such as Deutsche Bank, Pibank, EBN Banco or Renault Bank have slightly raised the interest rate on their deposits. The German bank pays 0.15% APR for 12 months; 0.4%, at 18 months, and 0.6%, at 24 months. For balances between 3,000 and up to 100,000 euros, there is also an early cancellation fee of 1%. For its part, Pibank, Banco Pichincha's online platform, pays 0.5% APR (from the previous 0.25%) for savings over 12 months up to a maximum of five million euros and as long as, to collect the interest, the Savings Account is also opened. In the case of Sinycon Plus deposits from EBN Banco, they offer, from 10,000 euros, a 0.3% APR for 12 months; 0.5%, at 18 months; 0.65%, at 24 months, and 0.7% at 36 months. The entity also sells a 12-month 1% deposit combined with investment funds or portfolio management from 20,000 euros. Finally, the savings bank of RCI Bank and Services Spain, finance company of the French automobile group Renault, had the subscription of its Tú+ Deposit at 0.7% APR for 24 months open until May 26.
Given these new offers, there has been talk these days of a possible deposit war between entities. For now, siren songs. None of the big Spanish banks has made any move in this regard. And it is not trivial, taking into account that Caixabank, Santander, BBVA, Sabadell, Bankinter, Unicaja, Abanca, Kutxabank, Cajamar and Ibercaja (the 10 largest) account for more than 85% of total deposits on their balance sheets. Santander sources say: "At least for the moment we are not going to make any changes to our deposit remuneration policy."
At BBVA they even refuse to make any kind of comment on the matter, given that there is no news. From Bankinter they explain: "At this time we do not consider modifying the rates of their deposits" among other reasons because "there has not yet been a rate hike by the European Central Bank (ECB)". More of the same, for example, in Ibercaja. Víctor Royo, head of Commercial Strategy of the Aragonese entity, points out: "Bearing in mind that since 2019 the cost of deposits is 0.5% and that we live in times of great uncertainty, we do not consider anything beyond small changes" . Gonzalo Gortázar, CEO of CaixaBank, acknowledged in his last Investor Day that there will be no general launches of deposits, but rather that their commercial offer will be managed on a case-by-case basis. Or as he himself said: "If any of our clients, being profitable, asks us for something in this sense, naturally we will give them an adequate response".
In reality, it seems that the large financial institutions are betting for now —we will have to be on the lookout for when the ECB's rate hike forecasts for the summer are fulfilled— for other linkage strategies with their clients beyond " remunerate deposits a little better for everyone", explain some of the sources consulted.
BBVA, Abanca or Banco Sabadell, for example, offer combined deposits: term deposits at rates between 0.25% and up to 0.75% APR at one year with the obligation to subscribe to some other investment product, such as funds or pension plans. Bankinter, Banco Santander (through Openbank) and Andbank (through MyInvestor) focus their offer on current accounts. Bankinter maintains its Payroll Account, with up to 5% APR for customers in the first year and up to 2% APR in the second, with a maximum payable balance of 5,000 euros. Openbank pays up to 2.58% APR for the first six months in its Welcome Payroll Savings Account (with a minimum monthly income of 900 euros). MyInvestor remunerates up to 15,000 euros for 12 months at 1% APR, to later reduce it to 0.1%. Ibercaja, in the words of Víctor Royo, considers that the high volatility that is being experienced and the price cut in fixed income, together with the many uncertainties that are still generated regarding the evolution of inflation and the development of the war of Ukraine "make us see important opportunities in fixed income". This explains the launch of two new funds: Ibercaja Spain-Italy 2026, focused on sovereign bonds, and Ibercaja RF Horizonte 2024, on corporate fixed income.
He knows in depth all the sides of the coin.
subscribe
short-term bonds
Regardless of what entities offer, relatively short-term bonds (around two years) with moderately attractive returns, above 1.5%, are beginning to appear in the fixed income market, to try to "tempt" , as experts explain, to conservative investors. The issuers are companies with good solvency such as Telefónica, Santander, Caixabank or Mapfre. There are higher returns on other fixed-income assets, but they incorporate a little more risk, either because of the currency in which they are denominated or because of their credit quality. The problem lies, the experts consulted continue, in that at the moment "the visibility in the financial markets is null". There are uncertainties about the evolution of inflation, about the response that central banks will give to it in their interest rate policy, about China's ability to control the covid pandemic, about the course of the war in Ukraine and, well, a long etcetera. "It's like we're in the middle of a big cloudy ocean and we don't know which way to turn. On the right, the moderation in prices and the economic recovery can be glimpsed; to the left, quite the opposite", these sources conclude.