World
Puig redoubles its commitment to super-luxury with the purchase of the young Swedish perfume company Byredo | Economy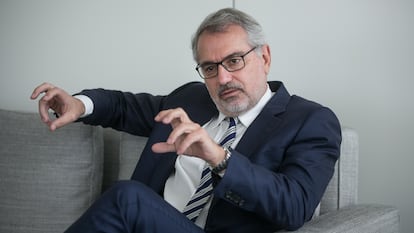 Grupo Puig delves into its strategy for super luxury. This is suggested by his latest operation: the taking of the majority of the capital of Byredo, a Swedish perfume company with barely 16 years of history for which other groups in the sector were bidding. With a turnover of more than 150 million euros, the acquisition is important for the century-old Catalan brand, since it would reach similar volumes to the one it made in 2020 when it bought Charlotte Tilbury, industry sources say. Then he paid around 900 million euros. the french newspaper The Figaro He even published that L'Oreal was going to acquire the brand for around 1,000 million euros.
The acquisition represented a window of opportunity for Puig, whose business plan had set organic growth as a goal to reach 4,000 million business in 2025. The "significant participation" acquired through debt and own funds, according to sources of Byredo's Puig will enter Puig's investee perimeter, although its current shareholders, the Manzanita investment fund and its founder Ben Gorham, will retain a stake. The former wants to participate in the construction of a larger brand and the latter will keep the reins of product creation.
Byredo is one of those niche perfume brands, based on fragrances with exclusive ingredients and aimed at customers with high purchasing power. A 50-milliliter bottle of some of the brand's perfume can be purchased for 140 euros. The company began as a perfume company, but has completed its catalog with other beauty products and accessories that are distributed in 55 countries, mainly through multi-brand establishments, although it also has its own stores in cities such as Paris and London. Puig also defends that his commitment to sustainability reaffirms the group's commitment in this field.
"Puig's experience with brands led by their founders in the field of beauty and fashion will help us develop our full potential in multiple categories," Gorham said in a statement released by the Catalan group, clearly alluding to Tillbury, in which its founder remains as head of the cosmetics company bought two years ago.
The president of the Catalan company, Marc Puig, has described the acquisition of the shareholding package as "a new key milestone in Puig's ambition to develop a business with a solid portfolio of brands with a purpose". "We are truly proud that this next milestone for Byredo is taking place alongside another privately owned, family-owned company that shares our passion for building exceptional brands," said William Fisher, CEO of Manzanita Capital, a private equity fund, in the same statement. family character.
The Catalan group, which had a turnover of 2,585 million euros last year, launched a restructuring process two years ago that focused on reorganizing its perfumery, cosmetics (led precisely from London by Tilbury) and dermatology businesses in order to gain size and ability to negotiate with its suppliers. The objective was to reach a turnover of 4,000 million euros and enter strongly with its brands in the Asian market and online sales. That bet also included setting aside the policy of brand control through licenses to control property. Hence, they left Valentino or Prada and bet on their own licenses, such as Paco Rabanne, Carolina Herrera, Nina Ricci, Dries Van Noten, Jean Paul Gaultier, Penhaligon's or L'Artisan Parfumeur. Byredo will be next.
He knows in depth all the sides of the coin.
subscribe