News
The woman who grows roses 30 kilometers from the war front in Ukraine | International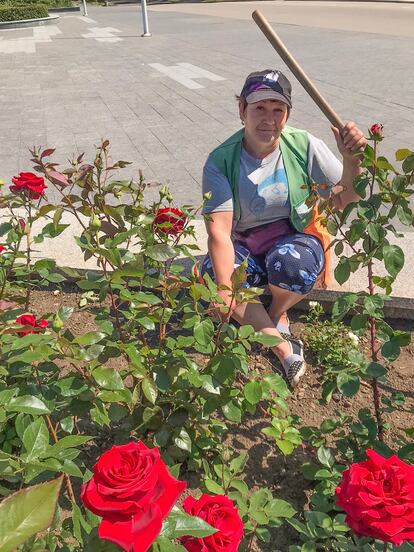 Everything collapses around him. He lives in an invaded country where the enemy is 30 kilometers away, he has had no gas at home for several weeks, 75% of his neighbors have left and, as he speaks, two explosions have shaken the windows of the buildings in the Kramatorsk center. But what Natalia worries about, what she really worries about, is that strange insect that grows on the stem of her roses and that came with the heat. So she shakes her head uneasily from side to side, looking at the flower from different angles until she finally makes up her mind. Then, she crouches over the plant, carefully separates two petals and decisively pulls out the annoying bug. "This is what is ending with the roses," she says, showing the aphid between her fingers with the same satisfaction that her neighbors exhibit military victories at the front.
Natalia is 58 years old, with a petite body in a land of giants and two gold teeth that light up her entire mouth every time she smiles. And when does she smile? When she talks about roses, petunias, violets, chrysanthemums. "The rose needs a lot of attention, the petunia is very capricious, the sage does very well in this land, the hydrangea does not feel bad in the cold…", he explains about each of his plants, like someone who talks about his children, facing to the City Council.
As she moves the hoe firmly over the ground, Natalia, the only gardener in the city, admits that the sound of the anti-aircraft alert drives her crazy after several hours. But that doesn't faze her either when she uses her tool. She lives in a parallel world of flowers, petals, cuttings, oxygenated soil and aphids, although there are no neighbors left to contemplate her roses.
In the time that the conversation lasts, three ambulances with wounded arriving from the front have passed behind Natalia: one with his head split open by shrapnel, another with his arm out of place, another with his leg shattered when he fell from a tank. and pass this over it. Two workers have reinforced the public buildings with sandbags, but Natalia is not confused and proudly shows her brand new gazanias. Her world is a world hell-bent on her winning life in the face of death.
In the city where he was born, new and more modern weapons arrive every day in the direction of the front. The young Ukrainian soldiers, many of whom he has seen grow up, now do the shopping with a rifle on their shoulders. They have become familiar with previously unknown terms, such as Javelin missiles, capable of destroying Russian tanks with great effectiveness; the Grad rockets, whose repetitive sound scares everyone; the perfect thermobaric warheads to pulverize an apple with a single shot or the Bayraktar, the Turkish drone that destroys the Russian lines. However, in Natalia's parallel world, the most dangerous weapons are scissors and the fumigator with which she attacks insects. "We've been left without water for weeks, so I have more work to aerate the land and control pests," she explains. "The petunia needs water and requires a lot of attention, so you have to open the flowers one by one with your hand so they don't die," she adds, crouching on the ground.
Join EL PAÍS to follow all the news and read without limits.
subscribe
Before the war, Kramatorsk was a prosperous industrial city with about 200,000 inhabitants, which had grown in importance since it became the administrative seat of the Donetsk region in 2014, after the Russian occupation, which attracted new civil servants. With the beginning of the invasion, the city jumped to the front pages of the entire world press when on April 8 at 10 in the morning two missiles fell on thousands of people who were waiting at the train station to leave the city, leaving 60 dead and almost 100 wounded.
Since then, sadness and darkness have settled in a city that turns off public lighting every night —when there is electricity— so as not to help the enemy. A place where barely a dozen businesses are still open and where the anti-aircraft alert that warns of attacks on the city is like the waves of the sea, you only realize that it has stopped when it stops sounding.
"This work is also important," says Natalia about her flowers. "I like to come and take care of the plants because they help people in the midst of depression. Even if it is at war, people need to see that it is possible to have a clean and colorful city", she explains. "Each profession is important and it is also part of the victory that each one does what he knows," she adds. "These flowers are hope and now more than ever we have to cultivate it," she says with more philosophy and poetry than the national poet Taras Shevchenko.
When Natalia talks about war and pride, one expects her to be referring to her army and the heroic battle she is waging just a few miles from here, where she is managing to stop Russia despite the huge disparity in numbers. Perhaps to the giant blue and yellow flag that is raised in her town or to the Cossack culture, the pride of the country. But Natalia unsettles everyone when she says that her greatest pride is seeing how the gazania sprouts, so yellow. "Each of us must do what we know. If each one of us is in our position, victory will come", she says with the calm of one who measures triumphs in springs.
Until February 24, the day the Russian invasion of Ukraine began, the square where she places her flowers was a place full of life. "There were many families, couples eating ice cream and water jets in which the children played right there," he says, pointing to a deserted square where his flowers are the only thing that colors the Soviet cement. Are you afraid? "Only crazy people are not afraid", he says, and laughs showing his two gold teeth.
When talking about the atmosphere in Kramatorsk, Natalia is sad that her friends have gone to Poland, Romania or Italy. Her tone of voice trails off as she shows the photos of her friends on her mobile phone: Svetlana, Lena, Anna… Until her finger drops and the flowers from her garden begin to appear among her photos and her face returns. to light up "Look, this is the one I told you is a rose hip, a kind of wild rose that I am taming with some cuttings…". And she keeps running her finger across the screen of a phone as flowery as the garden in front of her.
One of the best-known texts relating beauty and war was written by British Lieutenant Colonel Mervin Willett Gonin in 1944 after liberating the Bergen-Belsen concentration camp. With the German troops retreating, Willet found himself in a wrecked place where 500 people died every day without food and in the bones, and where rats nibbled on the corpses. Devastated by what he was seeing, he made an urgent request for food and medicine from the Red Cross, but someone included a massive request for lipstick on that list. "I don't know who asked for them, but I'd love to know," he later wrote in his diary. "It was a work of genius. I think nothing did more for these interns than those lipsticks. The women lay in bed without sheets or nightgowns, but with red lips. You saw them wandering around with nothing but a blanket over their shoulders, but with red lipstick. Someone had finally done something to turn them back into individuals. They were someone, not just a number tattooed on their arm", he wrote about a simple stick of lipstick that "had given them back their humanity". Crouching on the ground opening the petals one by one, Natalia is the lipstick of the city of Kramatorsk.
Follow all the international information in Facebook Y Twitteror in our weekly newsletter.
50% off
Exclusive content for subscribers
read without limits