News
Mariupol diaspora spreads across Ukraine: "My father died saving us" | International
Natalia caresses and kisses Businka nonstop, her pristine white Pomeranian lap. The 50-year-old woman has perfect blonde hair, like her manicure. She is one of approximately 13,000 IDPs from Mariupol now registered in kyiv, but there are more because many do not register. The diaspora of that war-torn city is between 300,000 and 350,000 of the 450,000 inhabitants before the Russian invasion, authorities estimate. Natalia, who prefers not to give her last name, tells her story without barely moving a muscle of her smooth complexion, like the one she talks about another. But behind that somewhat cold and distant rictus at first glance hides someone with a bomb-proof spirit, literally. She, outlining a smile, takes off her sunglasses to riddle the reporter with her eyes: "We are Azovstal, people of steel, and we can do anything." She is referring to the steel mill in her city, the last bastion of the resistance until the city fell to the invaders in May.
It is there that her husband was taken prisoner of war. Sergei, 50 years old and a combatant since the fighting began in the east of the country in 2014, does not even know that he is a grandfather. Their grandson, Max, was born on June 7 in a public maternity hospital in kyiv in a delivery that has been surrounded by the solidarity of the displaced community of Mariupol. Natalia thanks him, although she has not yet been able to meet him due to the restrictions on access to hospitals due to covid and martial law. She is satisfied with showing the photo of the little boy attached to his mother's chest. With the arrival of a new member into the world, the family is already unwittingly putting down roots 800 kilometers from home. Like them, there are tens of thousands throughout Ukraine, to which must be added those who went abroad and those who have been deported to Russia by the occupiers, the kyiv government warns. The dead in Mariupol amount to 22,000, according to the temporary count of the municipal authorities. Of them, 287 are children, according to the Prosecutor's Office, which is advancing in the investigation of war crimes.
Meanwhile, the tentacles of the Mariupol refugee community, Russia's greatest military conquest in this war, are already spreading throughout the country. Nothing suggests that these tens of thousands of people will be able to return to their homes shortly, if they are still standing. To deal with this population movement and at the initiative of the mayor of the devastated city, Vadim Voichenko, municipal delegations are being opened in different regions to facilitate the settlement and normalization of their new life for the displaced. The office in kyiv has been working since May 26. "All our employees are from Mariupol and have been through hell," explains Iaroslav Kildishov, a businessman and local MP who acts as a representative. It is mid-morning and dozens of people crowd the register, collect food and basic necessities, receive legal advice, go to the doctor, the psychologist, to leave the children in the nursery… Many did not even manage to take their documentation when they escaped .
The most active in the game room in which the children spread out is Igor, nine years old, who does not stop making a fuss with the balloons. "It has a tremendous story behind it," warns Valeriia Zabirko, a journalist from Mariupol who works as a volunteer at the center. Igor's family, who arrived in kyiv in recent days, witnessed the death of his grandfather. On March 18 there was a bombing like others in a house that no longer had any windows, explains the mother, Olena Kravtsova, 38 years old. "A bomb fell in the room where we were hiding and blew out a door. Dad asked us to hide in the bathroom and he stayed behind to support the door. I told him to come with us, but he didn't want to and he stayed to protect us. The bombs kept coming and I could only pray. At one point I heard a very big explosion and felt the roof fall on us."
Join EL PAÍS to follow all the news and read without limits.
subscribe
Kravtsova's account reflects the horror of the weeks in which the city's fall was brewing. They found themselves in the middle of the dust, with their two children screaming and injured, the girl on the head and Igor on the back. "We started dating one by one. My mother, my children and I, so that the roof would not fall on us. When we left we saw that my father was lying on the ground. He was alive, but he couldn't move. Eight days later he ended up bleeding to death. He would have survived if he could have gotten medical help, but he died saving us." They then took refuge in another building from which they were expelled by President Ramzan Kadyrov's Chechen troops, who support the Russians on the ground. They returned to their ruined house and remained there until May 30. "Igor is already recovering, although at night he wakes up, calls me and I have to be with him," explains the woman.
The psychologist Anna Chasovnykova, another one of the evacuees, does not stop receiving people in the office that acts as a consultation: "The first thing they need is to live in the present. The people who come continue to live in yesterday and need to rediscover themselves in today. The second thing is fear, fear of explosions, of Russian soldiers. And then, the question we all ask ourselves. How to live without a job, how to live without a home, without a future, where to find the motivation to keep going." For some, the road is still very long, like that of that woman who told Chasovnykova that she was the only one who survived an explosion in which all those present died, a dozen, including her husband, and she had to collect the bodies dismembered.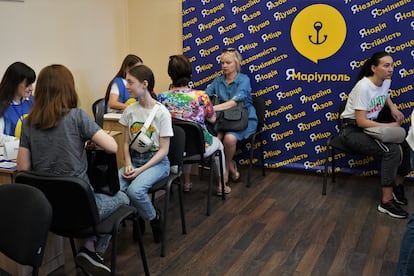 Iaroslav Kildishov details what they intend with these venues while several volunteers unload food from a World Central Kitchen (WCK) van, the NGO of chef José Andrés. "People recognize each other, they hug, they kiss, they cry together. It is a family environment. The people of Mariupol are a big family. Our task is to unite people, socialize them, and, with good spirits, be able to return to the city later to rebuild it. To be happy with life", he affirms. In addition to the capital, this kind of people's house already has offices in Dnipro, Zaporiya, Vinnitsa and Khmelnytskii. They soon expect centers in Lviv, Odessa, Chernivtsi, Ivano-Frankivsk, Kropivnitsi and Uzhgorod to join.
The dream of Natalia, the new grandmother, is twofold: "Wait for my husband and return to Mariupol together. But we live day to day, we don't make plans beyond a week." She remembers the storm that these almost four months have caused in which she even saw her naked daughter leave the house in the arms of her son-in-law because they started bombing while she was taking a shower in her seventh month of pregnancy . It happened in Pokrovsk, the first city in which they sought refuge in her flight. "I had a beauty salon and I made a very good living. But now I need help. A friend has sent me a box with summer clothes", she explains gratefully in a suburb of kyiv, where she is hosted by another friend also from Mariupol.
Natalia has ended up finding out from indirect sources that Sergei, a member of the Azov battalion, was slightly wounded when the Russians captured him. As the siege on Azovstal tightened, communications with him became increasingly difficult. The last text message she received was on her mobile on May 5, 11 days before the last of the steel mill succumbed. "I feel very happy. My husband is alive, we are going to exchange him (for Russian prisoners) and, furthermore, the birth of my grandson gives meaning to my life".
Follow all the international information in Facebook Y Twitteror in our weekly newsletter.
50% off
Exclusive content for subscribers
read without limits