News
Refugees from Syria: The odyssey of the Syrian exodus: fleeing war to fall trapped in misery | International
The scene could be that of a good story: Dalin, five years old, embarrassed, leaning out of the balcony, watches without missing a beat as her father chats in the street with the neighbor she calls "uncle", although related, nothing of any. She has a shop where she repairs furniture next to her front door, that's all. But the little girl and the shopkeeper, who is about 60 years old, get along very well. "Dalin, come down!" says the man as the little girl's father looks up with a smile. The girl throws herself down the stairs and appears, embarrassment still high and a finger in her mouth. "That finger thing is because Dalin is very intelligent," adds the shopkeeper. Beautiful scene from a humble neighborhood in the Turkish town of Gaziantep, because the furniture repairman is Turkish and the members of Dalin's family, who fled the war in Aleppo back in 2014, are Syrian. Integrated refugees, that's the part good, but that eight years after leaving their land they do not reach the end of the month, to collect some 5,000 Turkish liras (280 euros) to have the basics; especially vulnerable in the midst of an economic storm that is hitting hard in their host country. Still, Ali Ali, 35, Dalin's father, makes it clear: "I'm not thinking of going back to Syria."
Eleven years after the conflict broke out, around 6.7 million Syrians remain refugees beyond its borders, the vast majority in neighboring countries (Lebanon, Jordan, Iraq…). Turkey takes the cake with 3.7 million. But old Anatolia is not at its best to feed such a large population. Two figures reflect the state of its economy: a fall in the lira of around 45% and inflation above 73% -according to official data, which non-governmental sources duplicate-.
Ali works fixing cell phones, so she doesn't lack a cut. That gives him about 165 euros a month, of which half is taken by the rent of the house in which he lives with his wife and his five children. Every day they spend between eight and nine euros to eat. The accounts do not add up even with the help of the Emergency Social Security Network (RSSE), the largest humanitarian program in the history of the European Union, which has facilitated the preparation of this report. This network assists 1.5 million people in vulnerable situations in Turkey. He gives each member of a family about 12 euros a month on a debit card. That is, Ali's family receives around 75 euros. They would need a pinch to be able to get their heads out.
Ali is in his thirties, but the war kills the years by leaps and bounds. "My future is lost, I only think about my children", he says, "when I was young I loved to study, but I had to give it up, so now I want my children to go to university". He has a plan: the girls, four, will study Medicine, and the boy, Electronics. And point. The little boy is called Mohamed, eight years old, so he did not know the land of his parents. "I will never be able to fully describe to you what Syria is like without living there," Ali recounts with a sad grimace.
Disengagement with Syria
Join EL PAÍS to follow all the news and read without limits.
subscribe
Whether due to the stubbornness of the war, the years in exile, fatigue or all together, the surveys on the desire of the Syrian refugees to return to their country show a growing disconnection: only 4% of those consulted last year by the Turkish Red Crescent and the International Federation of the Red Cross (IFRC), at the head of the RSSE program, was ready to return to Syria. 73% did not plan to move from Turkey. another report, prepared in 2020 by the UN refugee agencyconcluded that 77.8% of those consulted in Turkish territory did not want to return under any circumstances, compared to 16.7% who responded in the same way in 2017. In the case of those who fled to Lebanon, Iraq, Jordan and Egypt, surveyed by this same organization, 90% were not willing to undertake the return trip in the short term. These percentages coincide with the testimonies collected for this report.
About 190 kilometers south of Gaziantep, an almost literal stone's throw from the Syrian border, is Reyhanli, a small town through which thousands of Syrians fled, but also through which many foreign fighters reached the trench. Walid Hadid, a 36-year-old Syrian, is one of more than 5,000 patients with physical disabilities treated at the Relief International rehabilitation center. Walid doesn't know how to write. He dropped out of school in Homs at the age of eight to earn a living. In January 2016, while he was working making pizzas, a barrel bomb shattered his left leg. In July of that year he left the country with his wife. He needed a prosthesis with which he could live and he achieved it.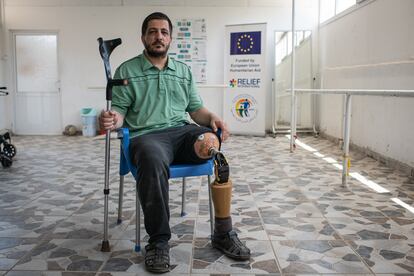 "Two months after getting the prosthesis, I started working at a pizzeria in Reyhanli." He has had three children with his wife, something he was unable to do in his native Homs. A new beginning, with its roses and thorns: he works 12 hours a day for about 6.5 euros. "Life is very expensive and income is very low," he continues, "so I am looking for a way to travel to Europe." It doesn't make it to the end of the month. Would he return to his land? "Nope". He shakes his head as he brings his wrists together as if he's agreeing to be handcuffed, which might be waiting for him around the corner. One of his brothers has died and another remains missing. "I would like", he says, remembering a past in which his life was good, without more, "that all this had not happened".
Life in a tent
According to data obtained by IFRC through surveys of Syrian refugees in Turkey, 59% "rarely" manage to cover their basic needs, that is, food, electricity and shelter. The pandemic crushed much of the initiative of small Syrian entrepreneurs, although most of those who work do so in the informal market. This is not the case for the Husso family, who own a humble tent next to a row of crops in the town of Adana, some 200 kilometers from Reyhanli through historic Alexandretta. Again the age, trampled. "For me this is the end of life," says the patriarch, Ahmed Husso. He is 40 years old and has four small children, two of them deaf and dumb. He left Aleppo with his wife, Zozan, in 2012, at the height of the battle for the northern province. Ahmed worked in construction. "There was no life and the bombardments were continuous," he explains.
They bought the store on Turkish state land and started working on a neighboring estate picking tomatoes. Next to his shop there is another one, also for Syrian refugees, and next to this one, another, and then another… A stream in which a group of children splash circulates next to the dirt road that separates the plastics that provide a roof and the vast fields of cultivation heated by more than 35 degrees Celsius. Ahmed earns just over eight euros the days he works, when the field requires it. "It's not enough," he says – most of the refugees consulted agree that 280 euros a month would be enough to survive. His diet cannot go beyond bread, rice, oil and water, but Ahmed does not complain. "This place is fine," he continues, "although if I could move, I'd go where I could treat my deaf children."
Once registered on Turkish soil, paperwork in which they collaborate organizations like GOAL, which assists the Husso family, refugees cannot change provinces except for very justified reasons. Neither Ahmed nor Zozan, she of Kurdish origin, would take her children back to Syria, although they only know the name of that land that her parents mention on occasion. "There is no peace there, I don't trust the security, I wouldn't like to relive that situation," he says.
Just as the Hussos reached Adana, other Syrian refugees, perhaps with a more promising mattress, reached the Istanbul neighborhood of Esenyurt. And things are not much better there either. Hanan el Robah, 68, lived in Yarmouk, a war-torn district of Damascus that once hosted the largest population expelled from Palestine on Syrian soil. Three years ago he moved to Turkey. It's his second exile from him, so it's not surprising his hard face and unrestrained anger. But there is more: her husband has prostate cancer and they have already spent everything on the treatment and four interventions – free care in the Turkish Health does not cover this type of disease. Hanan studied at a university in the Syrian capital; her husband was a pharmacist. They wanted to live from this already on Turkish soil, but the slab of cancer sentenced them.
Hanan collaborates with other Palestinian women fleeing from Yarmouk with Mavi Kalem, an organization under the umbrella of the German cooperation agency. They make drawings, crafts, learn the Turkish language. Among the activities of the day she has to replicate the painting corn poppy, by the Dutchman Kees van Dongen. Hanan's painting, exposed, is the best of all. Already on sale. Her gesture is still serious, stressed.
― Would you return to Syria if you could?
― Turkey, Germany, Sweden, I would go anywhere but Syria.
Follow all the international information in Facebook Y Twitteror in our weekly newsletter.
50% off
Exclusive content for subscribers
read without limits