World
MWC: The Mobile World Congress will be held in Barcelona until 2030 | Catalonia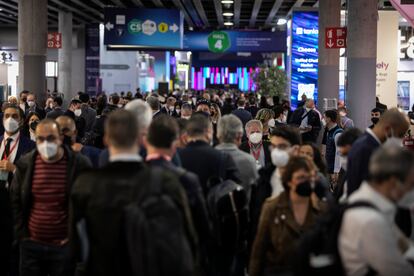 The board of directors of the GSMA association, organizer of the Mobile World Congress (MWC), has agreed this Monday to extend the current contract with the city of Barcelona and keep it as the venue for the event until 2030, as reported in a statement.
The entity led by John Hoffman assures in a statement that the Catalan capital is "a critical element to make the MWC the must-attend technology event for the mobile ecosystem". The current GSMA contract with Barcelona expired in 2024, so the Catalan capital now ensures that the great technological event is six more years.
The Generalitat de Catalunya and the City Council have applauded the extension, the details of which will be announced at a press conference on July 20. The presidentPere Aragonès, has assessed that the extension "is excellent news that positions Barcelona and Catalonia as a global technological benchmark" and has thanked the discreet work of those who have made it possible.
Barcelona and Catalonia are sure to hold the MWC in 2030. An excellent piece of news that is positioned as a global technological benchmark.

Thanks to all the team that has worked discreetly as much as possible!https://t.co/ufqq5sXhSy

– Pere Aragonès i Garcia 🎗 (@perearagones) June 27, 2022
The MWC is the largest telephony congress in the world. In its last edition it closed with 60,000 attendees and an impact of 240 million in Barcelona. From the City Council, the Deputy Mayor for the Economy, Jaume Collboni, also celebrated the news and the "consistory's commitment to the digital economy and talent to transform the city".
What affects the most is what happens closest. To not miss anything, subscribe.
subscribe
GSMA Director General Mats Granryd said in a statement that the organization is "delighted" with the announcement. "The recent global circumstances have created some of the most difficult challenges that we have faced with the MWC", he said, applauding the "solidity" of the entity with the cities that host the congress. "In fact, Barcelona is so linked to the MWC experience that it's hard for me to think of one and not the other," he says.
You can follow EL PAÍS Catalunya at Facebook Y Twitteror sign up here to receive our weekly newsletter