News
Putin's bombs trigger the use of the Ukrainian language: "Russian is my mother tongue, but I don't intend to speak it anymore" | International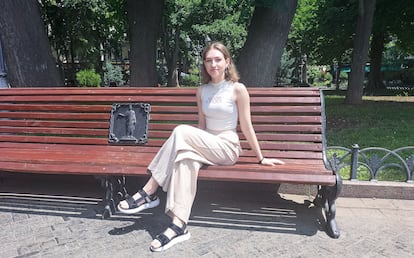 Tatiana Kolbayenkova was in for a major surprise on March 7. Two weeks had passed since the moment in which Vladimir Putin unleashed all his fury against Ukraine. That day, the University of Odessa resumed classes for the first time after the outbreak of the war. But something had changed. Three of the 15 students of this Hispanic Philology teacher did something unprecedented. In a mostly Russian-speaking city, the students decided not to use Tolstoy's language again and to communicate only in Ukrainian. "I had been thinking about it for a long time, but the war ended up convincing me. I want to contribute to improving Ukraine. And I thought: 'Why not use the language of my country in all aspects of my life?' Yes, Russian is my mother tongue, but I'm not going to use it again," says Paulina Degtiarova, one of the three protagonists of the linguistic coup.
It is difficult to minimize the magnitude of the Degtiarova step. In her 18 years, she has communicated with family and friends only in Russian. Memories of her, pet names of her, and jokes of her are tied to that language. But she has decided that hers will be the last generation that maintains that way of speaking, writing and thinking. If she has a child, she assures her, she will use only Ukrainian. And that she, although she handles this language well, she confesses that sometimes she finds it difficult to find the right word. What does she do in those moments? "At first she resorted to Russian. But I'm very happy, because it's getting easier every time," she explains from a central Odessa garden, a few steps from the famous opera house, which these days combines ballet performances with sandbags on its facade in case there are any. to fight the invader.
No one knows how many people, pushed by four months of harsh war, have made the leap to Ukrainian. But it is an issue that is up in the air. Many across the country speak of giving a cut to the language that Putin was supposedly seeking to protect. As with other issues he wanted to prevent — such as strengthening NATO or Ukraine's national identity — the Kremlin chief has become the biggest proponent of the causes he hates the most.
The phenomen is not new. The annexation of Crimea and the subsequent Donbas war of 2014 have already fueled nationalist sentiments. In 2017, then-President Petro Poroshenko signed a law that established Ukrainian — the only national language recognized by the Constitution — as the language of instruction at all educational levels and compulsory use in public establishments. The import of books in Russian or the dissemination of media that use the language of the gigantic neighbor has also been restricted by law. This is happening in a country with huge regional differences: Ukrainian is widely used in the western part, while Russian predominates in the east, the south and in many parts of the capital.
Join EL PAÍS to follow all the news and read without limits.
subscribe
In the 2001 census, 67% of citizens declared that they had Ukrainian as their mother tongue, compared to 30% of Russian. According to a study carried out in 2012 by the Rating pollster, 50% of the adults consulted considered Ukrainian as their habitual language, compared to almost 30% of Russian. The remaining 20% ​​used both one and the other. The president himself, Volodymyr Zelensky, from a Russophone area, has had to learn Ukrainian by forced marches since he came to power.
The invasion that began on February 22 has been a boost that many see as the definitive one to build a non-monolingual country, but with a greater presence of Ukrainian. From kyiv, former Foreign Minister Pavlo Klimkin also believes that change is already unstoppable. "This city, until now mostly Russian-speaking, is going to be totally different in 20 years. Young people who have studied in Ukrainian are going to change it", assures the diplomat.
Discrimination
But not everyone agrees with the decline of Russian in classrooms, libraries and streets. The journalist Leonid Shtékel warns of the cultural loss that this entails for the country, as well as the discrimination he perceives against Russian-speakers, with an educational system entirely in Ukrainian and with increasing difficulties in finding plays or new books in their language in the libraries. "The war has caused a mass hysteria that ends up harming a culture that has nothing to do with Putin's bombs," he says. Shtékel sees in the impulse to Ukrainian, in addition, a certain authoritarian drift in which the right to choose in which language their children study is taken away from parents. And he remembers the coming to power of the Bolsheviks in 1917. "Lenin said that he was forced to reduce freedoms temporarily. True, he was temporarily. He lasted 70 years", he says with a smile.
Professor Kolbayenkova—also a regular Russian speaker, and who admits to bordering on illegality in her classes by using Russian when explanation requires it—is not so concerned that future generations will be unable to read the original works of Pushkin or Dostoevsky. She considers that this linguistic loss would mean that Ukraine has finally removed the long shadow of the Kremlin. "Moscow uses its culture to impose everything that comes after it, its vision of the Russki Mir [el Mundo Ruso, un concepto que aboga por recuperar territorios más allá de las fronteras del país]. I am willing to gladly give up my language if they forget about us in return. It is a lesser evil", she assures, without hiding the contempt she feels for a country with which she shares a language and family ties.
Irina Medushevskaya illustrates like few others the contradictions of a city like Odessa, with an overwhelming Russian-speaking majority. She has become a local celebrity with her Facebook posts, which are followed by more than 43,000 people, in which she charges against Russia… but always in Russian. "I'm not going to change languages ​​at this point. I have found my style and many people outside of Ukraine also read me", she explains on the terrace of a club that used to be full of tourists at this time of year, but now languishes with her as one of the few clients. Medushevskaya is convinced that it will be the new generations that will finish changing the linguistic landscape of the country, since the older ones are too attached to her memories. "They associate Russian with their youth. For them, an ice cream in Russian tastes much better than an ice cream in Ukrainian, "she explains.
The student Degtiarova is part of those new generations that have set out to transform Ukraine. She admits the difficulty of maintaining her plans with her father, who has a hard time understanding the national language. But she says she is determined to stick with her choice. Alexander Cherniega, a small businessman turned driver because of the war, does not see it so clearly: "If the Russians came here, I would kill them with my bare hands to defend my country. But Russian is also my language. I don't see why I have to give it up."
Follow all the international information in Facebook Y Twitteror in our weekly newsletter.
50% off
Exclusive content for subscribers
read without limits