World
Germany records its first trade deficit since 1991 | Economy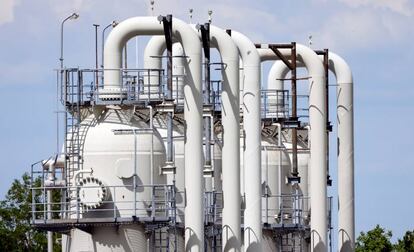 Germany, the famous economic "locomotive" of Europe, registered in May, according to the Federal Statistics Office (Destatis), the first trade deficit in 31 years, suffering a drop in exports of 0.5% with compared to the previous month. Imports into Germany, meanwhile, increased by 2.7% in the same period.
According to data published this Monday by Destatis, in May 2022 goods worth 125.8 billion euros were exported from Germany, adjusted to the calendar, and goods worth 126.7 billion euros were imported into Germany. The German trade balance closed with a negative balance of 900 million euros in May 2022. In the previous month, the balance of foreign trade statistics had been +3.1 billion euros, while in May 2021 it was + €13.4 billion. The report released by Destatis has led to believe that the European locomotive, famous for its powerful export industry, is facing a possible end to a cycle that has greatly conditioned European construction in the last three decades.
In the case of the European Union, German exports decreased by 2.8% monthly, to 67,500 million, including 46,800 million in sales to the countries of the euro zone, 2.8% less. In turn, German imports from its EU partners reached 61.8 billion, 2.5% more than in April, with 42.5 billion in purchases from the euro zone, 1.6% more. As for non-EU countries, German exports in May totaled 58.3 billion euros, 2.3% more than the previous month, while imports increased by 2.9%, to 65 billion.
The Destatis report shows, however, a novel aspect: the increase in exports to Russia. In May they increased by 29.4%, to 1,000 million euros, compared to April, despite the sanctions imposed on the country after the attack on Ukraine and measures to restrict exports. In March and April, they had still fallen massively. The country's imports decreased by 9.8%, to 3.3 billion euros, compared to the previous month.
According to Destatis, the majority of German exports went to the United States. The value increased by 5.7% compared to April, to 13.4 billion euros. Exports to China increased by 0.5%, to 8.7 billion euros. Compared to May 2021, exports increased by 11.7%, to €125.8 billion, in May this year.
Imports increased by 27.8%, to 126.7 billion euros, compared to the same month of the previous year. Exports to Russia fell by 54.6% compared to the previous year. Most of the imports in May came from the People's Republic of China, with a value of 18,000 million euros. However, this figure is 1.6% lower than that of April. Goods worth 7.4 billion euros were delivered to Germany from the United States, an increase of 9.7%.