World
The gas sent by Spain allows Morocco to reactivate the two plants stopped after the Algerian cut | Economy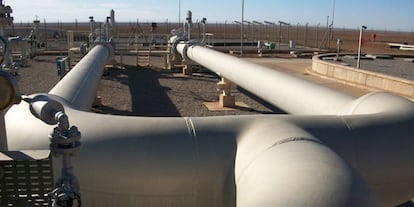 Morocco has taken just over eight months to put into operation the two combined cycle power plants that were paralyzed when Algeria terminated the contract with Morocco that allowed the transport of gas to Spain through the Maghreb-Europe gas pipeline (GME). The reactivation of this pipe in the opposite direction —with gas that reaches the Iberian Peninsula by ship, where it is regasified and sent to the southern shore of the Mediterranean— is what has enabled the return to activity of both plants, fundamental for the electricity supply to homes and businesses in the Maghreb country.
The cut by Algeria of the gas supply to Morocco last autumn forced the Rabat authorities to paralyze the Tahaddart plants, in the Tangier region, and the Ain Béni Mathar plant, in Oujda, in the east of the country. Both contribute around 10% of Moroccan electricity production and are managed, respectively, by the Spanish firms Endesa (it has 20% of Tahaddart) and Abengoa.
Now, both plants are back in operation thanks to the indispensable collaboration of the Spanish Government, which has opened an unprecedented north-south supply route. Morocco buys the liquid fuel from foreign suppliers, transports it to Spain by ship and there it is returned to a gaseous state in a specialized plant. Later, this fuel is sent to Morocco through the Maghreb-Europe gas pipeline, which for more than 25 years —and until last October 31— served to transport Algerian gas to Spain across the Strait of Gibraltar.
That tube was first seen inactive on October 31. Algeria took that measure, because of the "hostile practices of the kingdom of Morocco", according to a statement from the Algerian presidency.
Since the President of the Spanish Government, Pedro Sánchez, changed on March 14 the policy regarding Western Sahara for 47 years, Rabat and Madrid decided to undertake a new roadmap. So far, the new bilateral relationship is clearly benefiting Morocco. Madrid's support for its autonomy proposal for Western Sahara has been clear, to the detriment of the self-determination referendum demanded by the Polisario Front and Algeria, its main ally and protector. In addition, in less than a year it has obtained the supply of its two combined cycle power plants. And it has also achieved the unconditional support of the Spanish Executive in the face of the international controversy caused by the death of 23 emigrants, who died in unexplained circumstances while trying to storm the fence from Nador to Melilla.