News
The Armenian Foreign Minister: "We must maintain spaces for dialogue with Russia" | International
Almost two years ago, when he was presiding over the Armenian Parliament, Ararat Mirzoyan (Yerevan, 42 years old) was harshly attacked by a mob set on fire by the territorial concessions to Azerbaijan contained in the ceasefire agreement that put an end to six weeks of war in the territory of Nagorno-Karabakh. The Armenian Government then seemed about to fall for the pact; the Azerbaijani leader, Ilham Aliyev, bragged with laughter on television about his victory; and Russia – the great historical ally of Yerevan and on which it depends militarily, energetically and economically – deployed a peace contingent of 2,000 soldiers in Upper Karabakh.
This week, Mirzoyán made the first visit to Spain by an Armenian Foreign Minister (his position since last August) in the 30 years of bilateral relationship, and verified the "great potential" of the connections between the two States after meeting with his counterpart, José Manuel Albares, and with the president of Congress, Meritxell Batet, among others.
Many things have changed between that November 2020 and this Wednesday in which Mirzoyán receives EL PAÍS at the Armenian Embassy in Madrid. The traditional friendship of his country with Russia is today on the decline in the West due to the invasion of Ukraine and the Pashinian government is reinforced by the parliamentary elections in June 2021. Yerevan is also negotiating, in parallel, with Baku on Upper Karabakh ( after years of freezing dialogue) and, for the first time since 2010, with Turkey. Their ties are marked by the slaughter of up to 1.5 million Armenians by the Ottoman Empire between 1915 and 1918, which some thirty countries recognize as genocide. Spain "is one of the few countries in Europe and in the civilized world" that does not, recalls the minister before clarifying that he addressed the issue with Albares, "but the focus was on more current issues."
In this context, it is not surprising that Mirzoyan feels more comfortable talking about the negotiations with Azerbaijan (which he accuses of provocations on the ground) and with Turkey than when explaining his country's abstention in the vote condemning the Russian invasion in the UN General Assembly or its refusal to expel Moscow from the Council of Europe. he was the only one No among the 47 members of the organization, in addition to, obviously, Russia itself.
Ask. Armenia abstained at the UN General Assembly and voted against Russia's expulsion from the Council of Europe over the war in Ukraine. Why?
Response. It pains us very much to see the tragedy in Ukraine. We hope that a diplomatic and peaceful resolution will be achieved in the near future. Unfortunately, we are not the people to explain that war is a terrible thing. We know her. Only two years have passed since the aggression launched by Azerbaijan against Nagorno-Karabakh and the territory of Armenia. And two years ago we told the international community that the use of force is never legitimate to resolve conflicts.
Join EL PAÍS to follow all the news and read without limits.
subscribe
P. If they consider that the use of force is not legitimate to resolve conflicts, why didn't they condemn the Russian aggression?
R. Regarding the Council of Europe, our philosophy is that we must save the spaces in which a dialogue can take place, because when we remove a member from an organization we lose the platforms in which it can take place. Following this philosophy we have a dialogue with Turkey and Azerbaijan.
P. And the abstention in the UN?
R. The message we have given to the world was very clear with our abstention: we do not want to close the doors [al diálogo]We don't want to aggravate the situation either.
P. Last April, Prime Minister Pashinian traveled to Russia, met with President Putin and spoke of Russia as a "strategic partner." There were those who considered that it was not a good time or that it was a way to condone the war.
R. In parallel to the crisis in Ukraine, there are threats to us in the region and our security is not guaranteed. We continue to have a crisis on the border with Azerbaijan. We feel a very palpable threat in Nagorno-Karabakh from the Azerbaijanis. And we want to remind that it is the soldiers of the Russian peacekeeping mission who guarantee the life and safety of the Armenians of Upper Karabakh.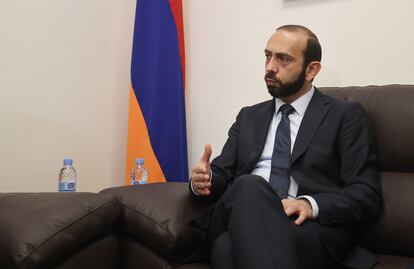 P. A few days ago, Pashinyan assured that Azerbaijan refuses to speak and is looking for an excuse to legitimize a new war with Armenia. How close are they to an agreement or a new confrontation?
R. We are talking with Azerbaijan. There are three ways of negotiating: the delimitation and security of the border between Armenia and Azerbaijan, the opening of communications and the signing of a peace agreement that covers all issues. In all three, Armenia behaves very constructively. But peace is not a path that one can walk alone. And here we find that Azerbaijan is not constructive, that they are maximalists and that they are looking for a pretext to organize a war.
P. Armenia and Turkey have very recently agreed to open border points for third-country nationals. What importance do you give to this channel, taking into account that there were no negotiations since 2010?
R. Turkey unilaterally closed the border in 1993 and supported the blockade of Armenia. In all these years, Armenia has always agreed to restore diplomatic relations and open the border. There were attempts at dialogue and all were rejected. Despite this, we have entered into this dialogue once again. We are aware that Turkey supported Azerbaijan in a very direct way, also sending mercenaries from the Middle East. Knowing this, we have entered a process that means that, without preconditions, we will one day be able to establish diplomatic relations. We have only one concern: we want to find a Turkey that really wants to open the borders, that really wants to establish diplomatic relations.
P. And why now, just after the war, in which the Turkish aid [a Azerbaiyán] was it obvious? And, when he says "without preconditions", I understand that Armenia is not asking for anything on the genocide issue, not to advance on practical issues, but on the normalization of relations.
R. We are not going to put any preconditions on Turkey, nor does Turkey put any on us. Turkey's statements when trying to link it to the process in Armenia and Azerbaijan sound like a precondition. Why are we now talking to Turkey and with so much will? Because now we have the obligation to guarantee a decent future and security for our people and the well-being and future of our State. And a good part of this path is to bring stability and peace to the region.
Follow all the international information in Facebook Y Twitteror in our weekly newsletter.
50% off
Exclusive content for subscribers
read without limits