World
Deloitte and Code.org will promote computer programming in schools | Economy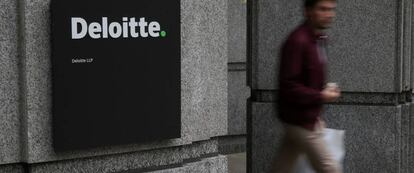 Deloitte and Code.org have signed a collaboration agreement to promote programming in Spain and promote the implementation of computer science in the Spanish educational system, so that any student can have the opportunity to learn programming regardless of the center educational where it is formed.
For Héctor Flórez, president of the consulting firm, "Deloitte is a firm that carries innovation, technology and social commitment in its DNA, so we share Code.org's purpose of generating a positive impact on our society." In addition, Flórez has pointed out that for the company "it is essential to promote computer science at the primary and secondary levels of the educational system, which will allow the new generations to be better trained for their professional incorporation and acquire skills such as logic, critical thinking or the resolution of complex problems, which will be relevant to their intellectual and personal development".
"In order to consolidate computer science within the Spanish educational system, it is important to understand the current state of its teaching in schools," said Hadi Partovi, CEO and founder of Code.org. "We are pleased to form an alliance with Deloitte to develop this report and we thank them for their support, which will have a positive impact for the Spanish computer education movement", he added.
Within the framework of this agreement, both organizations have defined a set of initiatives that will be launched shortly. Among them, an Observatory of the teaching of computational sciences in Spain has been set up, which will make it possible to report on the access of Spanish society to computer sciences, train teachers in topics related to programming, promote the participation of women in STEM careers (acronym for Science, Technology, Engineering and Mathematics), improve the skills of society and cover the existing talent gap in organizations.
Integrated among the initiatives of the Observatory, Deloitte and Code.org are going to carry out a study that will monitor the state of knowledge of Spanish society about computer science. The research aims to know the opinion and attitude of Spanish society about the importance of programming in the educational stages of primary and secondary; analyze the growing demand for STEM profiles in the professional field, as well as the need to acquire these skills within the school curriculum at an early age, for adequate training in the labor market under the same conditions as European counterparts.
The study will contemplate several phases, among which are an exploratory investigation, with the aim of obtaining a perspective of the current state of programming in Spain; a qualitative exploration, focus groups made up of families with children, students and teachers, as well as in-depth interviews with leaders from different sectors related to education; and, finally, an opinion barometer that, every year, will measure society's attitude towards computer science, for which 2,000 online interviews will be conducted. The results of the study will be presented at an event that will take place in November.