News
Romanian Interior Minister: "Romania has a key role in Europe's security architecture" | International
Lucian Nicolae Bode (48 years old, Valcău de Jos) is the first Romanian Minister of the Interior to visit Spain in 15 years, a striking period because, as he himself underlines in the interview he gave to EL PAÍS this Thursday at the Romanian Embassy in Madrid, the Romanians, with more than a million residents, are the first foreign community in Spain. The also general secretary of the National Liberal Party, one of the two great formations that governs in coalition in the Balkan country, emphasizes that, in the meeting he held on Thursday morning with his Spanish counterpart, Fernando Grande-Marlaska, " the foundations were laid for cooperation with more content", in terms of organized crime, trafficking in human beings and border management and the security of the European Union. Romania, a country that shares a 1,300-kilometre border with Ukraine, a member of the European Union and NATO, plays "a key role in Europe's security architecture," the minister said.
Ask. What are the results of your meeting with Grande-Marlaska?
Response. Romania and Spain have had a strategic partnership since 2013 and we have had the opportunity to address common problems such as cooperation on crime and human trafficking. We have also talked about issues on the European agenda such as asylum, migration and the management of the external borders of the European Union. We have also met with the leadership of both the National Police and the Civil Guard and we are going to continue with concrete actions that have yielded results, such as joint missions with Romanian police officers who have come to Spain and have collaborated with their Spanish colleagues to disrupt these trafficking networks. Apart from bilateral expert meetings, such as the one to be held in October, we will probably hold a joint high-level summit before the end of the year, which has had to be postponed several times. And I'm sure trafficking will be on the agenda.
P. His country is considered the heart of trafficking in Europe.
R. It is true that Romania is a country of origin [de trata]. Given this, as I have commented to my Spanish counterpart, there are no single solutions, but common solutions that must be applied in coordination between the countries of origin and destination. In Romania, we have modernized the anti-trafficking system and legislation and we are seeing results. The proof is that the latest report from the United States Department of State has changed our country to level two after having remained for many years at worse levels. The interests of organized crime networks have also been boosted by the Russian military aggression against Ukraine, although human trafficking organizations from that country to the West existed before this absurd war and Ukraine was already the fifth State of origin of vulnerable people trafficked to the West.
P. Have you addressed Romania's claim to enter the Schengen area?
Join EL PAÍS to follow all the news and read without limits.
subscribe
R. I have verified once again the full commitment of Spain in what is a priority for my country. Our aspiration is legitimate, since we more than meet the technical criteria. More than ten years after the evaluations [de la UE] our citizens still do not have the right to travel without controls. Romania complies with the Schengen acquis and contributes its efforts to the robust action of the European Union's security architecture, but does not have the corresponding benefits. It is necessary to recognize the essential role that my country plays in that security architecture and we cannot continue in this unnatural and unjust situation.
P. Is there progress regarding the possibility of dual nationality for Romanians in Spain?
R. Grande-Marlaska has promised to transmit this request to the Ministry of Foreign Affairs and the Ministry of Justice, which are the portfolios responsible for the matter. We want to find a solution that responds to the wishes of Romanian citizens to stay in touch with their roots while being integrated into Spanish society. In the last census that raised the number of Romanians in Spain to more than one million, more than 100,000 had already been born here and are second-generation Romanians.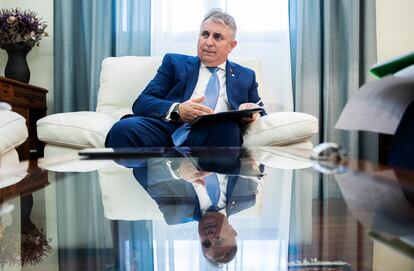 P. What does your government think of the latest threats from Vladimir Putin?
R. Anyone should be concerned about claims by a dictator that this conflict will continue to escalate, but speculation about Putin following through on his threats needs to be abandoned [sobre las armas nucleares]. At the same time, I look with hope at the reaction of Russian citizens [1.300 rusos fueron detenidos el miércoles por protestar contra el reclutamiento forzoso para la guerra de Ucrania] after these irresponsible statements. We are also concerned about hybrid threats, that is, cyber attacks by Russian military structures on critical infrastructure, as well as disinformation. In Romania, naturally, we are concerned about our geographical proximity, but what I consider first of all is that, if the escalation continues, there will be more refugees who will also arrive in worse conditions. Since the beginning of the crisis, my country has already managed more than 2.4 million people who have had to leave Ukraine; 80,000 have stayed in Romania and of these, half are minors. Afterwards, Romania has continued to manage and still manages the longest land border in the EU, with 2,070 kilometres. This demonstrates the very important role we play in ensuring the security of Europe.
P. Russia has accused his country of clandestinely sending weapons to Ukraine.
R. They have accused without presenting any evidence.
P. Is your government satisfied with what was agreed at the NATO summit in Madrid?
R. Categorically yes. The strategic concept that was adopted in Madrid allows us to coordinate better and includes a greater presence of land and military defense forces, air forces, anti-missile shields and equipment in all the allied countries on the eastern flank, not only in the Black Sea, but from the Baltic to the Aegean. The Spanish authorities have understood the need to reinforce this defense and collaborate with troops in Latvia [650 militares y una unidad de defensa antiaérea]. The presence of more countries on the eastern border contributes to increased mutual trust and demonstrates commitment to NATO Article 5 [el que obliga a defender el territorio de todos los países miembros].
Follow all the international information in Facebook Y Twitteror in our weekly newsletter.